Eagles take third at Barnesville tournament
Sports | Published on October 4, 2022 at 3:40pm GMT+0000 | Author: Chad Koenen
0
NYM sweeps Pillager for fourth win in conference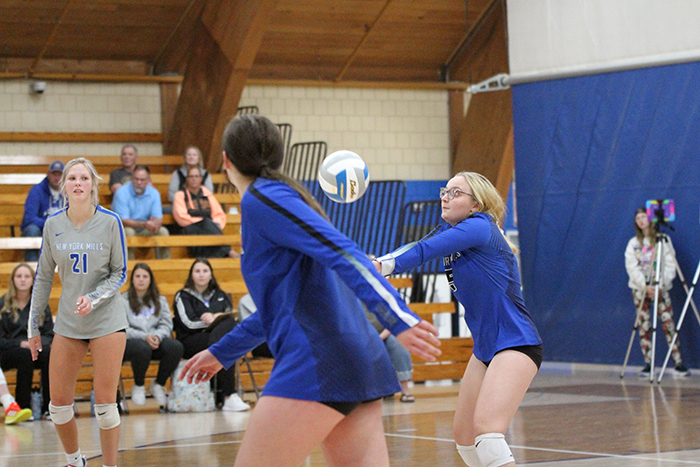 By Chad Koenen
Publisher
The New York Mills Eagles capped off a busy week with five wins and just one loss, including a third place finish at the Barnesville tournament over the weekend.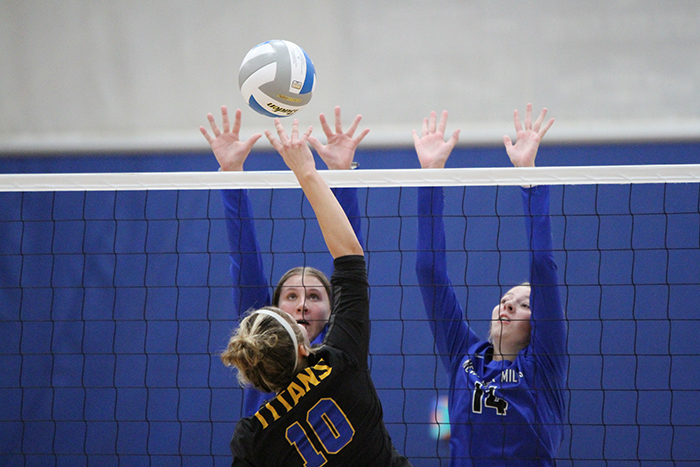 At the Barnesville tournament the Eagles dropped a close match to Breckenridge 25-22, 25-15, 14-16 to lose their only game of the week, before coming away with wins against Fertile-Beltrami 26-24, 25-21, Frazee 25-10, 25-12 and Menahga 25-7, 25-14 in the third place match at the tournament.
This week the Eagles will take on Pelican Rapids on Tuesday night, before traveling to Menahga on Thursday for a game against the Braves.
The Eagles will return home on Monday when they take on Parkers Prairie in non-conference action.
NY Mills is currently 13-4 on the season and is one of just two teams who are a perfect 4-0 in the conference, joining Wadena-Deer Creek for that honor. The Eagles and Wolverines will play on Oct. 13 in Wadena.
Tuesday
NY Mills made quick work of Brandon-Evansville in an important Section 6A game between the Chargers and Eagles. NY Mills won a close first game by a score of 25-20, before handling the Chargers in game two by a score of 25-11.
The Eagles dropped the third game by a score of 25-21, before flipping the script and beating Brandon-Evansville by the same 25-21 score to come away with a 3-1 win.
The Eagles were led offensively by Kali Olson who finished with 21 kills, while Ayla Olson also reached double figures with 11 kills. Olivia Smith chipped in with a team high 4 blocks, while Ayla Olson finished with 18 assists and 11 digs.
Bella Bauck led the Eagles in digs with 18, while Kali Olson had 13 and Grace Brasel finished with 11.
SERVING: Kaylee Meech 6-6, Haley Korkowski 4-4, Grace Brasel 17-20 (2 ace), Ayla Olson 14-16 (2 ace), Olivia Smith 6-6, Kailey Keskitalo 3-6, Kali Olson 9-11 (2 ace), Bella Bauck 11-12 (1 ace)
KILLS: Annika Dunrud 2, Grace Brasel 1, Ayla Olson 11, Kailey Keskitalo 3, Kali Olson 21
BLOCKS: Annika Dunrud 3, Grace Brasel 2, Ayla Olson 2, Olivia Smith 4, Kailey Keskitalo 2, Kali Olson 6
ASSISTS: Annika Dunrud 1, Grace Brasel 1, Ayla Olson 18, Kailey Keskitalo 1, Kali Olson 10, Bella Bauck 1
DIGS: Kaylee Meech 6, Grace Brasel 11, Ayla Olson 11, Olivia Smith 3, Kajen Keskitalo 1, Kali Olson 13, Bella Bauck 18
Thursday
NY Mills improved to 4-0 in the Park Region Conference with a 3-0 win over Pillager on Thursday night.
The Eagles defeated the Huskies by scores of 25-18, 25-20 and 25-19 to complete the sweep.
Kali Olson once again led the way offensively with 18 kills, while Ayla Olson finished with 9, Grace Brasel had 4, Olivia Smith finished with 3 and Kailey Keskitalo finished with 1 kill.
Ayla Olson led the team in assists with 19, while Bella Bauck led the team in digs with 16. Ayla Olson had 12 digs, while Kaylee Meech finished with 8.
SERVING: Annika Dunrud 1-1, Kaylee Meech 9-10 (1 ace), Grace Brasel 10-11 (1 ace), Ayla Olson 11-11 (1 ace), Kailey Keskitalo 17-17, Kali Olson 5-7, Bella Bauck 15-15
KILLS: Grace Brasel 4, Ayla Olson 9, Olivia Smith 3, Kailey Keskitalo 1, Kali Olson 18
BLOCKS: Kailey Keskitalo 1, Kali Olson 3
ASSISTS: Annika Dunrud 1, Grace Brasel 1, Ayla Olson 19, Kali Olson 9
DIGS: Annika Dunrud 1, Kaylee Meech 8, Grace Brasel 4, Ayla Olson 12, Olivia Smith 2, Kailey Keskitalo 6, Kali Olson 6, Bella Bauck 16
Barnesville Tournament
SERVING: Kaylee Meech 21-23 (5 ace), Gabi Vaden 4-4, Haley Korkowski 4-4, Grace Brasel 34-37 (2 ace), Ayla Olson 47-52 (10 ace), Kailey Keskitalo 33-36 (5 ace), Kali Olson 20-25 (4 ace), Bella Bauck 20-21 (2 ace)
KILLS: Annika Dunrud 10, Kaylee Meech 1, Gabi Vaden 1, Grace Brasel 9, Ayla Olson 21, Olivia Smith 11, Kailey Keskitalo 6, Kali Olson 50, Bella Bauck 1
BLOCKS: Annika Dunrud 6, Grace Brasel 3, Ayla Olson 1, Olivia Smith 2, Kailey Keskitalo 4, Kali Olson 6
ASSISTS: Annika Dunrud 1, Kaylee Meech 2, Haley Korkowski 2, Grace Brasel 4, Ayla Olson 57, Olivia Smith 1, Kali Olson 26, Bella Bauck 2
DIGS: Annika Dunrud 1, Kaylee Meech 26, Gabi Vaden 1, Haley Korkowski 1, Grace Brasel 24, Ayla Olson 23, Olivia Smith 3, Kailey Keskitalo 11, Kali Olson 17, Abby Riedel 1, Bella Bauck