Local farmer donates tractor to NYM School
News | Published on October 4, 2022 at 4:46pm GMT+0000 | Author: Chad Koenen
0
NYM students to repair tractor in the classroom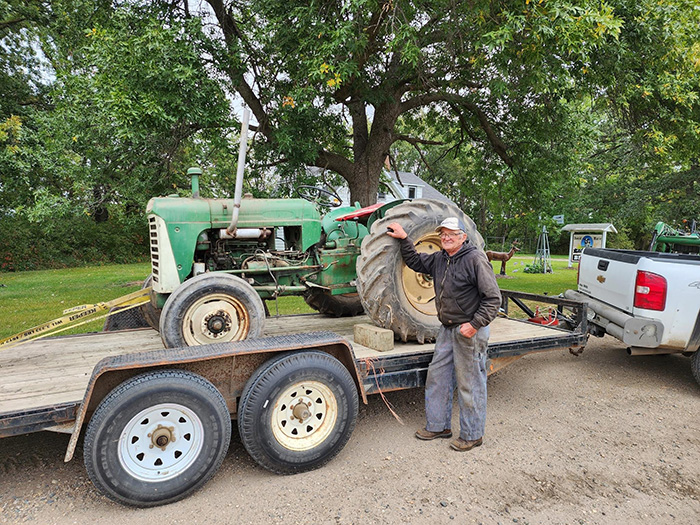 By Tucker Henderson
Reporter
In a community that's so widely supported and surrounded by farming, it just makes sense to learn something about the process.
David and Maria Bendix, of rural Deer Creek, recently donated a diesel 550 Oliver Utility tractor to the New York Mills School. The tractor will allow students to learn some lessons that might be put to use in the community.
"My husband decided that he thought it would be good for kids to learn how to repair the tractor," said Maria. "A learning experience for the kids. Just to learn how to take a motor apart and learn to figure out where to get parts for it and put it back together. The self satisfaction for a kid to take something that's not running and working on it and seeing it run again."
David had contacted NY Mills School Superintendent Blaine Novak over the summer to discuss the possibility of a project like this. He agreed that it would be a real-life opportunity and a good hands-on project for NY Mills students in Brian Schornack's classes.
"I bought it a few years ago to work on," said David. "It will do a lot more good up there than sitting in my shed."
Schornack said that his main goal is to get the motor running again and then to restore the body and paint so that it looks brand new.
"Almost all of my classes will have a hand in restoring the tractor," said Schornack. "The main class will be my small engines class. Students are going to take the lesssons leared from small motors and apply that to a diesel engine. After the tractor is restored, I'd like to teach students how to drive a tractor."
Learning to troubleshoot, repair, restore and finally to drive the tractor is all a part of the project's curriculum.
"I think it's pretty exciting for the school that they're going to keep the tractor and teach kids how to drive it," said Maria. "I think that's a wonderful thing."
Another motivating reason to donate the tractor is Bendixs' grandson, who is enrolled as a senior this year in the NY Mills High School.
"Well, we have a grandson that is going to NY Mills, so I think he'll be one of the kids working on the tractor," said Maria. "That kid can take anything apart and put it back together—for motors anyway."
Schornack confirmed that Simon Snyder, the grandson of David and Maria, will be working on the tractor as he is taking gasoline engines and welding classes from Schornack this year.
"Simon has seen the tractor running before, so he will definietly have a role in restoring the tractor," said Schornack. "Overall, we are very excited about this opportunity to learn some things that wouldn't be possible. We can't thank the Bendix family enough for the very cool project."