Maneval bowls a perfect game at Mills Lanes
News | Published on October 4, 2022 at 4:29pm GMT+0000 | Author: Chad Koenen
0
New York Mills alum enters rare group of perfection at Mills Lanes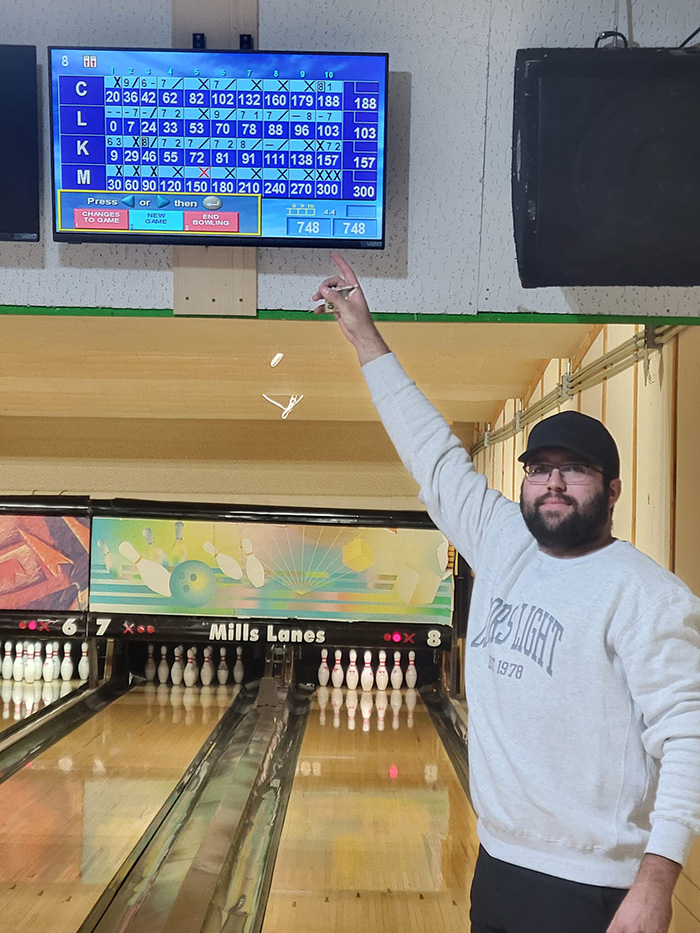 By Tucker Henderson
Reporter
In bowling, there is a goal that reaches the ceiling of the sport. A perfect 300.
Ten straight frames, 12 lucky strikes. Bowling a 300 isn't something most serious bowlers even achieve. It's a bit of a rare occurance.
Well, 2016 New York Mills High School gradute, Austin Maneval, accomplished this extremely uncommon feat last week as he bowled strike after strike into the 10th frame. Maneval used to compete on the school bowling league during his time at the NY Mills School District. It was there, that he honed his skills from eighth grade until senior year on the wooden lanes. Bowling with a high average helped his score, but had never reached 300 in the past.
"I've taken nine strikes into the 10th frame quite a few times," said Maneval. "I end up choking it away, but I guess everything fell in my favor this time."
Former owner of Mills Lanes, Dolly Tumberg, said that in the 22 years that she and her husband, Owen, owned the bowling alley, less than 10 perfect-300 scores had been bowled.
"To bowl a 300, you have to be doing everything right," said Tumberg. "And there's a lot of things to be doing right! You have to be right on with hitting your mark, your timing has to be good, and you have to have a lot of luck. It's quite an achievement."
Current owner of Mills Lanes, Chad Rudolph, said that he hadn't seen many perfect scores either. He said he has seen four bowled during his time working at Mills Lanes and now owning it.
"I can't even describe it, it doesn't happen very often at all," said Rudolph. "It's quite an achievement. You have to bowl 12 strikes in a row, there's a lot of pressure. Between 190 and 215 is an average bowler, there are some exceptional bowlers, but a 300 is rare."
Maneval was celebrating a friend's 21st birthday during the evening of Sept. 28 when he asked Rudolph if he could open up a lane for free bowling. A few of the friends decided to do some practice bowling and have some fun.
"It was pretty awesome," said Maneval. "I had a few of my buddies there, so we were all just celebrating. It's kind of awesome doing the best in something where you can't do any better at it."
A perfect 300 certainly is the height of skill in bowling and Maneval's acheivement comes a year after local bowler Jeremy Freitag bowled a perfect 300. It's not something you see everyday, that's for sure.