New exhibit on display at Cultural Center
News | Published on October 4, 2022 at 3:59pm GMT+0000 | Author: Chad Koenen
0
Reception to be held for featured artist on October 14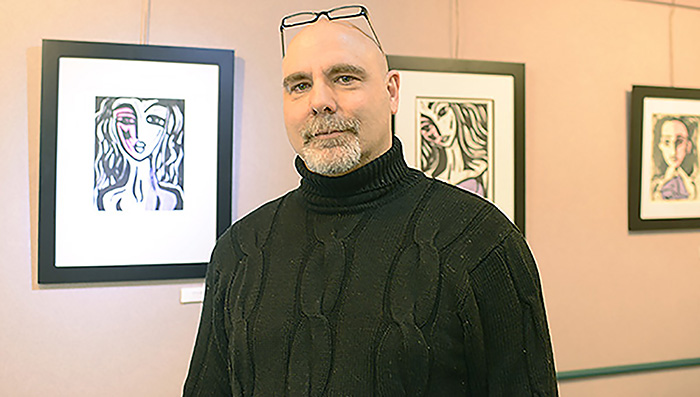 The New York Mills Regional Cultural Center has on display and for sale in its gallery the artwork of printmaker Michael Weatherly of Elbow Lake, Minn. The show entitled Behind the Door will be featured in the Gallery through October 15. A reception is planned for Friday, Oct. 14 from 4-6 p.m.
Weatherly's artwork is thought-provoking and evocative. The prints have strong lines, and bold themes. He works with several printmaking methods including linocut, wood cut, multimedia prints, and poly plate lithography. Weatherly describes his work as contemporary, but also says he designs and prints what he likes, which sometimes leads to diverse subjects.
"Behind the Door" tries to address things that we as people would rather keep secret and behind closed doors, such as addiction and abuse. The door also symbolizes a portal that people might be trying to escape. With the surging rates of opioid addiction, overdose, and abuse, we are experiencing one of the greatest public health crises our nation has ever faced. Michael hopes that this work will help start a conversation about these issues and bring awareness. He is interested in how artists address themes that are tragic, scary and painful, and how as an artist to grapple with the human condition.
Weatherly is a Minnesota-based contemporary printmaker. He has been the recipient of several artist grants including theMcKnight Foundation Artist Grant, Minnesota Arts and Cultural Heritage Grants and Individual Artist Grants from the Lake Regions Arts Council. He has exhibited his work nationally and internationally and has been featured on the cover of 500,000 Evangelical Lutheran Church bulletins.
The New York Mills Regional Cultural Center's Gallery is always free and open to the public. Open hours are Wednesdays and Thursdays from 10 a.m. to 7 p.m., Fridays from 10 a.m. to 5 p.m., and Saturdays from 10 a.m. to 3 p.m. Special showings at other times can be arranged by contacting Cheryl Bannes at 385-3339 or cheryl@kulcher.org.
A closing reception will be held Friday, Oct. 14 from 4-6 p.m. This event is free to attend and open to all. View the artwork, hear an artist talk by Michael Weatherly, and enjoy light refreshments. The Cultural Center continues to observe COVID safety guidelines; please stay home if ill.
These activities are made possible in part by the voters of Minnesota through an operating support grant from the Minnesota State Arts Board, thanks to a legislative appropriation from the arts and cultural heritage fund.
Visit www.kulcher.org or call the Cultural Center at 218-385-3339 with any questions.