Eagles fall to Braves 14-8 in homecoming game
Sports | Published on October 11, 2022 at 3:10pm GMT+0000 | Author: Chad Koenen
0
NYM to host Parkers Prairie Friday night in regular season home finale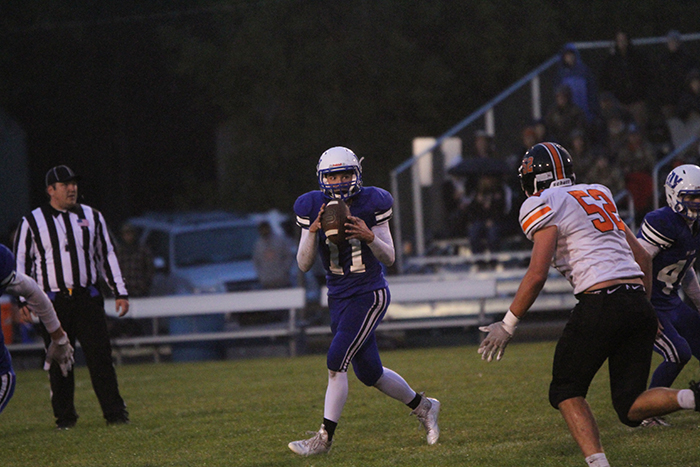 By Chad Koenen
Publisher
The third ranked New York Mills Eagles suffered just their second regular season loss since October 10, 2019 on Friday night as New York Mills fell to Menahga by a score of 14-8. All of the scoring took place in the second quarter, as both teams were able to put drives together, but were just unable to crack the goal line when they broke deep into their opponents territory.
"A tough homecoming loss to the Braves. Menahga was ready to play and they came out ready to go," said head coach Matt Radniecki. "We played good ball at times, but we just couldn't sustain drives once we got in the red zone. When we needed to finish drives we struggled."
Menahga broke a scoreless tie in the second quarter on a 2-yard run. The two-point conversion was successful to give the Braves an 8-0 lead.
Monte Briard reached the end zone later in the second quarter when he scored on a 4-yard run. Jonah Ruther converted the two-point conversion to tie the game up at 8-8.
The Braves scored what would be the final points of the game before halftime when they scored on a 27-yard pass. The two-point conversion was unsuccessful, but game Menahga a 14-8 lead. Neither team was able to get across the end zone for the remainder of the game, as the NY Mills defense played well and the offense was unable to put together another long drive to put points on the scoreboard.
"We had opportunities throughout the game and we just couldn't take advantage of them. Menahga brought a physical style of football something that we will need to learn from and move on," said Radniecki. "This game will give us some film to watch for improvement from our team and also how do we bounce back from a loss." 
While the loss drops the Eagles to 5-1 on the season, Radniecki said the loss will give NY Mills an opportunity to learn from their mistakes as they prepare for Parkers Prairie on Friday night.
"I think with our seniors we will be ready to play against Parkers Prairie on Friday night," said Radniecki. "It was a fun homecoming week for our student body and congratulations to our JV team on their 8-6 win over Frazee on Monday."
The Eagles will host Parkers Prairie on Friday night in their regular season home finale. The Panthers come into the game with a record of 2-4 after defeating Underwood on Friday night.
NY Mills comes into the game with a record of 5-1. Next week the Eagles will travel to Mahnomen/Waubun to take on the fourth ranked and undefeated Mahnomen/Waubun Thunderbirds.