Eagles improve to 15-4 with two more wins
Sports | Published on October 11, 2022 at 3:07pm GMT+0000 | Author: Chad Koenen
0
NYM to host Henning in regular season finale on Tuesday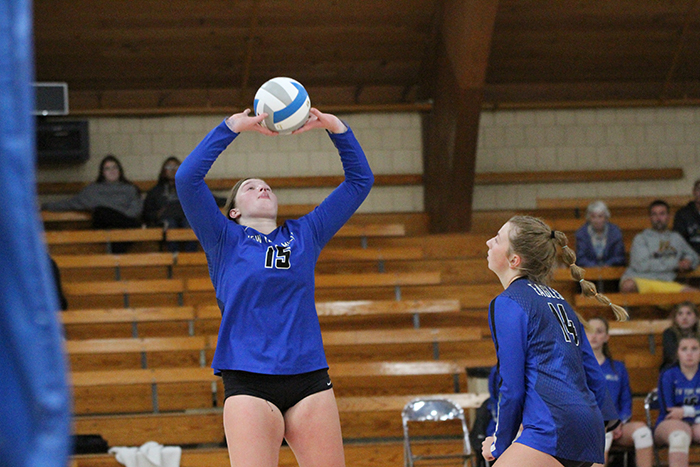 By Chad Koenen
Publisher
The New York Mills Eagles improved to 15-4 overall and 5-0 in the Park Region Conference after a pair of wins last week.
The Eagles swept Pelican Rapids by a score of 3-0 in non-conference action on Tuesday, before traveling to Menahga on Thursday for a match up against the Braves. NY Mills defeated Menahga 3-0 to improve to 5-0 in the conference and set up a big conference match up against the Wadena-Deer Creek Wolverines on Thursday.
This week the Eagles hosted Parkers Prairie on Monday and travel to Wadena-Deer Creek on Thursday in an important Park Region Conference match up. Both the Eagles and Wolverines are 5-0 in the conference and are the last two unbeaten teams in PRC action. Overall, the Eagles are 15-4 on the season.
NY Mills will wrap up its regular season next Tuesday when they host Henning in their regular season and PRC finale. Henning is in third place in the conference with a record of 4-1.
Tuesday
NY Mills traveled to Pelican Rapids on Tuesday night to take on the Vikings in non-conference action. The Eagles came away with a 3-0 by scores of 25-20, 25-20, 25-20.
Kali Olson led the way offensively for the Eagles as the senior finished with 13 kills and a team-high 19 assists. Ayla Olson finished with 9 kills and 12 assists, while Annika Dunrud and Kailey Keskitalo each finished their night with 6 kills.
Bella Bauck had a team-high 20 digs and was a perfect 19-19 from the service line. Kaylee Meech also finished with a perfect 11-11 serving. Ayla Olson was also a perfect 9-9 serving on the night.
SERVING- Kaylee Meech 11-11, Grace Brasel 10-11 (1 ace), Ayla Olson 9-9 (1 ace), Kailey Keskitalo 11-12 (2 ace), Kali Olson 10-11 (1 ace), Bella Bauck 19-19 (2 ace)
KILLS- Annika Dunrud 6, Grace Brasel 1, Ayla Olson 9, Olivia Smith 1, Kailey Keskitalo 6, Kali Olson 13
BLOCKS- Annika Dunrud 1, Ayla Olson 3, Kailey Keskitalo 2
ASSISTS- Annika Dunrud 1, Grace Brasel 2, Ayla Olson 12, Kali Olson 19
DIGS- Kaylee Meech 4, Grace Brasel 7, Ayla Olson 8, Olivia Smith 1, Kailey Keskitalo 3, Kali Olson 7, Bella Bauck 20
Thursday
Kali Olson and Ayla Olson combined for 26 kills as the NY Mills Eagles improved to 5-0 in the Park Region Conference in a 3-0 win over Menahga on Thursday.
The Eagles made quick work of the Braves in the first game as they defeated Menahga 25-17. After a back-and-forth game in the second game, in which the Eagles won by a score of 27-25, NY Mills completed the three game sweep by defeating Menahga 25-15. The Eagles are just one of two teams who are unbeaten in the conference this season.
Kali Olson led the team with 15 kills and also had 11 digs. Ayla Olson finished with 11 kills and a team-high 22 assists.
Bella Bauck led the team with 18 digs, while Grace Brasel finished with 10 digs and Kaylee Meech had 7 digs in the win.
SERVING- Kaylee Meech 10-11 (1 ace), Grace Brasel 13-14 (1 ace), Ayla Olson 12-13 (1 ace), Kailey Keskitalo 15-16 (2 ace), Kali Olson 6-8, Bella Bauck 10-11
HITTING- Annika Dunrud 6, Grace Brasel 2, Ayla Olson 11, Olivia Smith 4, Kailey Keskitalo 5, Kali Olson 15, Abby Riedel 1
BLOCKS- Annika Dunrud 1, Ayla Olson 1, Kailey Keskitalo 1, Kali Olson 2
ASSISTS- Annika Dunrud 1, Hailey Korkowski 1, Grace Brasel 1, Ayla Olson 22, Olivia Smith 2, Kali Olson 11
DIGS- Kaylee Meech 7, Grace Brasel 10, Ayla Olson 6, Olivia Smith 3, Kailey Keskitalo 6, Kali Olson 11, Bella Bauck 18