New carpet installed at Trinity church
News | Published on October 11, 2022 at 3:55pm GMT+0000 | Author: Chad Koenen
0
New video screens installed at Apostolic church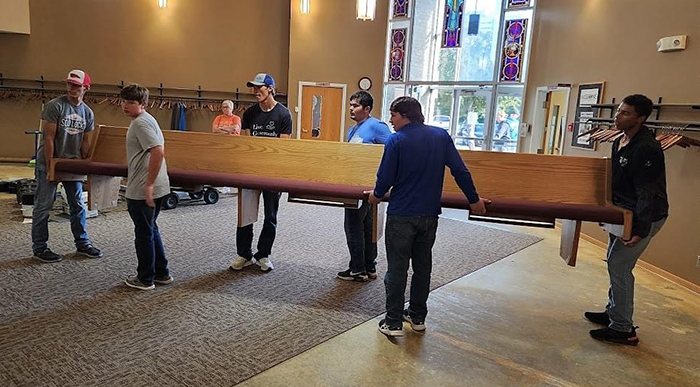 By Tucker Henderson
Reporter
Two New York Mills churches have made some noticeble updates to their buildings' worship spaces in recent weeks.
Trinity Lutheran Church
New carpeting was installed in the sanctary, narthex and other spaces in Trinity Lutheran Church recently as the 32 year old carpet was in need of an update. The old carpet was put down in 1990 and throughout the years, it has been worn by the many parishioners that attend services throughout the years.
The carpet removal began on Sept. 25 and is still in process with a anticipated finishing date of Oct. 14. All areas of the church, except a few storage areas, will be redone and receive the new colorful carpeting called "Juice."
Kim Imsande, Administrative Assistant for Trinity, mentioned that many community members showed up to help out with tearing out the old carpet, which saves over $6,000 in their final cost.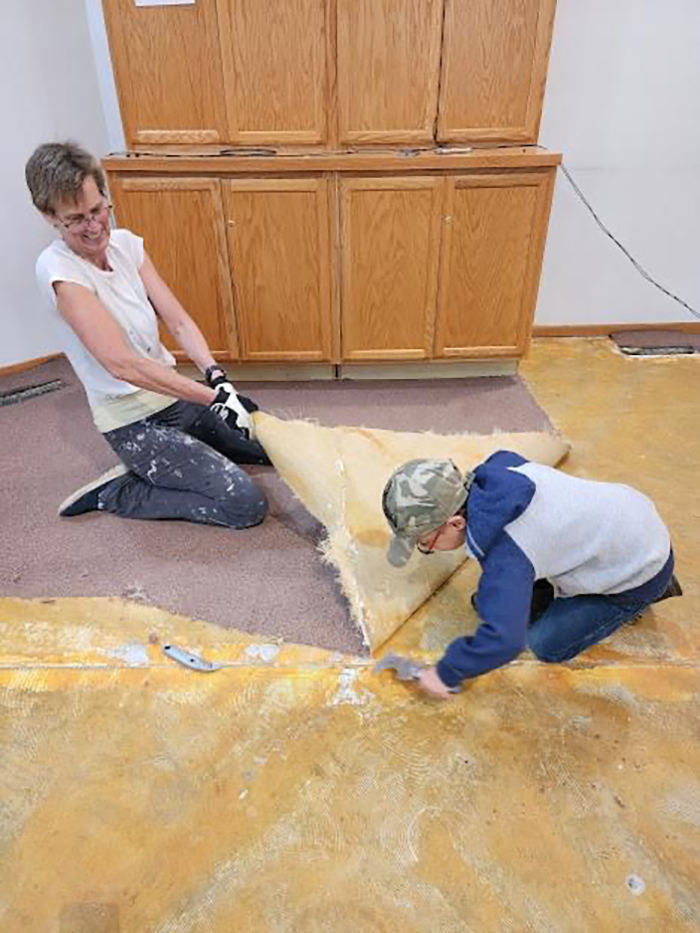 "Shout out to the carpet/paint committee," said Imsande. "Sam Slieter from our Board of Trustees for his leadership during the removal process throughout the building and Karen Brasel for organizing the food to feed everyone on the workdays."
With individuals, families, and even the NY Mills football team coming to help out with the removal project, many hands may make light work, but it makes a lot of hungry mouths to feed too!
"We have had so many of our church family who have already volunteered during the carpet removal days as well as getting the pews and furnishings put back in areas that have been completed," said Imsande. "Projects like this where everyone is working towards a common goal just seem to bring everyone together because there has been great teamwork from all ages from the young kids, teens, adults, the elderly and families!"
Imsande also mentioned one individual that went above and beyond during a special milestone.
"Karen Thompson came in on her 70th birthday and helped," said Imsande. "It's not something everyone does on their birthday, so that was pretty special."
Although there is still work to be done, there has been a large showing of support from congregants and local community members and the work has steadily progressed.
"It was fantastic to see people get up from the service in their "Sunday best" and go straight to working on pews and carpet removal," Imsande said. "I can also picture families like the Matt & KaLyn Schneider family of five working alongside each other and their church family, as well as husbands and wives, friends, grandparent's and their grandkids all working together. Another picture that comes to mind is "little" Kellen carrying rolled up carpet to the trailer and Adele teaching him how to use a scraper to lift up old carpet!"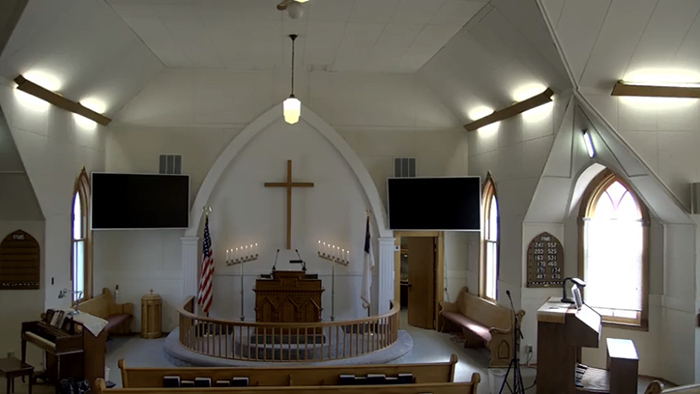 Apostolic Lutheran
Two new large television screens were recently installed in the sanctuary of the Apostolic Lutheran Church in September in hopes of providing an alternative way to follow along with hymns, Bible readings, and the rest of weekly Sunday services.
The screens were voted on during the 2021 Annual Church meeting among other updates to the 120 year old church building.
The screens are awaiting an electrician to hook them up to both electricity and the sound system. The screens purchased were larger than initially anticipated and are beveled against the wall for congregants in all three rows of pews to utilize.