Eagles sweep Panthers, fall to Wolverines in four games
Sports | Published on October 18, 2022 at 2:47pm GMT+0000 | Author: Chad Koenen
0
NYM improves to 16-5 overall, 5-1 in PRC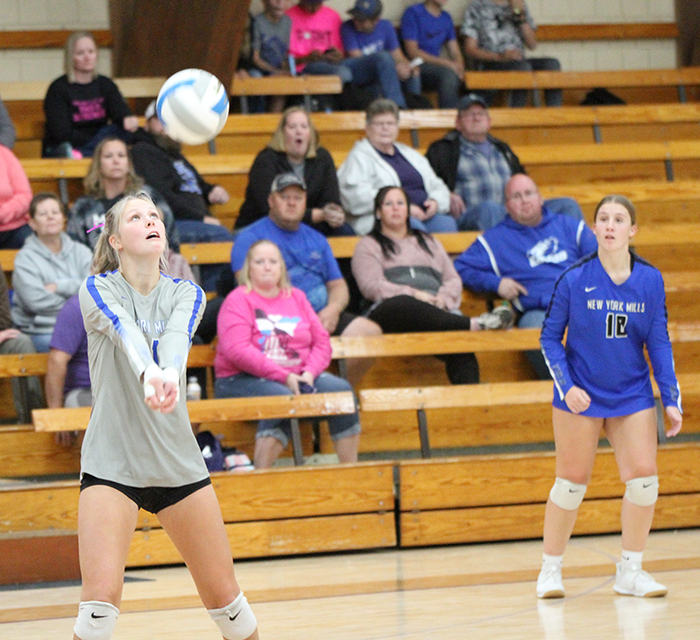 By Chad Koenen
Publisher
With shades of pink decorating the stands, the New York Mills Eagles swept Parkers Prairie 3-0 on Cancer Awareness Night last Monday. The win was the 16th of the season for the Eagles.
On Thursday night the Eagles traveled to Wadena-Deer Creek in a battle of the unbeaten teams in the Park Region Conference. Unfortunately, the Wolverines were able to get the best of the Eagles by a score of 3-1 to clinch at least a share of the conference title.
NY Mills will wrap up their regular season on Tuesday night in an important battle between a pair of teams who are 5-1 in the conference, and perhaps more importantly, a match up against two of the top teams in the sub section. Currently Henning is in first place in the sub section in the QRF with a ranking of 17, while the Eagles are in fifth place with a QRF of 43.
Monday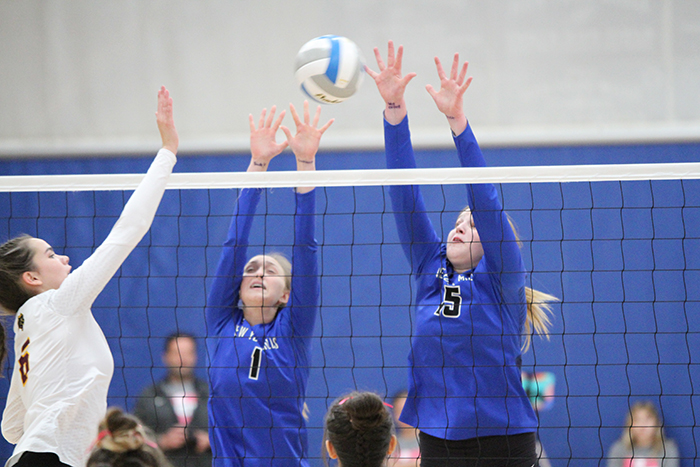 There was more on the line last Monday night than a volleyball game, as the Eagles hosted their annual Cancer Awareness Night. With fans donning a variety of shades of pink to draw awareness for cancer, as well as breast cancer, the Eagles completed a three game sweep over Parkers Prairie by scores of 25-23, 25-22 and 26-24.
In her second to last regular season home game, senior Kali Olson had a huge game with 25 kills. as well as 10 digs. Grace Brasel finished with 6 kills, while Ayla Olson and Olivia Smith each finished with 4 kills.
Ayla Olson finished with a team-high 29 assists, while senior Bella Bauck finished with a team-high 24 digs.
SERVING- Kaylee Meech 6-8, Grace Brasel 6-6, Ayla Olson 11-11, Kailey Keskitalo 23-24 (1 ace), Kali Olson 6-8, Bella Bauck 11-13
KILLS- Annika Dunrud 2, Kaylee Meech 1, Grace Brasel 6, Ayla Olson 4, Olivia Smith 4, Kailey Keskitalo 2, Kali Olson 25
BLOCKS- Annika Dunrud 2, Grace Brasel 1, Ayla Olson 2, Olivia Smith 1, Kailey Keskitalo 1, Kali Olson 1
ASSISTS- Grace Brasel 1, Ayla Olson 29, Kali Olson 9, Bella Bauck 1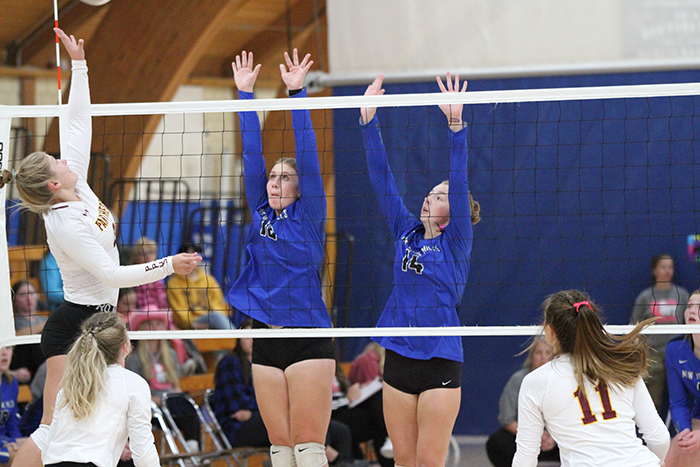 DIGS- Annika Dunrud 1, Kaylee Meech 10, Grace Brasel 11, Ayla Olson 10, Olivia Smith 2, Kailey Keskitalo 7, Kali Olson 10, Bella Bauck 24
Thursday
In a battle between the last two unbeaten teams in the Park Region Conference, NY Mills traveled to Wadena-Deer Creek on Thursday night. The winner of the game clinched at least a share of the conference title with just one more conference game remaining on the schedule.
The Wolverines jumped out to a quick 1-0 win after securing the first game by a score of 25-13. NY Mills tied the match up at 1-1 with a 25-23 win in the second game, before the Wolverines came away with wins in the third and fourth games by scores of 25-11 and 25-21 to secure the 3-1 win.
The loss drops the Eagles to a tie with Henning for second place in the conference with a record of 5-1.
Kali Olson led the Eagles offensively with 16 kills, wile Ayla Olson also reached double figures with 10 kills. Ayla Olson had a team-high 14 assists and 17 digs, while Bella Bauck had 12 digs and Grace Brasel finished the night with 11 digs.
Brasel and Kaylee Meech each were perfect from the service line. Brasel was 17-17 with an ace, while Meech was a perfect 8-8.
SERVING- Kaylee Meech 8-8, Grace Brasel 17-17 (1 ace), Ayla Olson 8-9, Kailey Keskitalo 11-12, Kali Olson 15-16, Bella Bauck 8-9 (1 ace)
KILLS- Annika Dunrud 1, Grace Brasel 3, Ayla Olson 10, Olivia Smith 1, Kailey Keskitalo 1, Kali Olson 16
BLOCKS- Annika Dunrud 1, Grace Brasel 1, Olivia Smith 2, Kailey Keskitalo 1, Kali Olson 3
ASSISTS- Grace Brasel 1, Ayla Olson 14, Kailey Keskitalo 2, Kali Olson 8, Bella Bauck 1
DIGS- Annika Dunrud 1, Kaylee Meech 8, Grace Brasel 11, Ayla Olson 17, Olivia Smith 2, Kailey Keskitalo 3, Kali Olson 7, Bella Bauck 12