Eagles take first place at Underwood tournament 
Sports | Published on October 26, 2022 at 4:01pm GMT+0000 | Author: Chad Koenen
0
NY Mills receives fifth seed in sub section tournament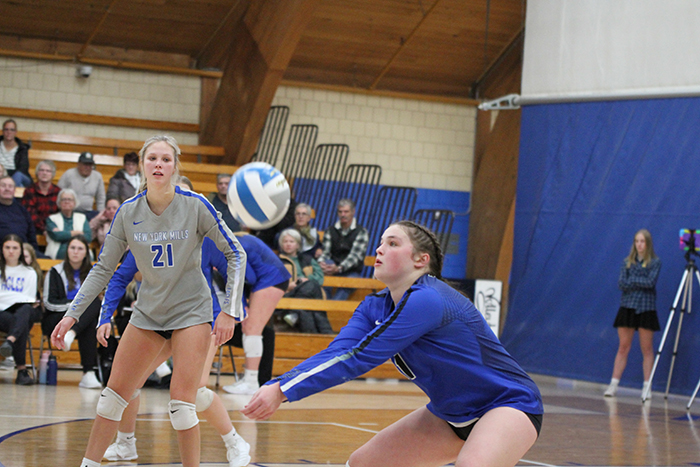 By Chad Koenen
Publisher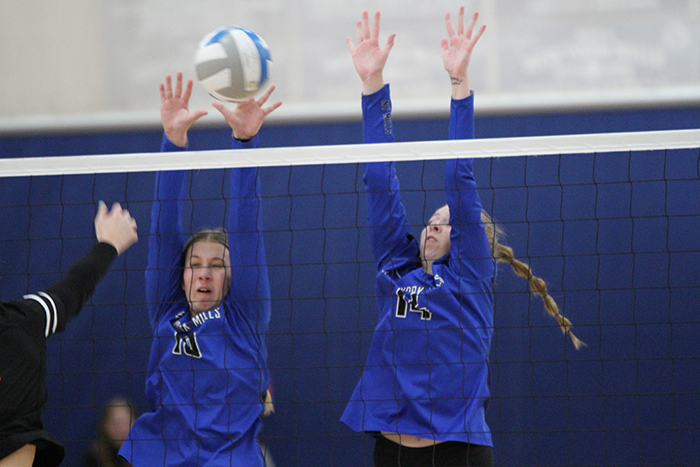 New York Mills ended its regular season on a high note at the annual Underwood tournament on Thursday. Not only did the Eagles win four games to improve to 20-6 overall, but they captured first place with a thrilling 2-1 win over Underwood in the championship game.
The Eagles will now turn their attention to the sub section tournament. NY Mills, who received the fifth seed, will open the sub section tournament on Wednesday when they travel to fourth seeded Park Christian. The winner of the game will take on either top seeded Henning or the winner of eighth seeded Rothsay/ninth seeded Battle Lake on Friday night at the high seed.
On the other side of the bracket, second seeded Hillcrest will take on either seventh seeded Norman County East/Ulen Hitterdal and 10th seeded Lake Park-Audubon, while third seeded Breckenridge will take on sixth seeded Underwood.
The section tournament will continue next week with the sub section championship game on Thursday, Nov. 3 at 6 p.m. in Fergus Falls.
The section championship game is set for Saturday, Nov. 5 at 7 p.m. at Fergus Falls High School.
Tuesday
In a battle between a pair of one loss teams in the Park Region Conference, NY Mills came out firing on all cylinders in the opening game of the night. The Eagles opened the night with a thrilling 26-24 win, before dropping the next three games by scores of 25-19, 25-21, 25-12 to fall by a score of 3-1.
Despite being down by a large margin in both the second and third games, the Eagles fought back to within a few points from taking the lead in both games. The loss was just the second of the season in the conference for the Eagles as they finished in third place behind Wadena-Deer Creek and Henning.
Kali Olson led the charge offensively for the Eagles with 15 kills, while Ayla Olson finished the day with 12 kills. Kali Olson also led the team with 6 blocks and Ayla Olson led the way with 16 assists.
The Eagles played well defensively throughout the night as Kaylee Meech finished with 22 digs, while Ayla Olson and Kali Olson each finished with 19, Bella Bauck finished with 18 and Grace Brasel also reached double figures with 11 digs.
SERVING- Kaylee Meech 12-13, Grace Brasel 13-13 (1 ace), Ayla Olson 11-12, Kailey Keskitalo 19-19, Kali Olson 11-12 (1 ace), Bella Bauck 11-11
KILLS- Grace Brasel 5, Ayla Olson 12, Olivia Smith 1, Kailey Keskitalo 2, Kali Olson 15, Bella Bauck 1
BLOCKS- Annika Dunrud 3, Grace Brasel 3, Ayla Olson 3, Olivia Smith 1, Kailey Keskitalo 3, Kali Olson 6
ASSISTS- Annika Dunrud 1, Gabi Vaden 1, Grace Brasel 1, Ayla Olson 16, Olivia Smith 1, Kailey Keskitalo 2, Kali Olson 8, Bella Bauck 2
DIGS- Kaylee Meech 22, Gabi Vaden 1, Haley Korkorski 2, Grace Brasel 11, Ayla Olson 19, Olivia Smith 4, Kailey Keskitalo 8, Kali Olson 19, Bella Bauck 18
Saturday
NY Mills took first place at the annual end of season tournament in Underwood on Thursday. The Eagles came away with a 2-1 win over Clinton-Graceville-Beardsley by a score of 2-1 (22-25, 25-18, 15-8), KMS 2-0 (25-23, 28-26) and Ashby 2-0 (26-19, 25-19) to advance to the championship game.
After dropping their first game by a score of 25-15, the Eagles fought back and won the next two games to come away with a 2-1 win by scores of 25-11 and 25-10.
The four wins improved the Eagles to 20-6 overall.
Kali Olson led the Eagles with 64 kills in the tournament, while Bella Bauck led the team in digs with 41 and Ayla Olson led the team with 56 assists. Kaylee Meech finished a perfect 38-38 serving with 4 aces.
SERVING- Kaylee Meech 38-38 (4 ace), Grace Brasel 32-36 (2 ace), Ayla Olson 36-39 (4 ace), Kailey Keskitalo 37-39 (2 ace), Kali Olson 36-36 (7 ace), Bella Bauck 32-35 (2 ace)
KILLS- Annika Dunrud 3, Grace Brasel 15, Ayla Olson 25, Olivia Smith 10, Kali Olson 64
BLOCKS- Annika Dunrud 2, Grace Brasel 3, Ayla Olson 5, Olivia Smith 7, Kailey Keskitalo 8, Kali Olson 12
ASSISTS- Annika Dunrud 2, Kaylee Meech 1, Grace Brasel 2, Ayla Olson 56, Olivia Smith 6, Kailey Keskitalo 9, Kali Olson 30, Bella Bauck 4
DIGS- Annika Dunrud 5, Kaylee Meech 21, Grace Brasel 32, Ayla Olson 30, Olivia Smith 6, Kailey Keskitalo 12, Kali Olson 22, Bella Bauck 41