New Brunswick manufactoring facility opens in Willmar
News | Published on October 26, 2022 at 4:20pm GMT+0000 | Author: Chad Koenen
0
New plant to complete upholstery work, hire nearly 40 employees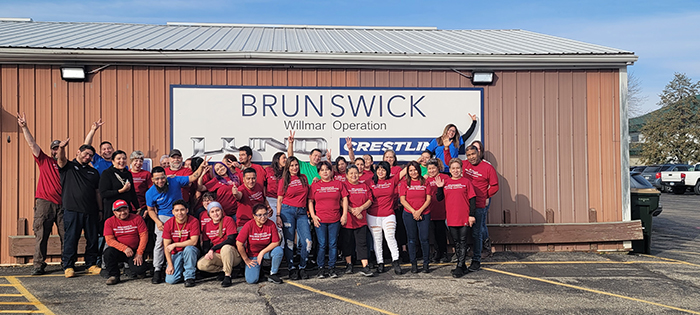 Brunswick Corporation, the world's largest recreational marine manufacturer, hosted the grand opening of its new facility in Willmar, Minn. last week.
The new 17,000 square foot manufacturing facility will serve as an extension of the Company's New York Mills operation, which has manufactured Lund and Crestliner Boats since 1948. The expansion will add 40 new jobs to the local Willmar community.
"We are thrilled to be expanding our footprint to Willmar and have been overwhelmed by the outpouring of excitement from the local community," said Lenn Scholz, president, Lund Boats. "Lund and Crestliner were built on a foundation of quality design and superior craftsmanship, and we look forward to a long-term partnership in the Willmar market as we increase production to satisfy dealer and consumer demand."
In partnership with Ag Jobs, nearly 40 new employees were hired to staff the Willmar facility and complete the upholstery work for both brands. To commemorate the grand opening of the facility, a ribbon cutting ceremony was held on-site at the new facility, and attended by Company and community leaders, including Marvin Calvin, Mayor.
"We are proud that Brunswick chose to expand its operations to Willmar, and we're excited about the opportunity this represents for our community, said Mayor Calvin. "Lund and Crestliner have a well-established reputation in the industry, and we look forward to helping the brands reach more consumers around the country."
The new facility is located at 350 45th St. N.W. and operations began in July after four months of development.