Eagles fall to Cowboys in Section 6A semi-finals
Sports | Published on November 1, 2022 at 2:53pm GMT+0000 | Author: Chad Koenen
0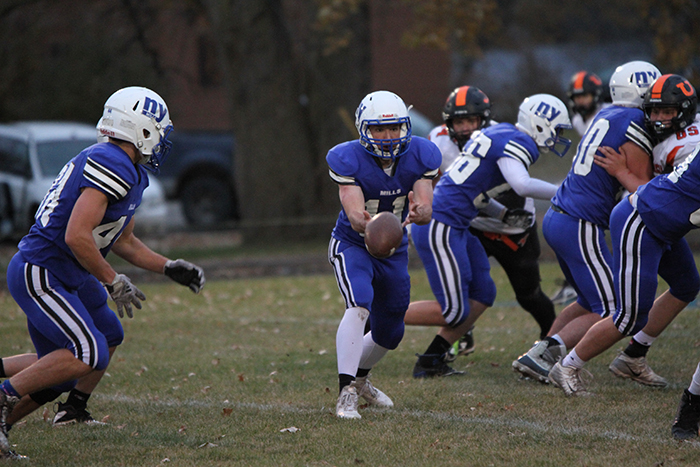 By Chad Koenen
Publisher
Top seeded New York Mills had its season come to a close on Saturday as the Eagles were upset by fifth seeded Breckenridge 21-0.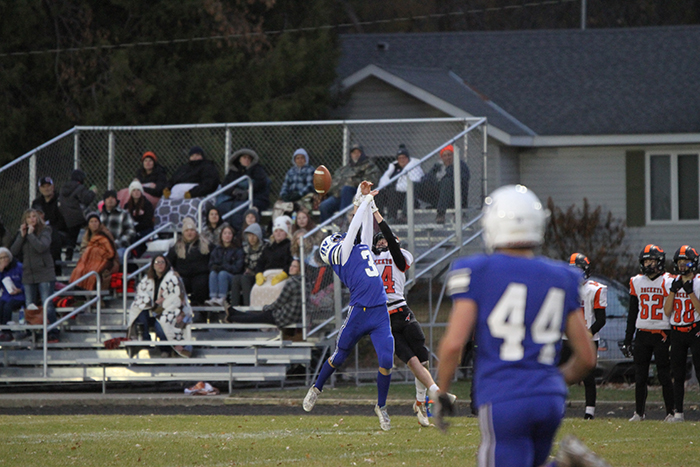 The loss came on the heels of a commanding 34-7 win over eighth seeded Underwood on Tuesday night in the Section 6A opener. NY Mills ends its season with a record of 8-2 and a Northwest District (South) championship.
With the win Breckenridge will take on third seeded Otter Tail Central in the Section 6A championship game on Friday night at the FargoDome. The Bulldogs upset second seeded Pine River-Backus by a score of 27-6 on Saturday.
Tuesday
NY Mills scored early and often on Tuesday night. The Eagles jumped out to a 22-0 lead in the first quarter and eventually added a pair of touchdowns in the third quarter to come away with a commanding 34-7 win over Underwood.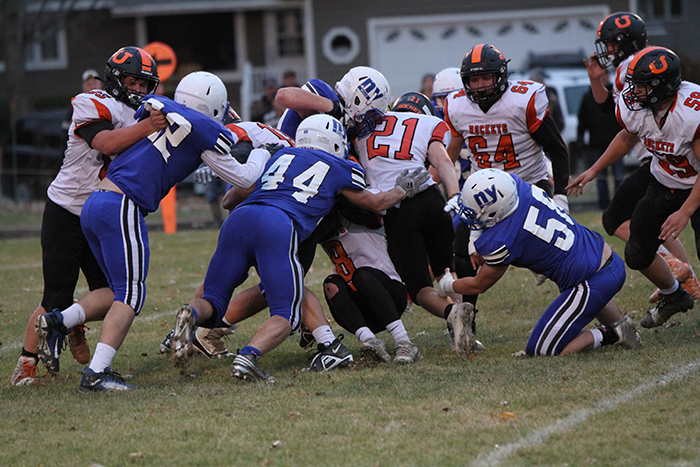 "Great win last night over Underwood to start the playoffs out. We played well did what we had to do and won the game," said head coach Matt Radniecki. "We won the turnover battle and did a nice job of jumping out to a quick start of 22-0 in the first quarter and then maintaining the lead. It was a good win on a nice night. 
Monte Briard put the Eagles on the scoreboard when he scored his first of three touchdowns. His first touchdown came on a 6-yard run. Brayden Ehnert converted the two-point conversion to put the Eagles up 8-0.
Ehnert put the Eagles up 14-0 on a 2-yard run, and found Finn Roder on a 22-yard pass to make the score 22-0.
Briard scored a pair of touchdowns in the third quarter on a 3-yard and 5-yard run to put NY Mills in front 34-0. Underwood got on the scoreboard late in the fourth quarter on a 67-yard run to make the score 34-7, where it would eventually end.
By jumping out to such a big lead early on, the Eagles were able to get some of their reserves some additional playing time in the second half.
"It was also nice to give the younger kids a chance to get some playing time," said Radniecki. "They have been working hard and deserve an opportunity also. We played solid defense and worked hard on all facets of the game. I was proud of our kids."
Saturday
The top seeded NY Mills Eagles hosted fifth seeded Breckenridge on Saturday.
Unfortunately for the Eagles, Breckenridge was able to do something that just one other team was able to do all season long—slow down a powerful NY Mills offense. The Cowboys were able to get some revenge on the Eagles after NY Mills defeated Breckenridge in last seasons section championship game in the FargoDome to advance to state. This time the Cowboys were able to come away with a 21-0 win.
"A tough loss for us. We had chances and left plays on the field," said Radniecki. "Breckenridge was ready to play and they didn't do anything we weren't expecting they just executed their offense and defense and made some big plays."
Breckenridge converted a fourth down and goal from the 4-yard line for their first touchdown of the game. The Cowboys added a pair of touchdown runs later in the game from 6-yards and 33-yards out to come away with the 21-0 win.
Despite the loss, Radniecki said the NY Mills seniors should not hang their heads on this one game. Over the past three seasons they have amassed a record of 22-4 and three conference championships.
"We just couldn't get going and were never able to develop a rhythm or make some big plays on the field," said Radniecki. "I am very proud of the seniors and what they have done over the last three years…we were able to win three conference championships and they had a 22-4 overall record. They should be proud of what they did, not what happened on Saturday."