Folk duo to perform at Cultural Center
News | Published on November 1, 2022 at 3:56pm GMT+0000 | Author: Chad Koenen
0
Curtis and Loretta have been named 'Best Acoustic Performers of the Twin Cities'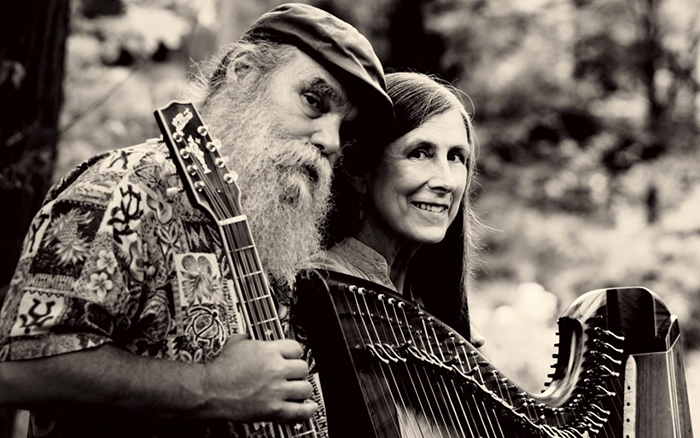 The New York Mills Regional Cultural Center's Fall 2022 Concert Series continues with Curtis and Loretta on Thursday, Nov. 3, at 7:30 p.m. in the Cultural Center's gallery listening room space.
Curtis and Loretta are a folk singer-songwriter duo, guided by their love of good songs and inspired by the stories of people they have met in their over 40 years of touring. Weaving together soaring harmonies with a wild menagerie of instruments that includes guitars, harp, mandocello, banjo, ukulele, kazoo, harmonica, and percussion, the duo perform traditionally-inspired originals with humor and heart.
Curtis and Loretta have been named "Best Acoustic Performers of the Twin Cities" (City Pages), landed on Folk Radio Chart's "Top Albums of the Year" and performed with such folk luminaries as Pete Seeger, Arlo Guthrie, Vassar Clements, Claudia Schmidt and Holly Near.
This concert celebrates the release of their new album Lift the World—their 10th recording, which is already being called "a generous cornucopia of beautifully crafted songs that speak from the heart of the struggles and joys of life, performed with honesty, grace, and uncommon musicianship" (Chris Vallillo, Gin Ridge Music).
These songs celebrate what is truly important in this life–the heart-warming and the heart-breaking.
Curtis and Loretta use all the tools in their musical toolkit to present these songs; incisive songwriting, strong vocals, folk harp, mandocello, guitars, banjo, ukulele, harmonica, shakers and kazoo. Guest artists Tom Schaefer (fiddle), Sandy Njoes (bass fiddle) and Sera Smolen (bowed cello) add just the right amount of tasty back-up.
Keeping the folk tradition alive, Curtis and Loretta are doing what troubadours have done for centuries – documenting our times and telling the stories in song so that generations from now people can sing these songs and feel what our lives were like.
Touring in support of their new album, veteran performers Curtis and Loretta continue to delight audiences with their warmth, humor and masterful musicianship. The duo will be stopping by NY Mills on Thursday. The doors will open at 7 p.m. and the music will begin at 7:30 p.m. 
For more about Curtis and Loretta, visit www.curtisandloretta.com.
Tickets are $10 in advance or $12 at the door ($2 member discount); students $5. Light refreshments available. Tickets can be purchased by stopping by the Cultural Center, calling the Cultural Center, or paying at the door the night of the concert.
Loretta Simonet is a fiscal year 2022 recipient of a Creative Support for Individuals grant from the Minnesota State Arts Board. This activity is made possible by the voters of Minnesota through a grant from the Minnesota State Arts Board, thanks to a legislative appropriation by the Minnesota State Legislature; and by a grant from the National Endowment for the Arts.
Visit www.kulcher.org or call the Cultural Center at 385-3339 with any questions.