From Europe to New York Mills
News | Published on November 1, 2022 at 4:48pm GMT+0000 | Author: Chad Koenen
0
Two exchange students to attend NYM School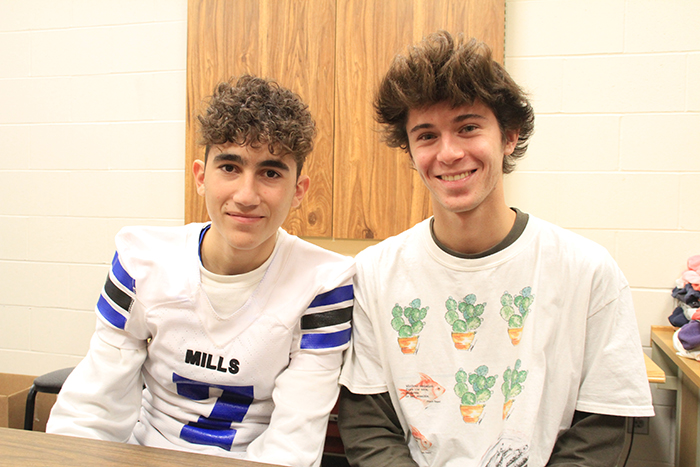 By Tucker Henderson
Reporter
In the warm, sunny reaches of Southern Europe, bright and balmy weather prevail. In Northern Minnesota, the sun perseveres to peek through the cloudy days and cooler, fall weather returns.  ¶  Matteo Pierro and Gorka Palacin, foreign exchange students at the New York Mills School this year, hail from Italy and Spain, respectively. Pierro is in 11th grade and comes from Palau, a small village in northern Sardinia, an island belonging to Italy. Palacin is in 10th grade and calls Girona, Spain home. Both exchange students are staying with the Randy and Chasity Peterson family.  ¶  Both exchange students arrived during the last week of August and share that fact that they miss their families, friends, pets and the comfort food of their own countries. 
Though they say they also miss the good weather of their homelands, they have a lot of excitement and anticipation for experiencing life in the United States, including during the colder months.
"Ice fishing is one of the things I want to do," said Palacin. Pierro quickly agreed.
Though Italy and Spain have been known to reach frigid temperatures, usually the countries are warm enough to spend time outside year-round. Both of the young men have earnestly involved themselves in sports. Pierro has joined the cross country team and Palacin has opted for American football. Both have plans to continue with other sports after this season.
"In winter, basketball too," said Pierro. "But in spring-tennis."
Pierro mentioned that he played tennis back home, but there he can play it all year.
"Later in winter, I will go to basketball," said Palacin.
Palacin also noted that he was involved in basketball back home and looked forward to being on the court this winter.
In addition to sports, an American education can be quite a change from schooling in Europe. A couple local classes are not in the normal offerings in Italy or Spain.
"Abnormal psychology," Pierro named his new classes, "…and pottery. We have art in Italy, but it's painting and doing stuff with your hands."
Palacin agreed with Pierro's comments on art class. He also is taking a few new classes that aren't offered in Spain.
"The only two (classes) that I don't have in Spain," said Palacin, "are astronomy and sports marketing."
Among other culture shocks, everyday interactions with fellow students and teachers alike, have contrasted with those back in Europe.
"For me, the empathy between people," said Pierro. "The relationship between teacher and student, and also student and student. There is more empathy."
Palacin agreed with Pierro's comments. He mentioned some surprises in the United States, but this topic was especially obvious to newcomers.
"In Spain, when you have a problem," explained Palacin, "the people sometimes try to help you, but not normally. (Here) they are helping you all the time."
"Nobody judges," added Pierro.
There are a few sights the young men would like to see while they are on the continent.
"We have a trip to New York City, Washington, and Niagara Falls together with the National Organization," said Pierro of their exchange program.
"Seeing an NBA game—that's my goal," said Palacin with a smile.