NYM falls to Henning in sub section semis
Sports | Published on November 1, 2022 at 3:00pm GMT+0000 | Author: Chad Koenen
0
NYM finishes season with record of 21-7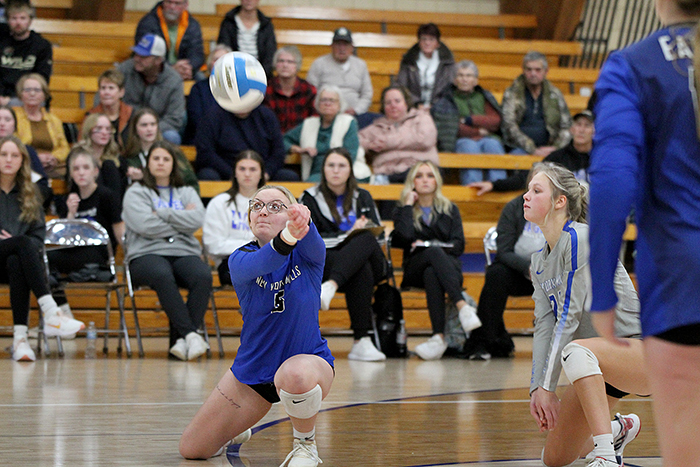 By Chad Koenen
Publisher
New York Mills defeated Park Christian in four games in the opening round of the sub section tournament on Wednesday. Unfortunately their season came to an end on Friday when they lost a 3-0 game to Henning.
The loss ends the Eagles season with a record of 21-7 overall and 5-2 in the conference. Over the past two years the Eagles have posted an impressive record of 45-15 overall as they look to bring back a number of underclassmen to their line up next season.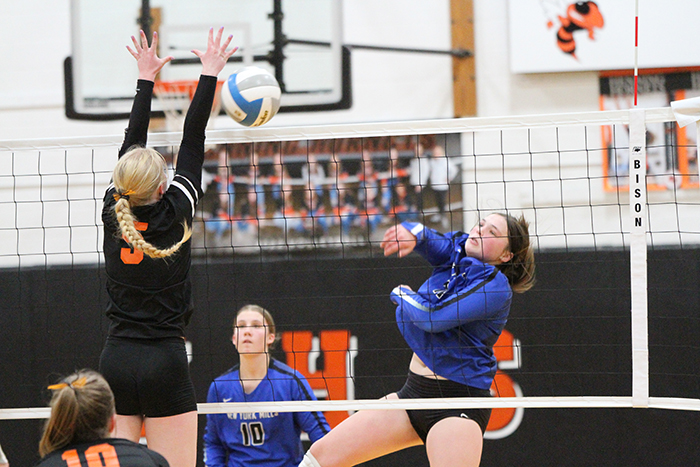 Wednesday
NY Mills came away with an important back-and-forth first game and went on to defeat Park Christian by a score of 3-1 on Wednesday night.
The Eagles opened the night with a tough 30-28 win over Park Christian, before taking the second game by a score of 25-16 to jump out to a commanding 2-0 lead. After Park Christian won the second game by a score of 25-22, the Eagles ended the match with a 25-20 victory to come away with a 3-1 win.
Kali Olson and Ayla Olson were dominant at the net for the Eagles on Wednesday as they combined for 37 kills. Kali Olson led the team with 23 kills and had 11 assists. She also finished with 20 digs.
Ayla Olson had 14 kills, while she had a team high 27 assists and 4 aces.
Bella Bauck led the team with 25 digs. The Eagles were nearly perfect from the service line as Annika Dunrud, Kailey Keskitalo, Kali Olson and Bauck were all perfect serving.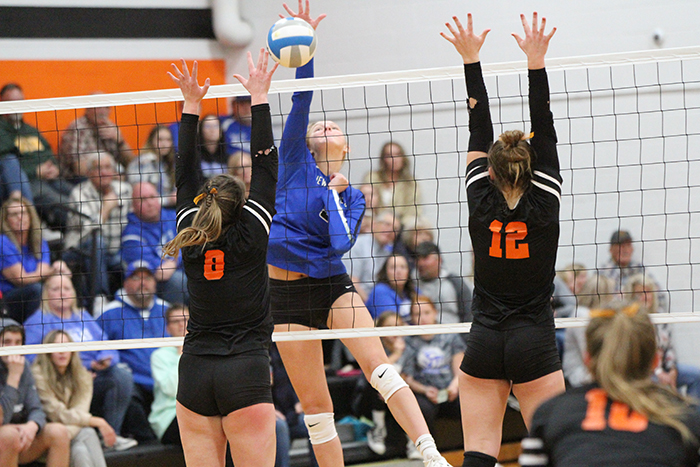 SERVING- Annika Dunrud 1-1, Kaylee Meech 6-7, Grace Brasel 23-24, Ayla Olson 23-24 (1 ace), Kailey Keskitalo 15-15, Kali Olson 17-17 (1 ace), Bella Bauck 15-15 (3 ace)
KILLS- Annika Dunrud 3, Grace Brasel 5, Ayla Olson 14, Kailey Keskitalo 4, Kali Olson 23
BLOCKS- Grace Brasel 4, Kali Olson 3
ASSISTS- Kaylee Meech 1, Grace Brasel 2, Ayla Olson 27, Kailey Keskitalo 5, Kali Olson 11, Bella Bauck 1
DIGS- Kaylee Meech 6, Grace Brasel 15, Ayla Olson 12, Olivia Smith 2, Kailey Keskitalo 2, Kali Olson 20, Bella Bauck 25
Friday
The gym was filled on Friday night as the NY Mills Eagles visited the Henning Hornets in the semi-finals of the sub section tournament. After trailing by double digits early in the first game, the Eagles got back into the game and tied the match up late. Henning was ultimately able to come away with a 26-24 win to take a 1-0 lead.
The Hornets went on to win a pair of close games 25-16 and 25-21 to come away with the 3-0 win.
Kali Olson led the way for the Eagles with 20 kills, while Ayla Olson finished with 12. Bella Bauck led the team with 21 digs, while Ayla Olson finished with 19, Grace Brasel had 16 and Kali Olson finished with 15 digs of her own.
SERVING- Kaylee Meech 7-7 (1 ace), Grace Brasel 12-12, Ayla Olson 11-12 (2 ace), Kailey Keskitalo 7-8, Kali Olson 15-15 (1 ace), Bella Bauck 9-9
KILLS- Annika Dunrud 2, Grace Brasel 1, Ayla Olson 12, Kailey Keskitalo 3, Kali Olson 20
BLOCKS- Annika Dunrud 2, Grace Brasel 1, Ayla Olson 1, Olivia Smith 1, Kailey Keskitalo 1, Kali Olson 1
ASSISTS- Annika Dunrud 1, Alayna Baune 1, Grace Brasel 1, Ayla Olson 19, Olivia Smith 1, Kailey Keskitalo 1, Kali Olson 11, Bella Bauck 1
DIGS- Kaylee Meech 6, Grace Brasel 16, Ayla Olson 19, Olivia Smith 3, Kailey Keskitalo 1, Kali Olson 15, Bella Bauck 21