Saskatchewan visitors enjoy Otter Tail County
News | Published on November 8, 2022 at 3:53pm GMT+0000 | Author: Chad Koenen
0
Visitors stop by Phelps Mill in rural OT County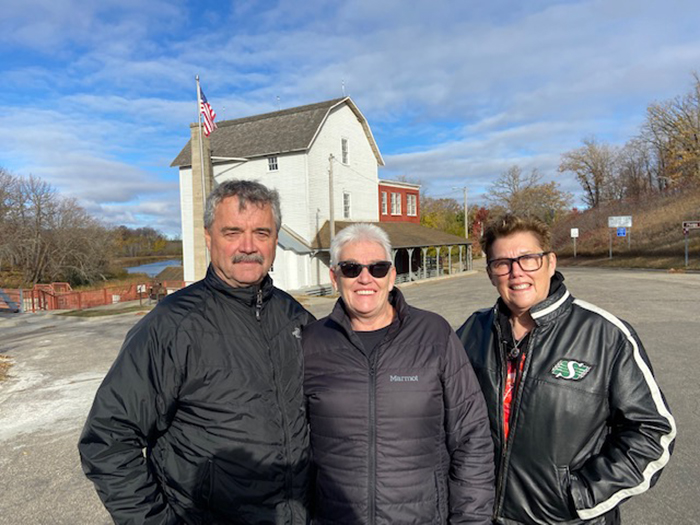 By Tom Hintgen
Otter Tail County Correspondent
Three residents of North Battleford, Saskatchewan, a province in western Canada, arrived in Otter Tail County on Oct. 15 to visit for a week with relatives who have family heritage in both Minnesota and Saskatchewan.
Making the journey to Minnesota were Lyle Voigt, his wife Joan and Lyle's sister, Betty Voigt Mason.
Julius Voigt was the grandfather of Lyle Voigt and Betty Voigt Mason of North Battleford. A brother of Julius Voigt was Ove Voigt, grandfather of Sharon Voigt Hintgen of Fergus Falls.
The late Bud Voigt of Denholm, Saskatchewan, was the father of Lyle Voigt and Betty Voigt Mason. The late Irvin Voigt of Dent was the father of Sharon Voigt Hintgen.
Julius and Ove Voigt were born on a farm in the 1880s bordering on what is now Detroit Lakes, the sons of Danish immigrants. The brothers later farmed in Saskatchewan.
Ove Voigt later returned to this area, namely Dent southwest of Perham where he ran a hardware store, oil station and worked as postmaster in Dent.
"In previous years our family from Dent traveled to Saskatchewan and members of the Voigt family in Saskatchewan have traveled to Minnesota," Hintgen said. "We were thrilled when we heard our Voigt cousins were again coming to Minnesota in October."
The visitors enjoyed their stay in Otter Tail County. While staying at the Hintgen home in Fergus Falls, they traveled with their hosts to Phelps Mill, Glendalough State Park, Otter Tail Lake, West Battle Lake, Dent and to Detroit Lakes where one of the Voigt farms was once located.
They commented about the beauty of Otter Tail County, also expressing how nice and helpful were the residents of the county.