Cultural Center celebrates 30th anniversary in NYM
News | Published on November 15, 2022 at 4:56pm GMT+0000 | Author: Chad Koenen
0
Reception set for Saturday at Cultural Center in NYM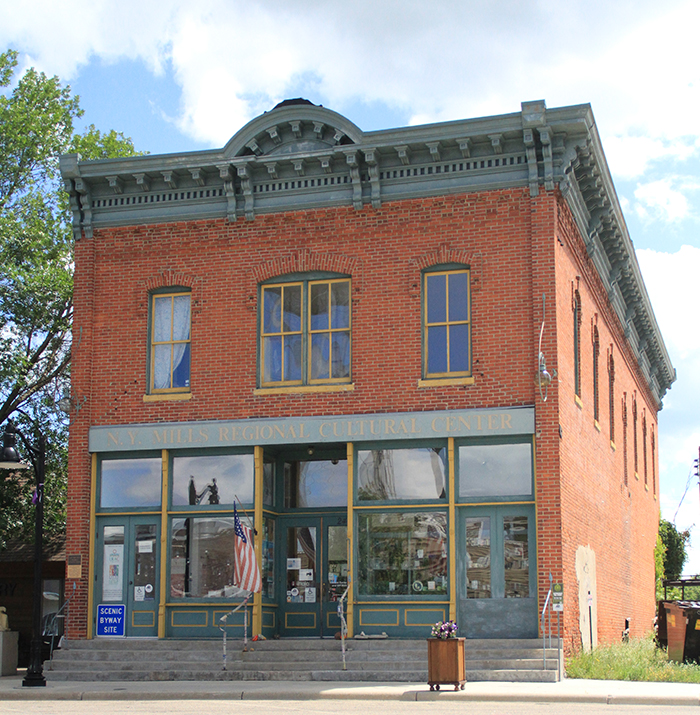 The New York Mills Regional Cultural Center is inviting the public to join it in celebrating 30 Years on Main Avenue in New York Mills. A new original exhibit, "A Look Back: NYMRCC Celebrates 30 Years on Main Avenue," is open to the public in the Cultural Center Gallery now through Saturday, Dec. 3. A reception will be held on Saturday, Nov. 19 from 4-6 p.m.
The exhibit is packed with glimpses into the Cultural Center's history, including original floor plans, news articles, posters, the work of past visiting artists, including the art of the very first artist-in-residence who came to NY Mills, and more.
The NY Mills Regional Cultural Center is located at 24 Main Ave N in downtown NY Mills. The building was built in 1885 as a General Store, and later housed Karvonen Furniture for many years, before becoming the Cultural Center in 1992.
In 1990, the NY Mills Arts Retreat was founded by John Davis as an artist residency program on an old farm outside of town. The original plan was for artists to stay in the renovated barn. Davis, an MCAD graduate who left the Twin Cities seeking a life in the arts in rural America, was a visionary who painted houses and ended up getting to know the locals when they invited him in for lunch or supper when the painting was done.
Davis discovered that many local citizens were interested in the arts and his vision grew from the original residency program to a multidisciplinary art center located in downtown NY Mills. When Davis heard the "old Karvonen building" might be torn down after the furniture business moved to Perham, he approached the Karvonen family, who donated the building. He also approached city officials, who decided that instead of spending the money for razing the building, it would be invested in remodeling and rebuilding as an art center. With a dedicated team of volunteers and backers, in 1992, the building opened its doors to the public.
The NY Mills Regional Cultural Center has been woven into the fabric of the community ever since, providing high quality arts opportunities that are normally only found in much larger cities. These days, more than 180 events take place at the Cultural Center each year, with more than 6,500 visitors.
In 2011, President Obama brought national attention to NY Mills in his appropriations request for the new "Our Town" program of the NEA (National Endowment for the Arts).
"In communities across the Nation, investments in the arts have made a profound impact. You don't have to take our word for it—just look at the facts. New York Mills, Minnesota is a rural community with a population of less than 1,000. In 1991, the City of New York Mills invested $35,000 to renovate a downtown building into an arts and cultural center in order to reverse a trend of economic decline. Within five years after this investment, 17 new businesses opened in town creating 210 new jobs—representing a 40 percent increase in the number of jobs in this community," he said. 
The NY Mills Regional Cultural Center invites everyone to join the celebration on Saturday, Nov. 19 from 4-6 p.m. at a reception honoring founder John Davis and all the early supporters and volunteers whose hard work and dedication resulted in that grand opening back in 1992. Attendees can share stories, view memorabilia from the past 30 years, and help organizers look ahead and dream about the future of arts and culture in rural Minnesota. Refreshments and bar available.
The Cultural Center Gallery is always free to see and open to the public. Gallery Hours are Wednesdays and Thursdays from 10 a.m. to 7 p.m., Fridays from 10 a.m. to 5 p.m. and Saturdays from 10 a.m. to 3 p.m. Private viewings can be arranged anytime by calling Cheryl Bannes at 385-3339 or emailing cheryl@kulcher.org.
These activities are made possible in part by the voters of Minnesota through an operating support grant from the Minnesota State Arts Board, thanks to a legislative appropriation from the arts and cultural heritage fund.
Visit www.kulcher.org or call the Cultural Center at 385-3339 with any questions.