High school friends take over Ottertail gym
News | Published on November 15, 2022 at 5:38pm GMT+0000 | Author: Chad Koenen
0
Otter Fitness Garage offers 24/7 access in downtown Ottertail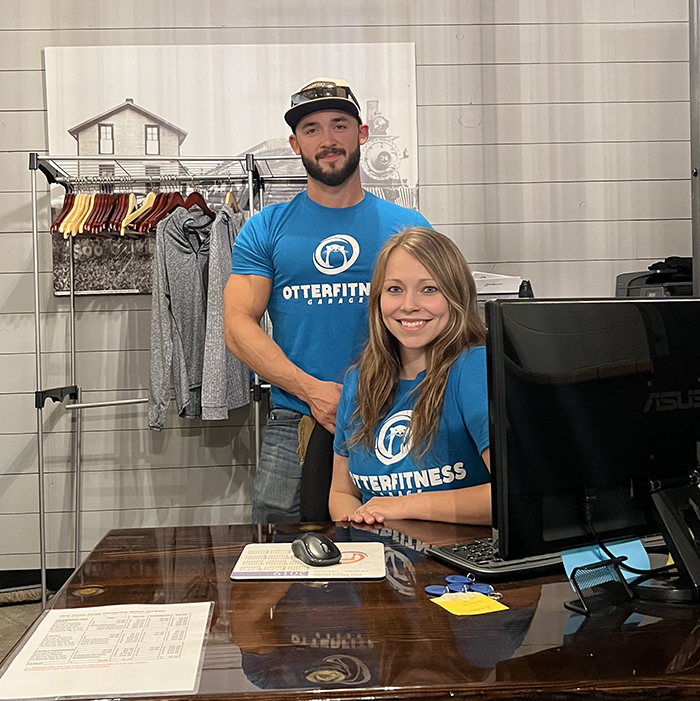 By Chad Koenen
Publisher
A group of high school friends are the new owners of a bustling gym in the heart of Ottertail.
Chris and Breanna (Kimber) Hutmacher, as well as Tyler Hadley and Jesse Wunderlich are the new owners of Otter Fitness Garage. The gym opened several years ago near Betty's Pantry in Ottertail and has grown into a gym that includes classes, a number of free weights and an increasing membership roll.
Chris Hutmacher, Hadley and Wunderlich all graduated from Perham High School in 2013, while Breanna was a graduate of Henning High School. Both Wunderlich and Hutmacher said they have previously talked about opening a gym in Ottertail, but the plans were in the early stages when Joe and Kristi Hammers opened the Otter Fitness Garage in the place of the former Wiebe's Garage.
While the gym never came to fruition, Wunderlich had a few T-shirts made up to promote his dream gym. When the Hammers decided to sell the Otter Fitness Garage, they came across one of those T-shirts.
"(When the Hammers) decided to sell it, one of my buddies was wearing a shirt from the gym I was going to (start)," said Wunderlich.
All of the new owners enjoy working out and being fit, so when the Hammers inquired with the three friends about whether they would be interested in purchasing the business, Wunderlich said everything just felt right to move ahead with the new business venture.
"When the opportunity came up it just kind fell into place and worked out," said Wunderlich.
Hutmacher shared a similar dream of opening a gym in Ottertail before the Hammers constructed Otter Fitness Garage. A competitive body builder, Hutmacher has a passion for lifting weights and working out.
"Having my own gym has been a dream of mine for a long time. When I first got into lifting/bodybuilding over 10 years ago, I had actually aspired to somehow start a little gym in the Ottertail area before the Otter Fitness Garage was established," he wrote on Facebook. "Just being so young, and not having many resources back then, it was simply nothing but a dream. Well, after a few years of putting our heads down, working hard, learning, and sticking together as a team since we were just kids in high school together….here we are today with the keys to the front door. Extremely grateful, and that's all I can say. Thank you to everyone who helped make this possible."
The group is hoping to offer some new services at the gym in the near future, while also continuing the classes and offerings that has made Otter Fitness Gym so popular over the years. Since he is a competitive body builder, Hutmacher said he has a unique insight of body building and lifting weights that he can share with members of the growing gym.
"We are looking forward to the customers and building relationships with the customers," said Wunderlich. "The customers are happy with the way it was being run before so it is just keeping things as the status quo."
Otter Fitness Garage is open 24/7 through a key fob system. The office will also be staffed by Breanna Hutmacher throughout the week. To get a membership to the gym, stop by the gym, contact (218) 325-1400 or visit the gym online at www.otterfitness.com.
In addition to the gym, Hutmacher, Hadler and Wunderlich own and operate Hoots Innovative Finishing, which is a construction company based in Perham. The company installs everything from flooring to tile work, wood work, custom tile showers, custom accent walls, handyman work and more.
For more information about Hoots Innovative Finishing visit them online at www.hootsfinishes.com.