Pelican Rapids does its part in helping Ukraine
News | Published on November 15, 2022 at 4:59pm GMT+0000 | Author: Chad Koenen
0
Nelson lends a hand to refugees, orphans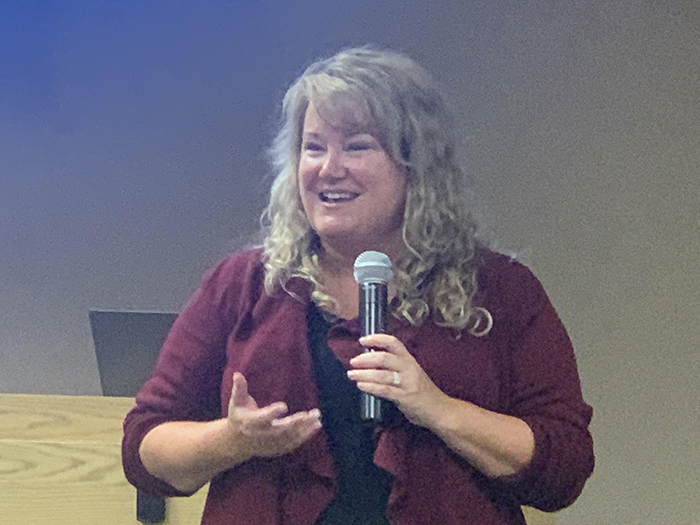 By Tom Hintgen
Otter Tail County Correspondent
Gina Nelson of Pelican Rapids has a powerful story while sharing her experience in Ukraine, and here in the U.S. with a Ukrainian orphan and war refugees. She gave a presentation Thursday evening, Nov. 3, at the Our Lady of Victory Church fellowship hall in Fergus Falls.
Nelson has been significantly inspired by St. Mother Teresa's writing, and she titled her talk "Do It Anyway."
Various organizations such as Open Hearts and Homes for Children have paired orphaned Ukrainian children ages 7 to 16 with U.S. hosts or foster families for short visits to experience life in the United States.
"It was wonderful to see many orphans from Ukraine being able to spend time with families throughout the world during Christmas and the summer months," Gina said.
Nelson has traveled to Ukraine to help in this humanitarian effort.
In 2018 she befriended a young orphan boy named Ruslan, 15. The following year, in 2019, Ruslan was able to stay with Gina, her husband Bill and their three children in Pelican Rapids. Covid shut things down in 2020.
In 2020, Ruslan was living in Mariupol, in southeastern Ukraine, after he had aged out of the orphanage. He was living with Pastor Gennadiy Mokhnenko as his 35th son. The pastor, with a wife and family, adopted 36 children into his home.
Over the years the pastor placed many orphans into other Christian homes. Several of the kids he adopted have now grown up and are helping him in his ministry.
The war in Ukraine has made humanitarian help to orphans even more challenging.
"Many families in Ukraine, for the past several years, have been too poor to raise their own children," Gina said. "That's why so many have ended up in orphanages."
Ruslan, now 19, was able to return to the United States and is now living in Moorhead.
While visiting Ruslan in Ukraine, Gina became close to a family of four, the Zlochevskas. The Nelsons helped welcome the Ukrainian family when they arrived in Fargo earlier in 2022, enroute to settling in Pelican Rapids.
What keeps Gina and others helping the people in Ukraine staying optimistic are the words of Mother Teresa, "We can do small things with great love."