Bringing big town procedures to Perham Health, care to NY Mills Clinic
News | Published on November 22, 2022 at 3:14pm GMT+0000 | Author: Chad Koenen
0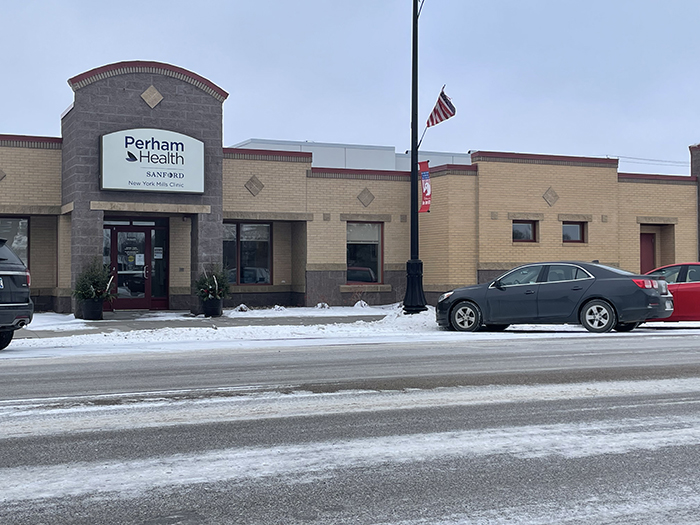 By Chad Koenen
Publisher
There is something to be said about having a surgery or medical procedure done in your own back yard. There are no concerns about traveling several hours on a snow-covered road in the heart of winter. Family members don't have to worry about finding lodging for overnight stay, and people can receive care from some familiar faces.
At Perham Health, Dr. Brett Glawe is doing his part to provide procedures more commonly seen in large metro areas, just a few miles down the road from New York Mills. Dr. Glawe is a general surgeon who is at the NY Mills Clinic every Wednesday afternoon to consult with local residents about potential surgeries, as well as for pre and post surgery appointments and follow up visits.
By visiting residents in NY Mills each Wednesday, Dr. Glawe is able to make the pre and post operation visits as seamless and easy as possible. Residents won't need to take an entire afternoon off of work to go to another town, and elderly residents won't need to worry about traveling in the winter.
Originally from the Vergas area, Dr. Glawe has been with Perham Health for a little over seven years. He performs a variety of general surgery procedures like hernia, gallbladder, colon and breast cancer surgeries and scopes. He also treats skin cancer, performs plastic surgery and skin checks for abnormalities.
"I grew up in Vergas so for me this is like coming back home. So it is nice to be able to offer this to the community," said Dr. Glawe.
Dr. Glawe performs a number of surgeries like a hernia lathoscropically in minimally invasive ways. The surgery allows for patients to recover more quickly and has even attracted people to the Perham and NY Mills area from neighboring communities.
As some hospitals continue to be backed up for several months for elective and noninvasive surgeries, Dr. Glawe said Perham Health is pulling people into the community as they can offer similar surgeries, oftentimes without as long of a wait. That also helps the communities as family come to visit loved ones and shop at local stores while they are in town.
Two years into the COVID-19 pandemic, Dr. Glawe said physicians and surgeons have noticed an increased amount of advanced illness. For example, he said some residents have put off things like getting mammograms and colonoscopies due to the COVID-19 pandemic, which could have caught the cancer before it spread or became more advanced. He encouraged everyone to get their colonoscopy and mammograms on a regular basis and not put them off as if things like cancer or growths are detected early enough they can be more easily treated.
Dr. Glawe said one misconception is that people do not go to the doctor or get a colonoscopy or mammogram until they are sick, as opposed to taking a preventative approach that could detect the cancer before a person shows symptoms.
"That's one of the reasons patients are not coming in is because they say they feel fine," he said. "In reality you should come in before you are sick."
Dr. Glawe is in NY Mills Clinic each Wednesday afternoon.
For more information about Dr. Glawe, as well as the NY Mills Clinic and Perham Health, visit Perham Health online at www.perhamhealth.org