DIY events on tap for Christmas Tree Festival
News | Published on November 29, 2022 at 4:03pm GMT+0000 | Author: Chad Koenen
0
Christmas Tree Festival to end Saturday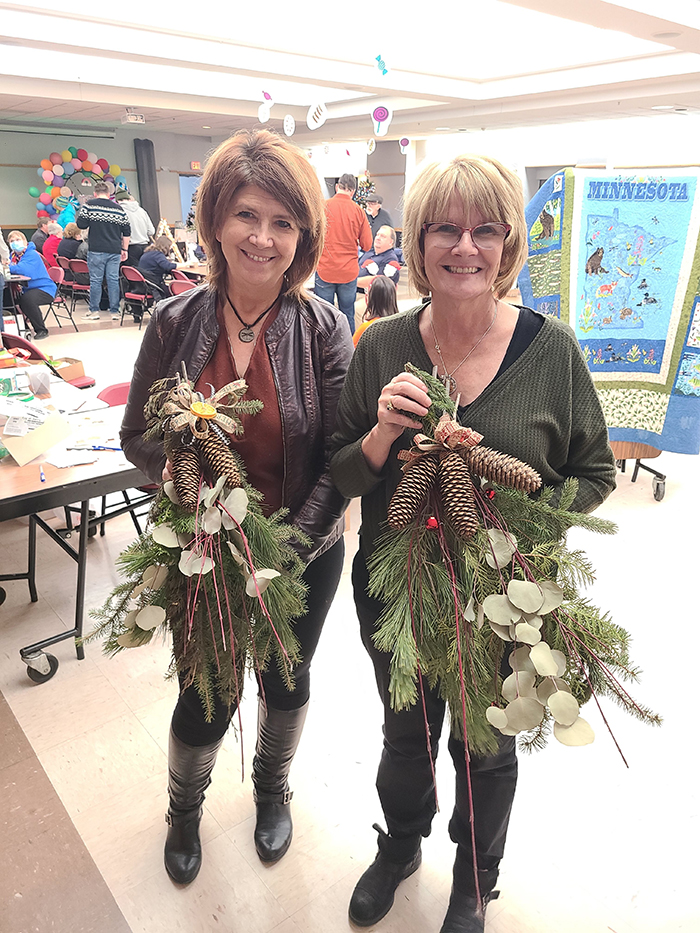 All are invited to the Cultural Center's annual Winter Fundraiser at the New York Mills City Hall Ballroom on Wednesday, Nov. 30, from 6-8 p.m. This event is free to attend and open to all and held at the City Hall Ballroom during the NY Mills Christmas Tree Festival.
This fun fundraiser will include many opportunities to connect, create, and cultivate the arts with us, including DIY creative activities to bring out the artist in you, youth ballet recital, a live auction, artist-made ornaments, bottle grab, wine tasting by Mills Liquors in partnership with Small Lot Wines, grab-and-go Winter Gifts featuring Minnesota artists and makers, and our online auction kick-off.
The evening will begin at 6 p.m. with a short and sweet ballet performance by our two groups of youth ballet students (ages 3-11), led by local instructor Leona Cichy. Then, enjoy a variety of activities detailed below, available open house style, throughout the remainder of the event. The live auction will begin around 7:15 p.m., allowing a bit of time afterward to complete your shopping.
Two DIY creative activities will be available this year for free-will donations. Create your own succulent planter with local expert Denise Peltier for yourself or to give as a gift. Bring your own pot, bowl or cup, or use one of ours. Print your own holiday cards with local artist Cheryl Bannes to share unique seasonal wishes. Bannes will lead participants in printing note cards using handmade holiday designs. Perfect to share with the special people in your life or frame them as unique holiday décor.
The Live Auction by Perala Bros. Auctioneers is sure to entertain as you bid on unique treasures. Peanuts and Mickey will make it easy for you to go home with a skiing/snowshoeing experience, Christmas wine basket, lakeside cabin weekend at East Silent Lake Resort, paint and sip party, and more. Live auction to begin around 7:15 p.m.
Back by popular demand this year is the Bottle Grab. Bottles of wine and liquor are being donated and wrapped to conceal their identity. Pay just $10, grab a bottle, and see what you get.
Enjoy a wine tasting with Mills Liquors in partnership with Small Lot Wines. For a free will donation, you can try out a variety of wines produced at small wineries around the world. Laura Botten of Small Lot Wines will join us to share her knowledge of wine as you enjoy tastes. Find a wine you love and get special discounts if you decide to buy a bottle.
Winter Gifts are back and better than ever! Featuring many new Minnesota artist and makers, these curated gifts are beautifully packaged and ready to give—perfect for friends, family, coworkers, teachers, caregivers, etc. Find something for everyone with gifts including locally made foods, jewelry, soaps, pottery, and more.
After a successful first year in 2021, we will host our second online auction kicking off at this event. Featuring artist made goods, vintage treasures, children's items, and more, we hope to increase our reach and access for all supporters, even those who can't attend our events in person. We will have information and a QR code to scan with your smart phone at this Nov. 30 event, and online bidding will be live. Continue to bid online from the comfort of your home through Friday, Dec. 9 at noon, then pick up your winnings at the Cultural Center on Saturday, Dec. 10.
The Cultural Center are accepting donations of unique, hand-made, vintage or children's items and creative experiences for the online (silent) and live auctions, as well as wine or liquor/booze bottles for the bottle grab (value $10 & up, please). Drop off at the Center or contact us to arrange for pick-up (385-3339 or info@kulcher.org).
Event held at the NY Mills City Hall Ballroom during the week-long annual Christmas Tree Festival, with refreshments provided. While you're here, you can also check out the community displays, many of which are available to bid on, with proceeds benefitting NY Mills Santa Anonymous.
For any questions, or for more information, contact the Cultural Center at 385-3339 or visit www.kulcher.org to learn more.