Experienced line up returns for NYM
Sports | Published on November 29, 2022 at 3:54pm GMT+0000 | Author: Chad Koenen
0
Eleven letter winners return for NY Mills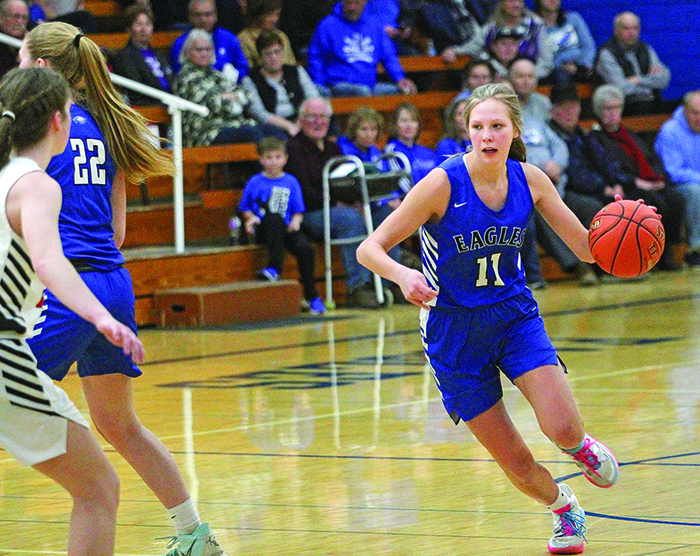 By Chad Koenen
Publisher
Few teams in the conference and section will be able to match New York Mills' experience on the court this season. The Eagles are returning 11 letter winners this season, including senior Kali Olson who missed the entire season last year due to an injury.
Having so much experience on the court will not only help the Eagles with depth across their line up, but will also allow them to have competitive practices to get ready for the season.
"Our keys to success will revolve around having competitive practices and improving each game/week," said head coach Bryan Dunrud. "We have some experienced girls returning and some injured players from last year that are healthy and ready to play this season, which should make for a competitive roster. We need to be able to play team basketball, limit turnovers and always be active and communicating on both offense and defense."
Among the returning letter winners this season are seniors: Bella Bauck, Maya Radniecki, Kali Olson, Kailey Keskitalo and Aidyn Baune; juniors Katherin Garcia, Grace Brasel and Abby Riedel; sophomores: Ayla Olson and Alayna Baune; and freshman Annika Dunrud.
While the Eagles have a wealth of experience returning to their line up, the team will need to fill the voids left by Mackenzie Gilster, Moriah Geiser and Megan Riedel who all graduated last season.
Coming off a season in which the Eagles finished with a record of 17-10 overall and 9-5 in the conference, Dunrud said the team will look to stay healthy and be competitive in their games this season.
"Our team goals for this year are to stay healthy and compete for a conference and section championship," he said. "We should be competitive in all of our games and it is important that we build from week-to-week so that we are ready to compete at the end of the season."
Among the favorites in the conference this season will be Henning, Wadena-Deer Creek and NY Mills, while Dunrud said the section favorites include Hancock, Underwood, Henning and NY Mills.
"It has been an exciting start to the season with a good group of girls. The girls have been working hard with positive attitudes and are excited to get the season started. We are looking forward to the seniors leading our team and our experienced juniors, sophomores, and freshman to compete for playing time and provide quality minutes in the varsity game," said Dunrud. "Our experience, size, and athleticism should allow us to play an exciting style of basketball for both the girls and our fans. Both our conference and section will be competitive, so there will be many opportunities for us to grow as individuals and as a team and this should prepare us well for an end of the season run."
Dunrud will be assisted this season by JJ Weller who is the assistant/JV coach.