Making Christmas a bit brighter in NYM
News | Published on November 29, 2022 at 4:33pm GMT+0000 | Author: Chad Koenen
0
Donations sought for annual Santa Anonymous toy drive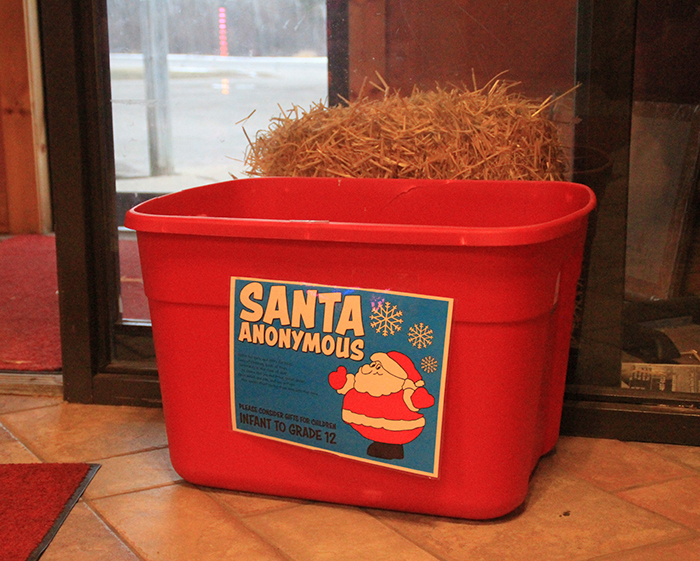 By Tucker Henderson
Reporter
The local Santa Anonymous group is geared up and getting things done in the community this month and next.
As the Christmas Tree Festival and the recent Thanksgiving meal provided by Trinity Lutheran Church and Farmer's Daughter Rustic Bakery have garnered many visitors and all proceeds from both events benefit Santa Anonymous, people may be wondering what the group does during the year.
Santa Anonymous is made up of local volunteers who take this time of year to donate funds, wrap presents and deliver gifts and food to families in need who are nominated throughout the year. These families may have fallen on hard times or have had a difficulty in their lives. The group also donates and delivers flowers or fruit baskets to families who have lost loved ones during the year.
Red, decorated donation boxes are set up at businesses around NY Mills to drop off toys and gifts for kids ages 0-18 years of age. The boxes will be picked up the morning of Dec. 6, just in time for sorting, wrapping, and delivery. Wrapping day is Dec. 12 from 9 a.m. to 12 p.m. and delivery day is Dec. 14 during the morning.
Anyone who would like to volunteer their time or would like to adopt a family can call (218) 640-3254. If you are able to donate funds, they can be sent to Farmers & Merchants State Bank of New York Mills, in care of Latham Hetland, 11 N Walker Ave. If you know a family in need of assistance this holiday season, please call the NYM School District Office at (218) 385-2553 to nominate them.
This rewarding project bringing joy to NY Mills students is only possible due to the generosity of time, talent, and funds from residents, businesses, and the surrounding communities.