Wadena ALC recognized for innovation by MREA
News | Published on December 8, 2022 at 5:29pm GMT+0000 | Author: Chad Koenen
0
Freshwater Produce and Decor provides learning opportunities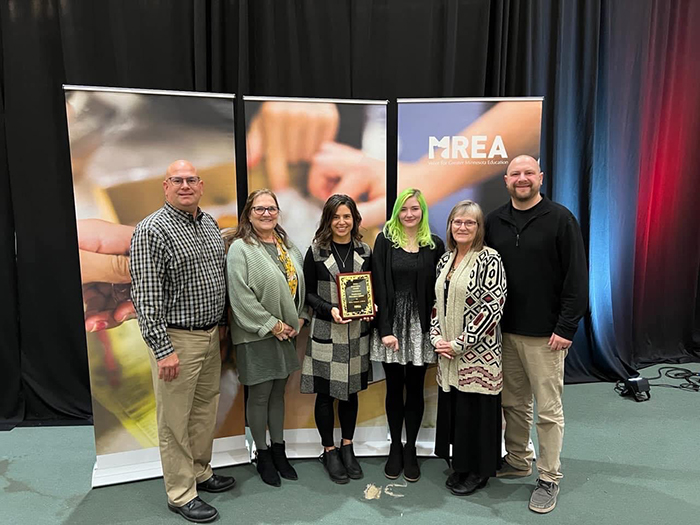 By Tucker Henderson
Reporter
A newer trend in the American education system is the early introduction to the workforce and experience with small-business operations.
One local example of this is Freshwater Produce and Decor, a small-business operated by local youth in the Wadena Area Learning Center (ALC) programs. The program is so successful in fact, that the Minnesota Rural Education Association (MREA), recognized it as one of two Innovation Program Awards for the most innovative rural classroom in Minnesota.
"The goal of the program is to have kids graduate from high school. And to have those hands on authentic learning experiences."

Janie Skoien, 7-8th Grade Teacher at the Wadena Area Learning Center
The staff at the ALC credit a three-year plan that they developed to set goals for their small business class. The goals set out in the plan have all been accomplished according to Josh Hendrickx, the ninth and 10th grade instructor at the ALC. He also said that it wouldn't have been possible without the effort of both students and staff in the process.
"Moving forward, we have now set up a five year plan on how to expand the classroom business," said Hendrickx. "Forward, out of the box, non-traditional thinking amongst our students and staff have contributed and continue to contribute to our progress."
Hendrickx, along with Superintendent Eric Weber, seventh and eighth grade teacher Janie Skoien, lead teacher Heidi Heino, and ALC specialist Jana Timm all have worked tirelessly to promote this newly created educational opportunity in Wadena.
"(We) have together tried to work above and beyond to give our students experiences they might not otherwise have had," said Hendrickx. "To make trusting relationships with students and then seeing them shine in our program has been one of the most beneficial experiences of my life while trying to inspire in our students a life of service."
Hendrickx teaches general education classes for ninth and 10th graders and is also a leader in the small business class. With a class of kids that doesn't change during the day, he is able to work closely with each individual and get to know their particular learning styles. The award comes with a lot of praise for his coworkers, who's support he said, has been instrumental.
"The award is very rewarding. We were honored by being seated up front and called on stage to be recognized, including other educators around the state being recognized for various awards. It was a very elegant ceremony."

Josh Hendrickx, 9-10th Grade Teacher at the Wadena Area Learning Center
Hendrickx graduated from Minnesota State University in Moorhead in 2012 with a Bachelor of Science and went on to graduate from Southwest Minnesota State University with a Masters of Science in 2018. He, like his coworker Eric Weber, is also a graduate of New York Mills High School. He said that the Wadena ALC has a lot of ties to NY Mills as three staff members as well as some former and current students reside in our community.
"At the ALC we have students from a few districts, but New York Mills is one of them," said Hendrickx. "We have a lot of ties to New York Mills."