Four champions crowned at Crookston tournament
Sports | Published on December 13, 2022 at 4:06pm GMT+0000 | Author: Chad Koenen
0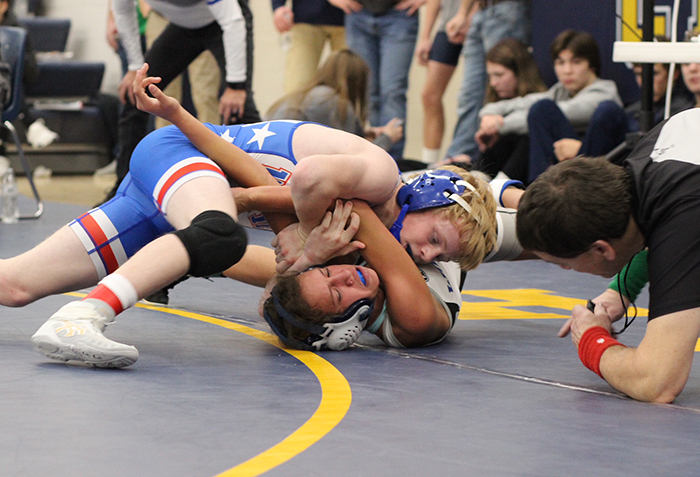 By Chad Koenen
Publisher
Four Eagles won an individual championship as the New York Mills wrestling team took first place overall at the annual Rodd Olson Invitational in Crookston on Saturday.
Aiden Meech, Austin Geiser, Bode Roberts and Grady Roberts all took first place, while Jon Rinerson reached the championship match, but fell in the title match.
In addition to the tournament, the Eagles participated in a triangular against second ranked West Central Area, as well as Benson on Thursday.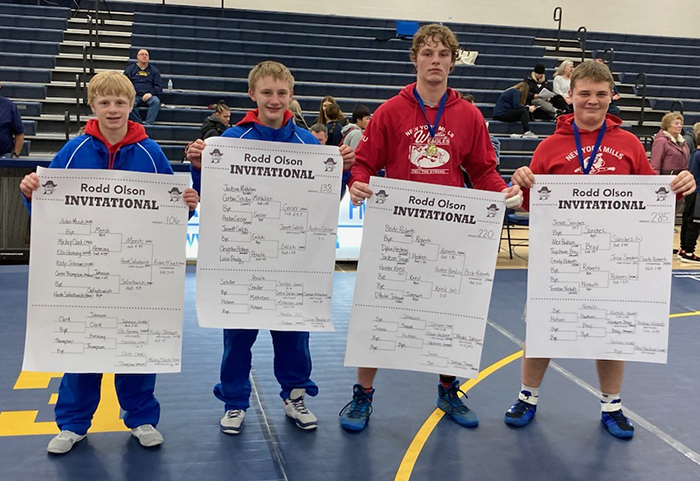 The Eagles, who are currently 3-4 on the season, will travel to Osakis for a triangular against the Silverstreaks and United North Central on Tuesday, before participating in a tournament in Pequot Lakes on Friday and Saturday.
NY Mills senior Simon Snyder is currently ranked fifth in the state at 152 lbs. He is the lone wrestler who is currently ranked in the top 10.
Thursday
NY Mills dropped two matches as part of a triangular with West Central Area and Benson on Thursday night.
In their match against the Braves, the Eagles fell by a score of 48-36.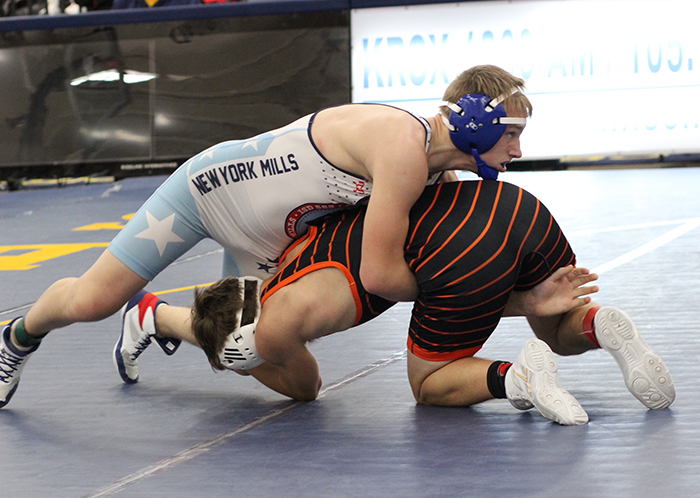 In their match against the Knights, NY Mills fell by a score of 55-15.
Aiden Meech secured an 8-7 decision over Evan Dingwall at 106 lbs., while Creed Mursu won by forfeit at 126 lbs. for the Eagles against West Central Area.
NY Mills also secured back-to-back decisions at 160 lbs. by Simon Snyder by a 4-3 score, while Jon Rinerson won by a 10-9 decision at 170 lbs.
West Central Area-Ashby-Brandon-Evansville 55 New York Mills 15
106: Aiden Meech (NYM) over Evan Dingwall (WCAA) (Dec 8-7)
113: Owen Gruchow (WCAA) over Carlyle Tumberg (NYM) (Fall 1:22)
120: Tucker McGee (WCAA) over (NYM) (For.)
126: Creed Mursu (NYM) over (WCAA) (For.)
132: Carter Lohse (WCAA) over (NYM) (For.)
138: Adam Lohse (WCAA) over Austin Geiser (NYM) (MD 15-1)
145: Kolby Peters (WCAA) over Jay Mindermann (NYM) (Dec 8-6)
152: Hunter Gruchow (WCAA) over Joe Mann (NYM) (Fall 1:44)
160: Simon Snyder (NYM) over Solomon Wales (WCAA) (Dec 4-3)
170: Jon Rinerson (NYM) over Jeremy Blascyk (WCAA) (Dec 10-9)
182: Anthony Sykora (WCAA) over (NYM) (For.)
195: Gavin Flint (WCAA) over (NYM) (For.)
220: Justin Blascyk (WCAA) over Bode Roberts (NYM) (Def.)
285: Blake Flint (WCAA) over (NYM) (For.)
Saturday
Four Eagles captured an individual championship at the Rodd Olson Invitational in Crookston on Saturday. As a team the Eagles captured first place with 162 points to finish just ahead of Crookston, who had 155.5 points.
Aiden Meech took first place at 106 lbs. after he pinned Heath Safratowich of Park Rapids at the 5:09 mark of his match. He advanced to the championship after defeated Ella Henning of Walker-Hackensack-Akeley by a fall at the 4:34 mark of the semi-finals.
Austin Geiser also captured first place at 138 lbs. when he won a 7-4 decision over Jarrett Galzki of Park Rapids in the championship match. Geiser also defeated Jackson Mikkelson of United Clay Becker by a pin in the semi-finals at the 2:57 mark of their match.
In the upper weights, Bode Roberts captured first place at 220 lbs., when he pinned both of his opponents to capture first place. He started his tournament with pin over Dylan Hedren of Walker-Hackensack-Akeley at just the 1:30 mark of his math in the semi-finals. In the finals, Roberts pinned Hunter Kresl of Crookston at the 3:13 mark of the match to come away with first place.
Grady Roberts captured NY Mills' fourth team title when he pinned his way to the championship at 285 lbs. Roberts defeated Treston Nichols by fall at the 1:52 mark of his semi-finals match, before he pinned Jesse Sanchez of Crookston at the 1:48 mark of his championship match.
Jon Rinerson was the fifth Eagle to advance to the championship match as he defeated Blake McMullen of Mahnomen by a 6-0 decision in the semi-finals. He then fell to Ficher Smith of Walker-Hackensack-Akeley by a fall at the 2:42 mark of the match to take second place.
Breaden Malone placed third at 152 lbs. after dropping his first match by a fall, before picking up a 6-0 decision over Peter Carroll of Park Rapids. In his final match, Casey Weiland of Crookston defeated Malone by a 12-2 major decision to leave Malone in third place overall.
Simon Snyder also took third place at 160 lbs. after dropping a tight 5-4 decision to Carter Coauette of Crookston in the opening round of the tournament. He then defeated Brayden Chenault of Hillsboro by a fall at the 1:38 mark of the match to secure third place.
Rodd Olson Invitational Results for New York Mills
106- 1st place- Semifinal – Aiden Meech (New York Mills) 8-2 won by fall over Ella Henning (Walker) 2-4 (Fall 4:34), 1st Place Match – Aiden Meech (New York Mills) 8-2 won by fall over Heath Safratowich (Park Rapids) 4-2 (Fall 5:09)
113- 6th place- Quarterfinal – Keegan VonEnde (Badger-GB-MR) 2-2 won by decision over Carlyle Tumberg (New York Mills) 4-4 (Dec 5-4), Cons. Round 1 – Carlyle Tumberg (New York Mills) 4-4 received a bye () (Bye), Cons. Semi – Evin Trudeau (Crookston Pirates) 8-3 won by tech fall over Carlyle Tumberg (New York Mills) 4-4 (TF-1.5 4:11 (15-0)), 5th Place Match – Justin Torroll (Hillsboro) 3-6 won by major decision over Carlyle Tumberg (New York Mills) 4-4 (MD 14-2), 126- 4th place- Quarterfinal – Creed Mursu (New York Mills) 5-6 received a bye () (Bye), Semifinal – Taylor Johnson (United Clay Becker Badgers) 6-0 won by fall over Creed Mursu (New York Mills) 5-6 (Fall 1:08), Cons. Semi – Creed Mursu (New York Mills) 5-6 won by fall over Cade Walz (Mahnomen) 1-7 (Fall 2:37), 3rd Place Match – Wrigley Clark (Park Rapids) 5-2 won by fall over Creed Mursu (New York Mills) 5-6 (Fall 2:22)
138- 1st place- Semifinal – Austin Geiser (New York Mills) 4-3 won by fall over Jackson Mikkelsen (United Clay Becker Badgers) 6-2 (Fall 2:57), 1st Place Match – Austin Geiser (New York Mills) 4-3 won by decision over Jarrett Galzki (Park Rapids) 3-3 (Dec 7-4)
145- 5th place- Semifinal – Ethan Bowman (Crookston Pirates) 9-1 won by tech fall over Jay Mindermann (New York Mills) 6-5 (TF-1.5 4:00 (16-0)), Cons. Semi – Henry Thorson (Park Rapids) 4-4 won by decision over Jay Mindermann (New York Mills) 6-5 (Dec 5-2), 5th Place Match – Jay Mindermann (New York Mills) 6-5 won by fall over Andrew Johanning (Park Rapids) 0-3 (Fall 4:59)
152- 3rd place- Round 1 – Brogn Betio (Badger-GB-MR) 2-3 won by fall over Breaden Malone (New York Mills) 4-3 (Fall 2:45), Round 2 – Breaden Malone (New York Mills) 4-3 won by decision over Peter Carroll (Park Rapids) 1-6 (Dec 6-0), Round 3 – Casey Weiland (Crookston Pirates) 7-3 won by major decision over Breaden Malone (New York Mills) 4-3 (MD 12-2)
160- 3rd place- Semifinal – Carter Coauette (Crookston Pirates) 8-1 won by decision over Simon Snyder (New York Mills) 7-3 (Dec 5-4), Cons. Semi – Simon Snyder (New York Mills) 7-3 received a bye () (Bye), 3rd Place Match – Simon Snyder (New York Mills) 7-3 won by fall over Brayden Chenault (Hillsboro) 1-7 (Fall 1:38)
170- 2nd place- Semifinal – Jon Rinerson (New York Mills) 8-2 won by decision over Blake McMullen (Mahnomen) 8-2 (Dec 6-0), 1st Place Match – Ficher Smith (Walker) 4-0 won by fall over Jon Rinerson (New York Mills) 8-2 (Fall 2:42)
195- 4th place- Quarterfinal – Nathan Keiser (Walker) 3-4 won by fall over Waylen Fudge (New York Mills) 2-4 (Fall 4:45), Cons. Round 1 – Waylen Fudge (New York Mills) 2-4 received a bye () (Bye), Cons. Semi – Waylen Fudge (New York Mills) 2-4 won by fall over Kota St. Clair-Stone (Mahnomen) 5-4 (Fall 2:46), 3rd Place Match – Nathan Keiser (Walker) 3-4 won by fall over Waylen Fudge (New York Mills) 2-4 (Fall 1:50)
220- 1st place- Semifinal – Bode Roberts (New York Mills) 7-1 won by fall over Dylan Hedren (Walker) 1-5 (Fall 1:30), 1st Place Match – Bode Roberts (New York Mills) 7-1 won by fall over Hunter Kresl (Crookston Pirates) 3-5 (Fall 3:13)
285- Grady Robert – 1st place- Semifinal – Grady Roberts (New York Mills) 5-2 won by fall over Treston Nichols (Badger-GB-MR) 5-3 (Fall 1:52), 1st Place Match – Grady Roberts (New York Mills) 5-2 won by fall over Jesse Sanchez (Crookston Pirates) 2-1 (Fall 1:48)