Eagles nearly upset top ranked Hancock at home
Sports | Published on December 20, 2022 at 3:53pm GMT+0000 | Author: Chad Koenen
0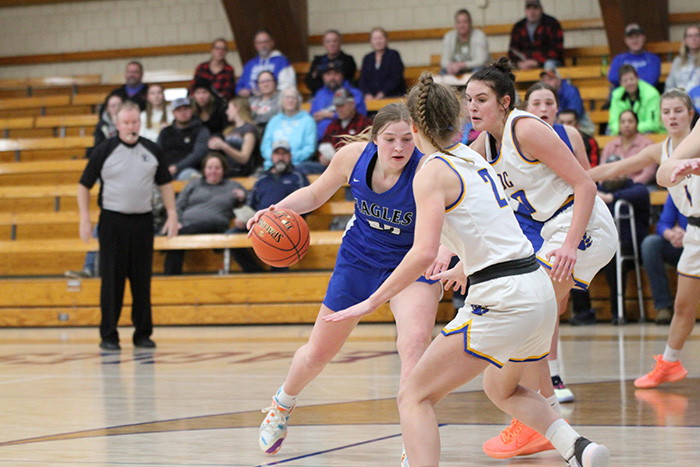 By Chad Koenen
Publisher
New York Mills came just 4 points away from knocking off the top ranked and defending Class A state Hancock Owls on Saturday afternoon.
The Eagles and Owls were tied 27-27 at halftime after both teams hit four 3-points in the first half. The two teams combined to hit 18 3-pointers in the game with the Eagles hitting 10 of them.
In the second half the Owls were able to do just enough from the floor and made their free throws when it counted at the end of the game to hold off a feisty NY Mills team look for an upset by a score of 63-59.
Hancock went 15-20 from the free throw line, while NY Mills hit 10 3-pointers, but went just 5-13 from the free throw line.
The Eagles were led offensively by Bella Bauck who hit four 3-pointers on her way to 16 points. Alayna Baune also reached double figures with 13 points, while Annika Dunrud hit a pair of 3-pointers to finish with 8 points.
Ayla Olson scored 7 points, Maya Radniecki hit a pair of 3-pointers to finish with 6 points, Kali Olson scored 5 points and Aidyn Baune rounded out the scoring with 4 points.
The loss drops the Eagles to 1-3 on the season, although two of their losses have came against top 10 ranked Underwood and Hancock.
On Thursday the Eagles will travel to Parkers Prairie in their lone action of the week before they take a break from game action for the holidays.