Eagles drop a pair at Sebeka tournament
Sports | Published on January 4, 2023 at 4:29pm GMT+0000 | Author: Tucker Henderson
0
NYM to host WDC, Pillager this week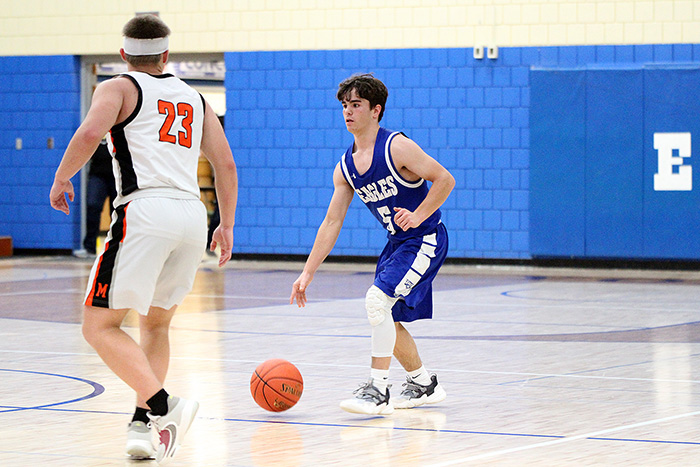 By Chad Koenen
Publisher
The New York Mills Eagles fell to 0-6 on the season as they dropped a pair of games in the Sebeka Holiday Tournament from Dec. 19-20. 
In the opening round of the tournament, the Eagles fell to Sebeka by a score of 59-35.
Head coach Mike Baune said the Eagles struggled to adjust to the Trojans sunken 2-3 zone and turned the ball over too many times on the offensive end of the court. He said the Trojans played well and made a number of shots throughout the game.
Sam Kopveiler led NY Mills in scoring as he registered a double-double with 14 points and 11 rebounds.
In the third place game of the tournament, NY Mills fell to Ogilvie by a score of 57-39 on Dec. 20. Despite the final score, NY Mills played one of its best halves of basketball of the season as they trailed by just 1 point at halftime after running a triangle and 2 defense to keep Ogilvie off-balanced.
Unfortunately, the Eagles were unable to score enough in the second half to keep up with Ogilvie and their 1-3-1 zone.
Baune said NY Mills got quality shots against both Sebeka's and Ogilvie's zones as they continue to grow their offense this season.
Kopveiler once again led the way offensively as he finished with his second straight double-double with 14 points and 13 rebounds, while Brayden Ehnert finished with 11 points and 9 rebounds.
Last week the Eagles fell to 0-8 overall as they dropped a pair at the Pelican Rapids tournament to the host Vikings by a score of 74-49 and to Battle Lake 69-25.
This week the Eagles will host Wadena-Deer Creek on Tuesday and Pillager on Thursday in a pair of Park Region Conference match ups.