New pastor feels at home in NYM
News | Published on January 4, 2023 at 4:51pm GMT+0000 | Author: Tucker Henderson
0
Burns takes over top role at NYM Assembly of God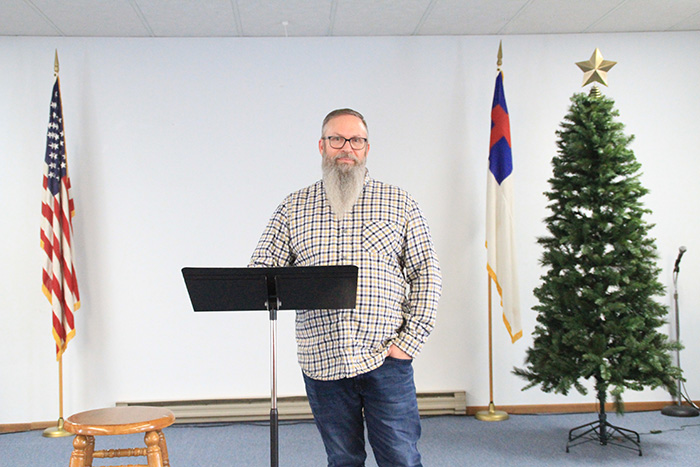 Tucker Henderson
Reporter
Along with the new year that has arrived, a new face is preaching from behind the New York Mills Assembly of God pulpit in recent months.
Pastor Stewart Burns has joined the Assembly of God of NY Mills to fill the hole left by the retirement of Pastor Larry Bessler last May. Born in Hibbing, Minn. and raised in Colorado, Burns now calls the communities of Perham and NY Mills home.
Burns has lived in Perham for the past 17 years and most recently served as the assistant pastor of the Assembly of God church in Perham. He lives with his wife Alanna and his youngest three children, Robert, Andrea and Serenity.
"I was an assistant pastor in Perham and the pastor there was stepping down at the end of 2021," said Burns. "I felt that it was time to take a step of faith and close that door. We had no idea what we were going to do. It's the first time I ever quit a job without having a job (lined up). We had no plans on coming here, it just felt like we were supposed to that one Sunday."
The Assembly of God of NY Mills was lucky enough to have interim pastors during the transitionary period, while many churches across the country are feeling the effects of a nationwide pastor shortage. Burns and his family started attending before Pastor Bessler left in May.
"We started attending in January," said Burns. "As soon as we walked through the doors, it felt like God wanted us to come here. I then became the pastor on September 4."
Burns went through the Minnesota School of Ministry which provides academic training to receive ordination within the Assemblies of God. He mentioned that there are three levels of courses: certification, licensure, and ordination and each can typically be completed in a year.
"Each one takes a year each if you can get all the courses," said Burns. "The first one is certified, the second is licensing, then you have to have three years of license before you can do the ordination."
Burns said that although each level of courses can be completed in a year, sometimes life happens and it's not possible to complete one in a calendar year. He said that he was lucky as he was able to complete all the courses on time. He was ordained in 2015 and has served in an official role since then.
"I served as a youth lay pastor for seven years before that," said Burns.
After joining the NY Mills community in January, Burns has noticed a few things that he would like to focus on in his ministry.
"One day I was driving by and noticed the population sign," he said. "This was before I had become the pastor. I noticed that it was 1,198. I though that was a great place to start. I started praying for a tenth of that, just a tithe of the community. I've asked those who attend here to pray with me for that."
Another area of local ministry that Burns would like to advance is the presence of the NY Mills Assembly of God.
"The question was always, 'Assembly of God? I've never heard of that.' Since we've been here, I hear, 'Assembly of God? There's an Assembly in New York Mills?' That's my prayer, that people would know we're here. It seems like that is the number one comment, that nobody know's we're here."
Despite the smaller size of the NY Mills congregation, which averages between 20 and 28 congregants on a given Sunday, Burns said that he is very proud of his parishioners and feels that they are great role models.
"Since meeting these guys, I brag about them all the time," he said. "The majority are retirement age and they constantly share their faith with people. Every time we get together it seems like someone from that age group has a testimony of how they were able to share their faith with somebody. I think that's amazing and something that I think we need every age group to catch."
The unique qualities of the NY Mills Assembly of God congregation is not lost on Burns and his family. He appreciates their willingness to share their faith and their zealous nature.
"What a perfect storm, if you will, to have that spirit already here and they're so willing to share that with others," smiled Burns. "I look forward to that catching on to everyone that comes."