Eagles cruise to 56-20 win over Parkers Prairie
Sports | Published on January 10, 2023 at 3:45pm GMT+0000 | Author: Tucker Henderson
0
NYM falls to Henning in PRC action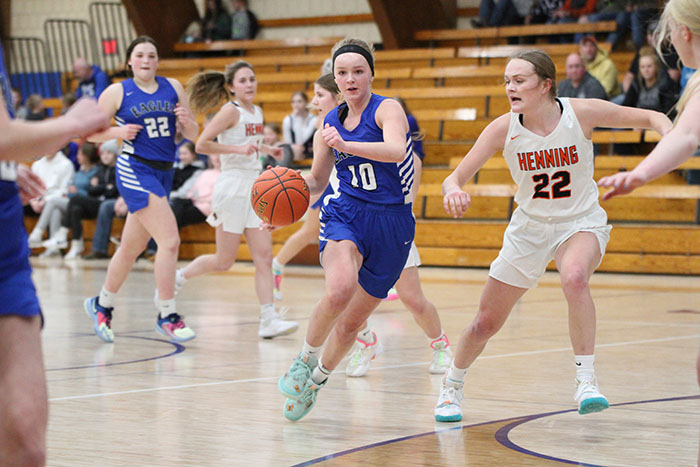 By Chad Koenen
Publisher
New York Mills put an exclamation point on the start of their 2023 season on Thursday night as the Eagles defeated Parkers Prairie by a score of 56-20. NY Mills wasted little time jumping all over the Panthers in non-conference action as they held Parkers Prairie to their lowest point total of the season.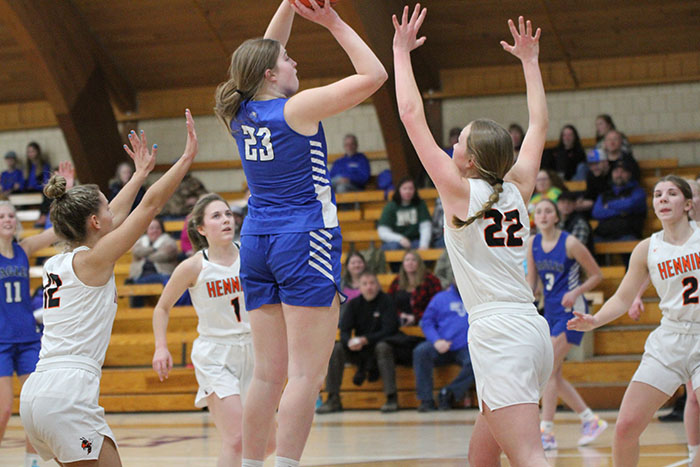 Kali Olson had a huge game from the field as the senior scored 25 points to go along with 8 rebounds, 4 assists and 3 steals. She also blocked 3 shots in the game.
Bella Bauck joined her in double figures as she scored 12 points to go along with 5 assists.
Ayla Olson filled the stat sheet on Thursday as she scored 8 points, pulled down 7 rebounds and finished with 4 assists.
Also scoring for the Eagles were Alayna Baune with 4 points, Maya Radniecki with 3 points, Kailey Keskitalo with 2 points and Abby Reidel with 2 points.
On Friday night the Eagles hosted the Henning Hornets in what is typically a tight Park Region Conference contest.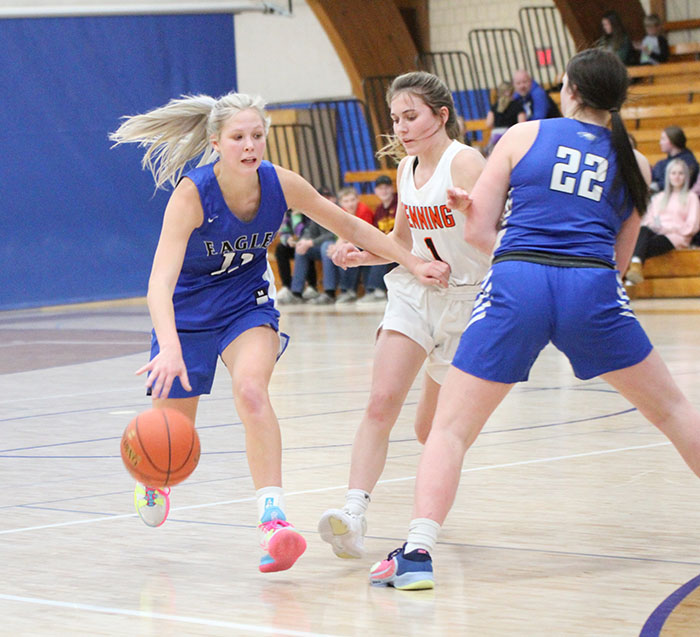 Henning came into the game averaging over 65 points per game and once again the NY Mills defense kept them in the game throughout the contest. The game was tied at 25-25 thanks to the senior duo of Bauck who hit a pair of 3-pointers in the first half and Kali Olson who scored 7 of her team high 13 points in the opening 18 minutes.
The Eagles held Henning to its lowest point total of the season, but it wasn't enough as the Hornets defeated NY Mills by a score of 52-41.
NY Mills was led offensively by Kali Olson who scored 13 points, while Bauck added 12 points. Keskitalo scored 5 points, while Alayna Baune scored 4, Annika Dunrud scored 3, Katherin Garcia scored 2 and Ayla Olson scored 2 points to round out the scoring,
This week the Eagles, who are 2-6 on the season, hosted Lake Park-Audubon on Monday and will travel to Bertha-Hewitt on Thursday.