Hotakainen named NYM teacher of the year
News | Published on January 10, 2023 at 4:12pm GMT+0000 | Author: Tucker Henderson
0
NYM special ed. teacher was honored by the award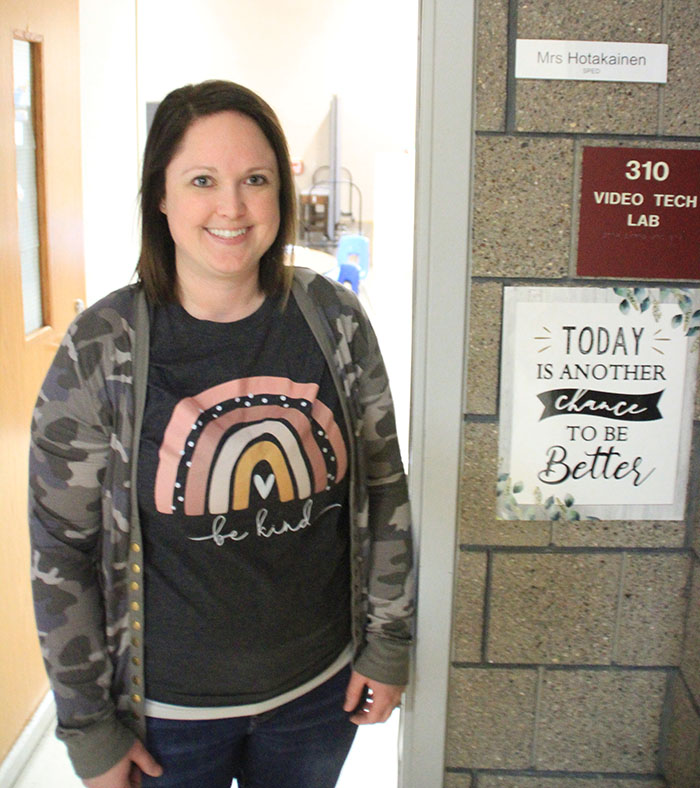 By Tucker Henderson
Reporter
Through careful nomination, a Teacher of the Year is selected annually in New York Mills by their peers. This award recognizes the hard work, positive attitude, and tenacity of one particular teacher and this year's awardee is Kayla Hotakainen.
Hotakainen works as the Special Education teacher for kindergarten through second grade as well as the Elementary Emotional Behavior Disorder (EBD) teacher.
"I do a little bit with behaviors," said Hotakainen of the flexibility of her role. "But I also do learning disability, reading and math help."
Beginning her time at the NY Mills School District in 2019, Hotakainen was the EBD teacher for kindergarten through sixth grade at that time.
"Last year I was just kindergarten through fourth grade and they've added some positions," said Hotakainen. "This year I'm kindergarten through second grade and I help with some of the EBD for other grades."
Originally from North Dakota, Hotakainen graduated from Fessenden-Bowdon Public School before continuing her education at North Dakota State University where she received her degree in Elementary Education. She furthered that degree at the University of North Dakota where she was certified in Special Education.
"I had quite a few teachers and coaches that influenced my life for the positive," said Hotakainen. "I wanted to be able to do that for other kids. I like working with the kids and getting to build relationships with them."
Hotakainen mentioned that this is her ninth year as a teacher and is someone who doesn't favor the limelight.
"I don't like being the center of attention," said Hotakainen. "But I do appreciate the recognition. It definitely takes a lot of people to run this room and it's not just me. That paraprofessionals are amazing and I couldn't do it without them. The teachers that are so willing to work with me to help their students succeed. The special education team that is always there when you're in crisis."
Crises don't always occur, but when they do, it's always helpful to have some help around to de-escalate the situation.
"Some days are really tough when we have a lot of behaviors. But I'm very lucky that I have great paraprofessionals and coworkers to count on. Especially my special education team who is always there to help in any way possible so that all the kids can succeed. We're a good team that can make sure that everyone's successful and everyone can get what they need."

Kayla Hotakainen
Hotakainen said that some days can be hard when there is a lot going on, but the career can prove to be highly rewarding as well. She said the toughest part of her job is when she is emotionally and mentally drained from the stressful situations or behaviors. It's at that time she is thankful to have great paras working with her, supportive teachers and a great special education team, as well as supportive administration to help as needed.
"I'm kind of lucky because I get to see the kids for more than one year," Hotakainen said. "Day to day, you don't always see all the growth. From year to year, or even month to month, you can look back and see how far some kids have come whether it's with their behaviors or being able to self-regulate, or even just their reading or math. Sometimes it's harder to see the growth they've made in one year, but if you look over a span it's pretty amazing how far we can come."
Seeing student progress throughout the years is a favorite part of Hotakainen's job.
"The best part is when you've been teaching these skills, to self-regulate and stay calm in situations," said Hotakainen. "When the student actually does it, not just in our group, but they actually use the skill. Hearing from other teachers the good things that students are doing and that they're using their skills. That's my favorite part."
Hotakainen works with other teachers to support each student's success. Her husband, Jared Hotakainen, is a third grade teacher at NY Mills School and has the opportunity of working with her and the rest of her team when needed.
Hotakainen lives with her husband, son Gage who is in kindergarten, daughter Remi, and son Myles near Sebeka where they enjoy enjoying family time and spending time outdoors and on the lake in the summer.