Page, Bauck named AAA award winners
News | Published on January 10, 2023 at 4:17pm GMT+0000 | Author: Tucker Henderson
0
Award recognizes excellence in arts, academics, athletics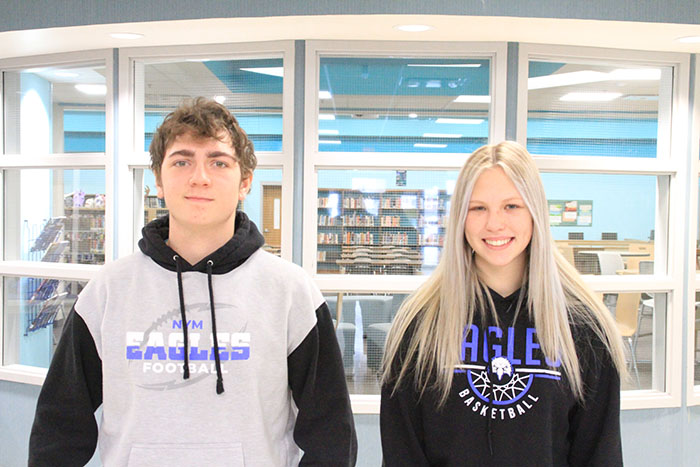 By Tucker Henderson
Reporter
The New York Mills School High School has announced its AAA award winners for the year.
The AAA award recognizes one male and female each year for their accomplishments in athletics, academics and art. This year's recipients at NY Mills School are Bella Bauck and Isaac Page.
Page is the son of Toby and Alicia Page and he was surprised when he first heard that he had been nominated for the award, not thinking that he would be one up for the award. His accomplishments at the NY Mills High School, however, proved otherwise.
Page is active in football, basketball, National Honor Society, band, as well as being a student mentor for elementary students during the school year. This award, however, was not something Page ever expected.
"I didn't think I'd actually get it," he said, happily surprised. "I didn't think anybody was going to nominate me."
Bauck is plays an active role in the school's many programs. She stays busy with basketball, volleyball, track, band, National Honor Society, and student council. She mentioned that she was also in Business Professionals of America in past years. Bauck is also a mentor for elementary students. She said that the award means a lot to her.
"I worked hard to maintain a 4.0 GPA while competing in sports," said Bauck. "And being recognized for that means a lot."
Being a AAA award winner takes a lot of hard work and dedication from students, but enjoying your time being active in athletics, academics, and the arts is also an important part of that.
"I love all the social interaction I get, with my friends, while still learning and advancing towards my future career," said Bauck.
"It's a lot of fun," said Page. "I had a lot of fun going out for sports and being with my classmates."
About the award
Sponsored by the Minnesota State High School League, the AAA award honors high school seniors who have excelled in the classroom, on the athletic field, and in fine arts. Students who are nominated must have a minimum GPA of 3.0 or better, participate in MSHSL sponsored fine arts and athletic activities, and comply with the MSHSL's Student Code of Conduct.
The AAA award recipients are selected through a multi-level process that involves MSHSL member schools, the league's administrative regions, and a special committee of educators, business leaders, and members from the fine arts and athletic communities.
The top two AAA award candidates from each region will be recognized later this year. League officials will announce two state AAA award recipients—one girl and one boy from both Class A and Class AA schools—and will honor all 32 finalists during an on-court ceremony during the Class AA championship game of the boys basketball state tournament in March. Each state award recipient will receive a four-year $1,000 scholarship.