Snyder takes second Central Cass
Sports | Published on January 10, 2023 at 3:52pm GMT+0000 | Author: Tucker Henderson
0
Mann finishes in sixth place overall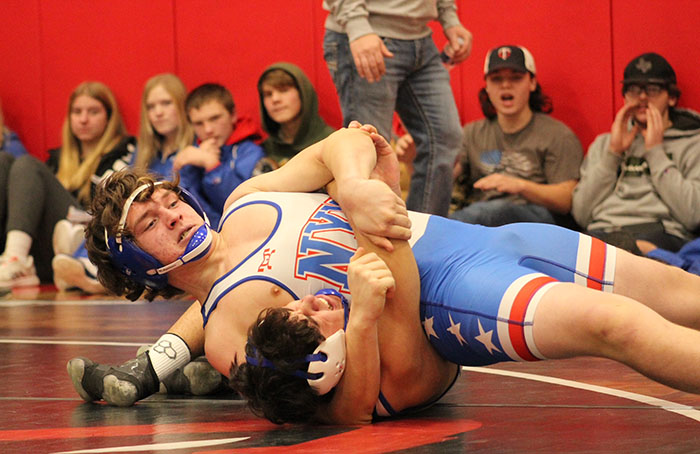 By Chad Koenen
Publisher
Simon Snyder took second place and Joe Mann finished in sixth at the annual Central Cass Lettermen's Tournament at Central Cass High School over the weekend.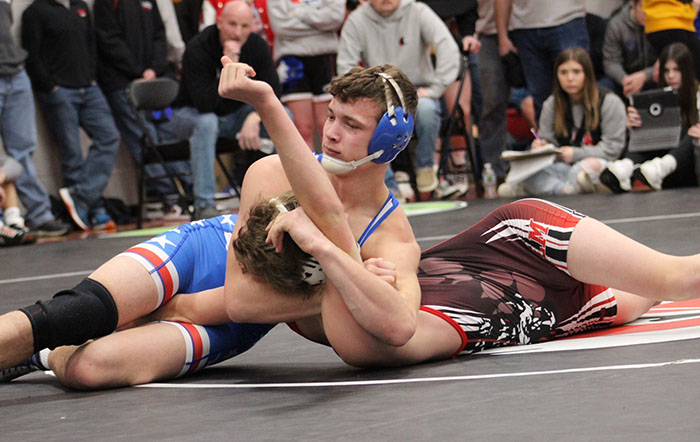 As a team the Eagles finished in 17th place overall, as they continue to get back in the swing of things following an extended holiday break. In addition to the tournament, the Eagles competed in a triangular at Wadena-Deer Creek High School on Thursday against both the Wolverines and Staples-Motley. NY Mills split the triangular after defeating WDC 45-30 and falling to Staples-Motley 40-37.
This week the Eagles will host Barnesville and Walker-Hackensack-Akeley in a triangular on Thursday night, before heading to Bemidji for a tournament on Saturday.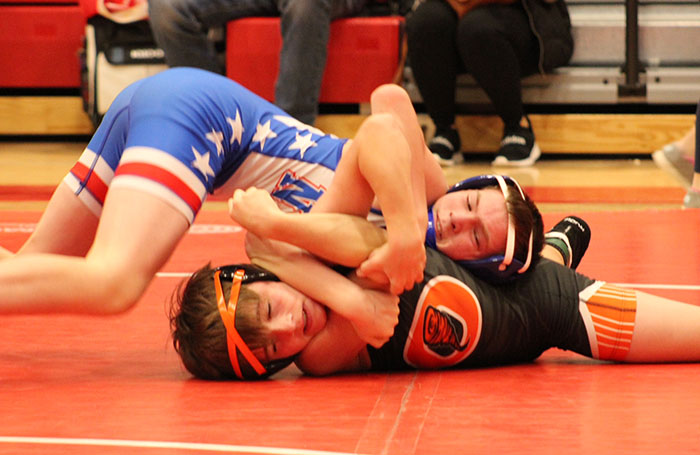 Thursday
NY Mills split a triangular with Wadena-Deer Creek and Staples-Motley on Thursday night.
The Eagles jumped out to an early lead on Thursday night and never looked back against WDC as NY Mills won seven of the opening 10 matches of the night.
Carlyle Tumberg got the match going in the right direction for the Eagles after securing a fall over Gage Mallak of WDC at 106 lbs. Following a close 7-5 decision for WDC at 113 lbs., Creed Mursu secured a fall at 120 lbs. to give NY Mills a 12-3 lead.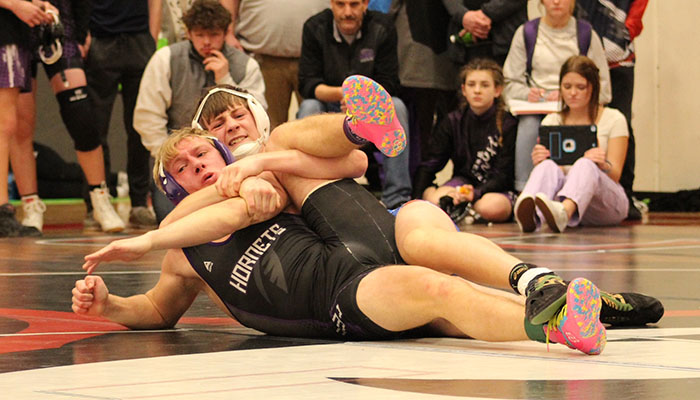 Following a forfeit at 126 lbs. that gave WDC the win, Austin Geiser and Elijah Geiser secured first period pins at 132 lbs. and 138 lbs. to give the Eagles a 24-9 lead. Jay Mindermann and Simon Snyder secured forfeit wins at 145 lbs. and 160 lbs., before Blake Unger won a 10-3 decision at 170 lbs. The final win for the Eagles came at 220 lbs. when Bode Roberts won by a fall over Brett Reinke in just 47 seconds.
In their other match of the night, NY Mills fell to Staples-Motley by a score of 40-37. The split in the triangular improved the Eagles to 5-5 in duals this season.
New York Mills 45 Wadena-Deer Creek 30
106: Carlyle Tumberg (NYM) over Gage Mallak (WDC) (Fall 3:46)
113: Hudson Schultz (WDC) over Even Doll (NYM) (Dec 7-5)
120: Creed Mursu (NYM) over James Seelhammer (WDC) (Fall 5:48)
126: Mason Brauch (WDC) over (NYM) (For.)
132: Austin Geiser (NYM) over Faith Koning (WDC) (Fall 0:34)
138: Elijah Geiser (NYM) over Jaydyn Kenney (WDC) (Fall 2:00)
145: Jay Mindermann (NYM) over (WDC) (For.)
152: Eli Benning (WDC) over Joe Mann (NYM) (Fall 2:50)
160: Simon Snyder (NYM) over (WDC) (For.)
170: Blake Unger (NYM) over Ettore Pinnella (WDC) (Dec 10-3)
182: Brandon Wheeler (WDC) over Mason Unger (NYM) (Dec 9-7)
195: Koby Endres (WDC) over Waylon Fudge (NYM) (Fall 0:45)
220: Bode Roberts (NYM) over Brett Reinke (WDC) (Fall 0:47)
285: Matthew Wegscheid (WDC) over Grady Roberts (NYM) (Fall 6:19)
Saturday
NY Mills took 17th place overall at the annual Central Cass Lettermen's Tournament over the weekend. The Eagles finished with 64 team points. South Border took first place, while Lisbon took second with 275 and 271.5 points respectively.
Simon Snyder was the top place finisher for the Eagles as he took second place at 152 lbs.
Snyder opened the tournament with back-to-back pins in under 33 seconds. In the quarterfinals, Snyder won by tech fall to advance to the semi-finals where he would face Cael Hebl of LaMoure. Snyder secured his third pin in the first period in the semi-finals when he defeated Hebl by fall at the 1:32 mark of the match.
In the finals, Snyder fell to undefeated Marshall Lindgren of South Border by a major decision of 10-1 to finish in second place. In addition to placing second, Snyder was honored for securing his 125th career win at the tournament.
Also placing for the Eagles was Joe Mann who took sixth place at 152 lbs. Mann lost in the opening round of the match by fall, before securing four consecutive wins by pin in the consolation bracket to advance to the consolation semi-finals. He lost by fall to drop to the fifth place match. Unfortunately, Mann fell to Greg Fuher of Ellendale-Edgeley-Kulmto by fall to finish in sixth place. Mann wrestled a total of seven matches at the tournament.
106 B- Champ. Round 1 – Carlyle Tumberg (New York Mills) 8-8 received a bye () (Bye), Champ. Round 2 – Carlyle Tumberg (New York Mills) 8-8 won by fall over Joseph Potts (LaMoure) 8-5 (Fall 2:32), Quarterfinal – Jared Schilling (South Border) 6-3 won by fall over Carlyle Tumberg (New York Mills) 8-8 (Fall 1:02), Cons. Round 4 – Carlyle Tumberg (New York Mills) 8-8 won by fall over Chase Hauck (Barnesville) 3-4 (Fall 2:00), Cons. Round 5 – Gavon Larson (Webster Area) 8-6 won by decision over Carlyle Tumberg (New York Mills) 8-8 (Dec 9-6)
106 B- Champ. Round 1 – Issac Geiser (New York Mills) 3-2 received a bye () (Bye), Champ. Round 2 – Issac Geiser (New York Mills) 3-2 won by decision over Oscar Martinez (Pembina County North) 5-4 (Dec 5-0), Quarterfinal – Gavin Rude (Kindred) 8-7 won by fall over Issac Geiser (New York Mills) 3-2 (Fall 4:42), Cons. Round 4 – Issac Geiser (New York Mills) 3-2 won by fall over Ben Wagner (Oakes) 8-9 (Fall 2:00), Cons. Round 5 – Tanner Atkinson (Britton-Hecla) 5-6 won by fall over Issac Geiser (New York Mills) 3-2 (Fall 1:24)
120- Champ. Round 1 – Creed Mursu (New York Mills) 10-8 received a bye () (Bye), Champ. Round 2 – Jace Duffy (LaMoure) 9-6 won by fall over Creed Mursu (New York Mills) 10-8 (Fall 3:25), Cons. Round 2 – Creed Mursu (New York Mills) 10-8 received a bye () (Bye), Cons. Round 3 – Creed Mursu (New York Mills) 10-8 won by decision over Braelyn Herman (Northern Lights) 8-12 (Dec 6-0), Cons. Round 4 – Carson Kozojed (Hillsboro-Central Valley) 12-6 won by tech fall over Creed Mursu (New York Mills) 10-8 (TF-1.5 4:26 (17-1))
132- Champ. Round 1 – Austin Geiser (New York Mills) 7-6 won by fall over Kaidan Smith (Deslacs-Burlington) 6-15 (Fall 1:39), Champ. Round 2 – Kashden Wadeson (Lisbon) 16-1 won by decision over Austin Geiser (New York Mills) 7-6 (Dec 5-1), Cons. Round 2 – Jadyn Vollmer (Harvey-Wells County) 10-10 won by decision over Austin Geiser (New York Mills) 7-6 (Dec 7-2)
138- Champ. Round 1 – Elijah Geiser (New York Mills) 3-7 received a bye () (Bye), Champ. Round 2 – Carter Wallner (Lisbon) 5-0 won by major decision over Elijah Geiser (New York Mills) 3-7 (MD 14-2), Cons. Round 2 – Elijah Geiser (New York Mills) 3-7 received a bye () (Bye), Cons. Round 3 – Jaylen Harstad (May-Port-CG) 5-10 won by major decision over Elijah Geiser (New York Mills) 3-7 (MD 13-5)
138- Champ. Round 1 – Jay Mindermann (New York Mills) 11-8 won by fall over Adam Smith (Hillsboro-Central Valley) 6-6 (Fall 3:13), Champ. Round 2 – Jay Mindermann (New York Mills) 11-8 won by tech fall over Aaron Truong (West Fargo Sheyenne) 0-2 (TF-1.5 4:38 (15-0)), Quarterfinal – Brody Hoffman (South Border) 13-1 won in tie breaker – 1 over Jay Mindermann (New York Mills) 11-8 (TB-1 6-4), Cons. Round 4 – Jay Mindermann (New York Mills) 11-8 won by fall over Asher O`Brien (Barnesville) 5-5 (Fall 3:36), Cons. Round 5 – Seth Cossentine (Roseau) 19-5 won by fall over Jay Mindermann (New York Mills) 11-8 (Fall 2:06)
138- Champ. Round 1 – Seth Cossentine (Roseau) 19-5 won by fall over Slade Doll (New York Mills) 3-4 (Fall 1:57), Cons. Round 1 – Slade Doll (New York Mills) 3-4 received a bye () (Bye), Cons. Round 2 – Slade Doll (New York Mills) 3-4 won by decision over Aaron Truong (West Fargo Sheyenne) 0-2 (Dec 4-0), Cons. Round 3 – Jack McDonald (Kindred) 4-12 won by decision over Slade Doll (New York Mills) 3-4 (Dec 4-1)
152- 2nd place- Champ. Round 1 – Simon Snyder (New York Mills) 13-4 won by fall over Collin Beaner (Britton-Hecla) 11-9 (Fall 0:33), Champ. Round 2 – Simon Snyder (New York Mills) 13-4 won by fall over Gideon DeVilliers (Roseau) 0-3 (Fall 0:27), Quarterfinal – Simon Snyder (New York Mills) 13-4 won by tech fall over Greg Fuher (Ellendale-Edgeley-Kulm) 15-5 (TF-1.5 2:20 (15-0)), Semifinal – Simon Snyder (New York Mills) 13-4 won by fall over Cael Hebl (LaMoure) 7-4 (Fall 1:32), 1st Place Match – Marshall Lindgren (South Border) 14-0 won by major decision over Simon Snyder (New York Mills) 13-4 (MD 10-1)
152- 6th place- Champ. Round 1 – Marshall Lindgren (South Border) 14-0 won by fall over Joe Mann (New York Mills) 8-6 (Fall 2:59), Cons. Round 1 – Joe Mann (New York Mills) 8-6 received a bye () (Bye), Cons. Round 2 – Joe Mann (New York Mills) 8-6 won by fall over Gideon DeVilliers (Roseau) 0-3 (Fall 0:20), Cons. Round 3 – Joe Mann (New York Mills) 8-6 won by fall over Jack Martin (Barnesville) 1-2 (Fall 2:18), Cons. Round 4 – Joe Mann (New York Mills) 8-6 won by fall over Parker Baier (Bishop Ryan) 7-6 (Fall 1:36), Cons. Round 5 – Joe Mann (New York Mills) 8-6 won by fall over Alex Smith (Harvey-Wells County) 11-4 (Fall 1:24), Cons. Semi – Cael Hebl (LaMoure) 7-4 won by fall over Joe Mann (New York Mills) 8-6 (Fall 4:51), 5th Place Match – Greg Fuher (Ellendale-Edgeley-Kulm) 15-5 won by fall over Joe Mann (New York Mills) 8-6 (Fall 2:39)
160- Champ. Round 1 – Gavin Grabow (New York Mills) 2-3 received a bye () (Bye), Champ. Round 2 – Garrett Hebl (LaMoure) 15-0 won by tech fall over Gavin Grabow (New York Mills) 2-3 (TF-1.5 3:20 (17-2)), Cons. Round 2 – Gavin Grabow (New York Mills) 2-3 won by fall over Brock Lyons (Lisbon) 0-4 (Fall 2:26), Cons. Round 3 – Kenny Smith (Deslacs-Burlington) 11-11 won by fall over Gavin Grabow (New York Mills) 2-3 (Fall 2:10)
170- Champ. Round 1 – Blake Unger (New York Mills) 8-5 received a bye () (Bye), Champ. Round 2 – Blake Unger (New York Mills) 8-5 won by decision over Conner Glines (Britton-Hecla) 6-7 (Dec 8-4), Quarterfinal – Carter Miller (Deslacs-Burlington) 19-6 won by fall over Blake Unger (New York Mills) 8-5 (Fall 2:48), Cons. Round 4 – Blake Unger (New York Mills) 8-5 won by fall over Tyson Johnson (Kindred) 4-5 (Fall 0:56), Cons. Round 5 – Herman Kauk (South Border) 11-5 won by fall over Blake Unger (New York Mills) 8-5 (Fall 3:54)
182- Champ. Round 1 – Ashton Lehmann (New York Mills) 0-2 received a bye () (Bye), Champ. Round 2 – Isaac Herbel (Northern Lights) 19-3 won by fall over Ashton Lehmann (New York Mills) 0-2 (Fall 0:27), Cons. Round 2 – Waylon Fudge (New York Mills) 4-7 won by fall over Ashton Lehmann (New York Mills) 0-2 (Fall 1:36)
182- Champ. Round 1 – Jace Nitschke (South Border) 11-3 won by fall over Waylon Fudge (New York Mills) 4-7 (Fall 3:07), Cons. Round 1 – Waylon Fudge (New York Mills) 4-7 received a bye () (Bye), Cons. Round 2 – Waylon Fudge (New York Mills) 4-7 won by fall over Ashton Lehmann (New York Mills) 0-2 (Fall 1:36), Cons. Round 3 – Erik Salazar (Napoleon) 8-9 won by fall over Waylon Fudge (New York Mills) 4-7 (Fall 4:18)
220- Champ. Round 1 – Grady Roberts (New York Mills) 9-5 won by fall over Brett Tastad (Northern Lights) 11-12 (Fall 1:27), Champ. Round 2 – Grady Roberts (New York Mills) 9-5 won by decision over Nathan Robbins (Deslacs-Burlington) 2-15 (Dec 6-4), Quarterfinal – Cade Okeson (Bishop Ryan) 21-2 won by tech fall over Grady Roberts (New York Mills) 9-5 (TF-1.5 2:25 (18-2)), Cons. Round 4 – Drew Anderson (Lisbon) 9-12 won by fall over Grady Roberts (New York Mills) 9-5 (Fall 1:32)
285- Champ. Round 1 – Tim Wells (Barnesville) 7-4 won by fall over Alex Simpson (New York Mills) 0-2 (Fall 1:07), Cons. Round 1 – Alex Simpson (New York Mills) 0-2 received a bye () (Bye), Cons. Round 2 – Jaydon Hankel (Oakes) 12-7 won by fall over Alex Simpson (New York Mills) 0-2 (Fall 0:31)