Eagles win fourth straight with a pair of wins
Sports | Published on January 24, 2023 at 3:51pm GMT+0000 | Author: Tucker Henderson
0
NYM is now 6-6 overall, 3-2 in PRC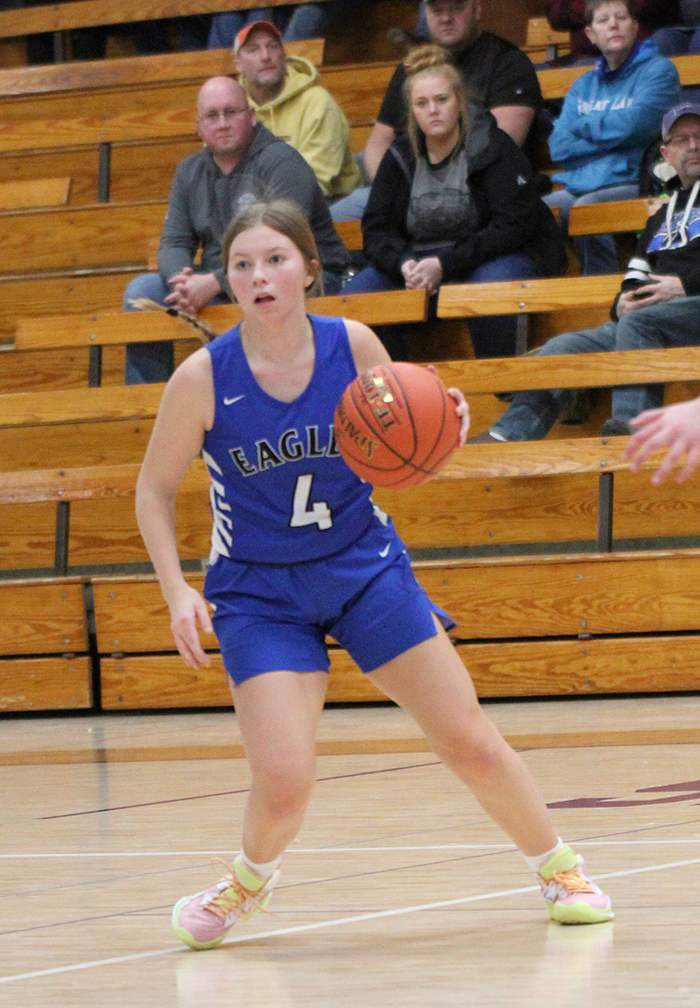 By Chad Koenen
Publisher
New York Mills improved to 6-6 on the season and picked up their fourth straight win after defeating Verndale and Pillager in Park Region Conference action last week.
On Tuesday night the Eagles defeated Verndale by a score of 68-46, before defeating Pillager on Thursday by a score of 66-44.
In the midst of a stretch featuring seven of their nine games at home, the Eagles will look to continue their climb up the Park Region Conference and section standings against three more conference teams this week.
This week the Eagles hosted Menahga on Monday night, before hosting Sebeka on Tuesday night. Both Park Region Conference games were part of a boys-girls doubleheader.
On Friday the Eagles will travel to Wadena-Deer Creek for their third conference game of the week, before hosting Frazee on Saturday afternoon in non-conference action.
Tuesday
NY Mills erupted for 40 points in the first half as the Eagles were able to dominate the Pirates down low to take a 40-23 lead at halftime. The pace of the game slowed down a bit in the second half as a number of reserves were able to get extended playing time with the game in tow.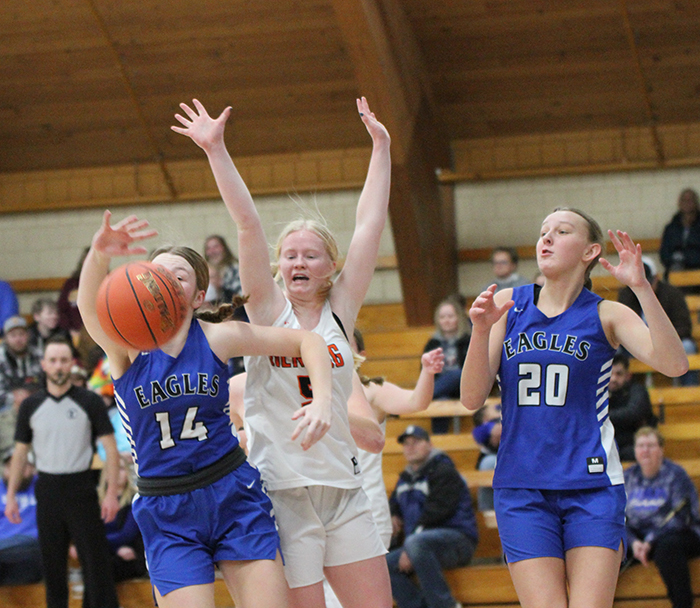 The Eagles defeated the Pirates by a score of 68-46 to come away with their second conference win of the season.
Kali Olson and Bella Bauck led the way offensively with 15 points apiece, while Ayla Olson also reached double figures with 14 points of her own.
Katherin Garcia had a solid second half as she finished with 7 points in the half, while Alayna Baune scored 4 points, and Rosemary Laudenbach, Annika Dunrud, Aidyn Baune and Grace Brasel rounded out the scoring with 2 points apiece.
Thursday
The Eagles won their fourth straight game overall and third straight in the conference with a convincing 66-44 win over Pillager on Thursday night.
NY Mills once again jumped out to a commanding lead at halftime by a score of 39-21, before outscoring the Huskies by a 27-23 margin in the second half.
Nine Eagles were able to find the scoring column on Thursday night with Bella Bauck leading the way with 16 points. Fellow senior Kali Olson scored 15 points, while Annika Dunrud also reached double figures with 10 points.
Maya Radniecki hit a pair of 3-pointers to finish with 8 points, while Ayla Olson scored 6, Kailey Keskitalo scored 4, Aidyn Baune scored 3 and Aylana Baune and Abby Riedel rounded out the scoring with 2 points apiece.