Late surge lifts NYM over Park Rapids 39-31
Sports | Published on January 24, 2023 at 3:57pm GMT+0000 | Author: Tucker Henderson
0
NYM to host triangular with BHVPP, LPGEB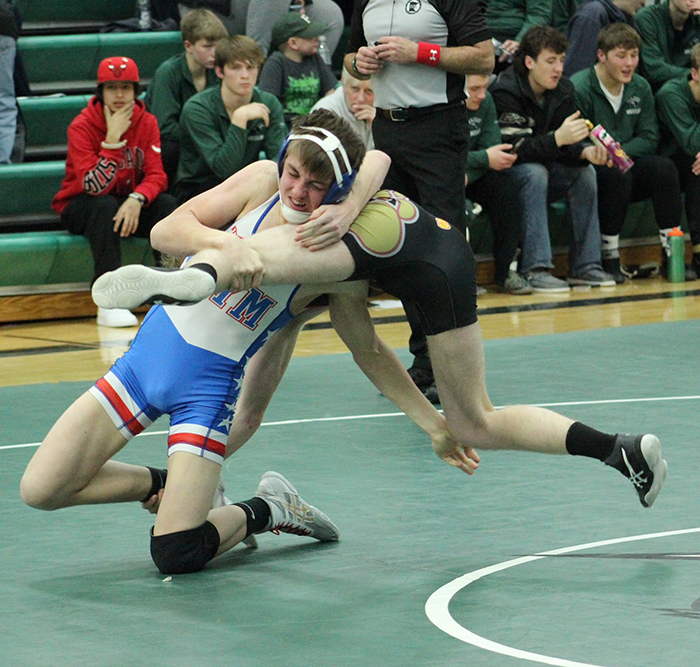 By Chad Koenen
Publisher
New York Mills used a late push to blow past Park Rapids Area on Tuesday night. The Eagles were trailing by a score of 25-9 midway through the match, before blowing past the Panthers and picking up the 39-31 win.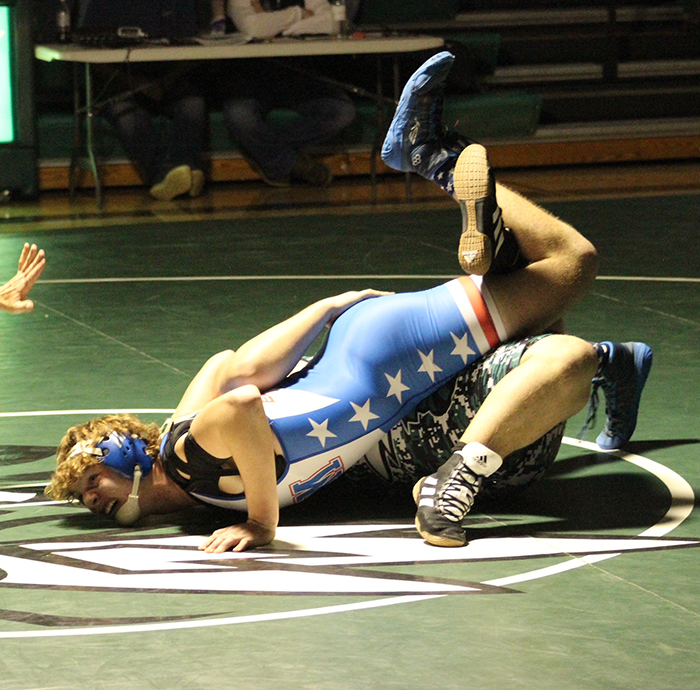 In addition to their win over Park Rapids Area, the Eagles competed in a triangular against United Clay Becker and Frazee on Thursday.
This week the Eagles will host a triangular with Bertha-Hewitt/Verndale/Parkers Prairie and Long Prairie-Grey Eagle/Browerville on Thursday night, before heading to Osakis for a triangular on Friday against the Silverstreaks and United North Central.
Tuesday
NY Mills trailed by a score of 25-9 heading into the 152 lbs. match between Jay Mindermann and Andrew Johanning on Tuesday night, before the Eagles blew past the Park Rapids Panthers by a score of 39-31.
Mindermann secured a pin over Johanning at the 3:56 mark of the match, before Simon Snyder secured a win by forfeit at 160 lbs.
After an 8-3 decision at 170 lbs. for Park Rapids, Blake Unger, Mason Unger and Bode Roberts all won by forfeit for the Eagles to put them in front by a score of 39-31. The Panthers were able to win by an 8-4 decision at heavyweight to make the score 39-31.
Also securing wins for the Eagles on Tuesday were Carlyle Tumberg who won by a fall at the 2:48 mark of his 106 lbs. match and Creed Mursu who was by a 10-8 decision at 120 lbs.
Thursday
In the nightcap of a triangular between Frazee, United Clay Becker and NY Mills, the Eagles came out on the short end of a 51-15 score to Frazee.
Creed Mursu put the Eagles on the scoreboard at 120 lbs., when he secured a third period pin over Blake Sonnenberg.
Simon Snyder won a tough 7-2 decision at 152 lbs. over Tyler Moe of Frazee, before Grady Roberts ended the dual with a pin at the 4:57 mark of his match against Xander Kohler to give the Eagles 15 team points.
The Eagles also wrestled against United Clay Becker on Thursday night. The individual results for that match were not available at the time of press.
Frazee 51, NYM 15
106- Cash Osterman (Frazee) over Carlyle Tumberg (New York Mills) Fall 1:18
113- Liam Hamm (Frazee) over Finn Wallgren (New York Mills) Maj Dec 11-0
120- Creed Mursu (New York Mills) over Blake Sonnenberg (Frazee) Fall 5:19
126- Brady Borah (Frazee) won by forfeit
132- Cade Nagel (Frazee) over Austin Geiser (New York Mills) Decision 6-5
138- Josh Mellema (Frazee) over Elijah Geiser (New York Mills) Fall 1:03
145- Bailey Peichel (Frazee) over Brandt Malone (New York Mills) Maj Dec 13-2
152- Simon Snyder (New York Mills) over Tyler Moe (Frazee) Decision 7-2
160- Jake Nagel (Frazee) over Gavin Grabow (New York Mills) Fall 2:49
170- Preston Mayfield (Frazee) over Jon Rinerson (New York Mills) Maj Dec 14-3
182- Max Rue (Frazee) over Blake Unger (New York Mills) Decision 11-7
195- Daniel Graham (Frazee) over Mason Unger (New York Mills) Fall 1:42
220- Derek Zitzow (Frazee) over Bode Roberts (New York Mills) Decision 6-2
285- Grady Roberts (New York Mills) over Xander Kohler (Frazee) Fall 4:57