Hendrickx goes on a hunt of a lifetime
News | Published on January 31, 2023 at 5:05pm GMT+0000 | Author: Tucker Henderson
0
Trip was held in North Dakota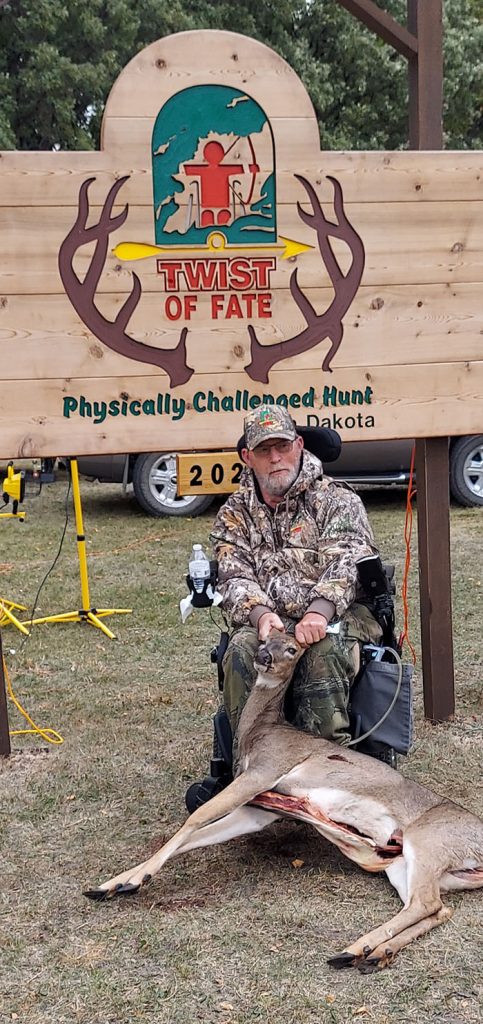 Tucker Henderson
Reporter
Hunting is a mainstay of Midwestern culture and is a necessary opportunity to fill the freezers for many families. In rural areas, the outdoor activity is often taken for granted. When health problems arise and physical disabilities manifest, taking a walk out to the deer stand is not always practical and what was once a lifelong hobby, becomes a dream of the past.
When Parkinson's disease took away much of Mike Hendrickx's mobility, his time in the fields and forest had seemingly come to an end. That was until a nurse came running to his side to inform him of a special hunting opportunity while at a doctor's appointment in Detroit Lakes.
"I go to a specialist in Detroit Lakes and he comes down from Fargo with a traveling nurse," said Mike. "I had a jacket on with camouflage sleeves. She came running and hollering my name. I looked at Jean and said 'did we forget something?' She was a part of Twist of Fate and told us about it."
Twist of Fate-North Dakota is an organization started in 1999 to "provide a quality outdoor experience for those who are unable to do so on their own regardless of the circumstances." The organization has a base camp approximately six miles south of Leonard, N.D. close to the Sheyenne National Grasslands.
"It's an all volunteer organization," said Mike's wife, Jean Hendrickx. "There was a couple that allowed the organization to set up their campsite and each year they have added on. They built a permanent structure for the kitchen, walk-in-freezer, and last year they added a shower."
When Jean initially looked up Twist of Fate online, she found the application and the eligibility requirements for the hunt.
"You have to have the doctor sign off that you're disabled," explained Mike.
With Mike's Parkinson's diagnosis, he was clearly eligible for the hunt, but it came down to luck when he found out that he was one of 12 people chosen to participate in the annual hunt.
"It's the last full weekend in September," said Jean. "It goes from Thursday through Sunday. Everything's paid for. The only thing we had to do was apply for a crossbow permit."
"That's good for five years," added Mike.
In North Dakota, baiting is still a legal practice available to outdoorsmen to draw in deer. In Minnesota, that practice is not legal during the hunting season.
"Right now, there is a bill in committee that they are going to be discussing," said Jean. "We are actually supposed to write a testimonial in favor of it that will allow them to keep baiting in North Dakota. For Mike, it would be hard to even get a deer to come in, let alone get a shot off. With his Parkinson's, getting the bow set up on the tripod, it takes time and deer aren't going to sit there and wait for you. That's why he had the opportunity in North Dakota versus Minnesota. A lot of people think it's unethical or that it's not hunting, but not everyone is in a situation like this."
Of the 12 accepted applicants each year, all of them have some form of physical challenge that hinders their chances of enjoying a deer hunt. They are paired with a guide and are allowed a friend from home to join them in the long weekend hunt.
Jean joined Mike at the campground and pitched in to help make the hunt a success for everyone. Mike and Jean remembered a humorous highlight from the trip.
"When we went out one night, the trail was full of gopher mounds," said Mike.
"Our van is so low," Jean explained that their van has to accommodate Mike's electric wheelchair. "We drive up there and thank God it was sand."
"I think we leveled every one of them," Mike laughed at the thought of the gopher mounds.
"We would have ripped the van parts off otherwise," said Jean. "I went back and the front flap of the van was laying in the grass," she laughed.
Despite the rough terrain to his hunting spot, Mike shot his deer with the help of his guide and trusty crossbow.
"I put the red dot where I was going to shoot and pulled the trigger," said Mike. "I heard the 'whop' but I didn't know what I hit. I think it went about 50 yards. I got a young doe—the best eating."
"It's really cool when you drive into camp and you reach the last gate," said Jean. "When you shoot a deer, you start honking your horn so that everyone in camp knows you're coming in with a deer. They drop whatever they're doing and they come out and see who's coming in and what they shot. Everybody makes it a big deal and you get kind of emotional."
Twist of Fate is not a trophy hunt, so deer of every size are harvested. Volunteers make the butchering process a breeze for everyone.
"They do everything for you," said Jean. "They skin them and put them in the cooler. I was going to help, but they're so fast, I just got out of the way," she laughed.
Mike mentioned that everybody gets their venison processed, froze, and ready to go in their own Styrofoam cooler complete with their information and license for transport.
"They cut it up however you want it," said Mike. "They put it in the freezer so when you take off on Sunday, it's frozen."
Along with the fun times in the field, memories of camp and the volunteers also fill Mike and Jean's recollections.
"They have ladies that volunteer and provide all the meals," said Jean.
"Every morning they make a pan of caramel rolls," said Mike. "They were good, I was tempted to take another. On Sunday morning they put them out there and they were nice and warm."
On Saturday, a banquet is held for the hunters, guides, volunteers, landowners and past participants. A silent auction is also held to help cover costs for future hunts.
"Everybody's invited," said Jean.
"The silent auction's kind of comical," said Mike. "They have two of them bidding on three packages of lefse and they all sold for about 100 bucks apiece. A quart jar of homemade sauerkraut for 50 bucks. They had a shotgun and a .22 on two separate boards. They were ten dollars a square, so I picked the numbers and the emcee said it was one of the hunters that won the rifle. When they brought it to us, I was thinking, it can't be us, we don't ever win anything."
Sure enough, Mike and Jean won the .22 rifle. The memories of the hunt are all highlights to the Hendrickx family as the outdoor tradition continues.
"I hunted since I was in high school," said Mike. "My brothers are all into it."
"We have four boys," said Jean. "They all came hunting this year."
Hunters who reapply for Twist of Fate are usually only accepted after two years since their most recent harvest, but they are encouraged to reapply regardless in case someone has to drop out of the hunt for any unforeseen circumstances. Jean said they will reapply for this coming summer without expecting to be accepted as Mike shot his deer last summer. She said they will, however, likely attend the banquet and visit with their new found friends.
"It's like all your troubles at home are just gone," said Mike of being at camp. "You just relax and are put in the same world as everyone else. It doesn't matter if you get a nubbin' buck or six pointer. We were just celebrating that everyone got venison. It is quite the experience."