NYM defeats Osakis 42-35 at quadrangular
Sports | Published on January 31, 2023 at 4:28pm GMT+0000 | Author: Tucker Henderson
0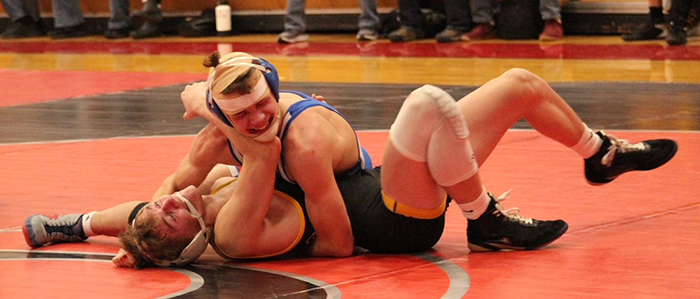 By Chad Koenen
Publisher
New York Mills will get a rare extended home stand to close the regular season.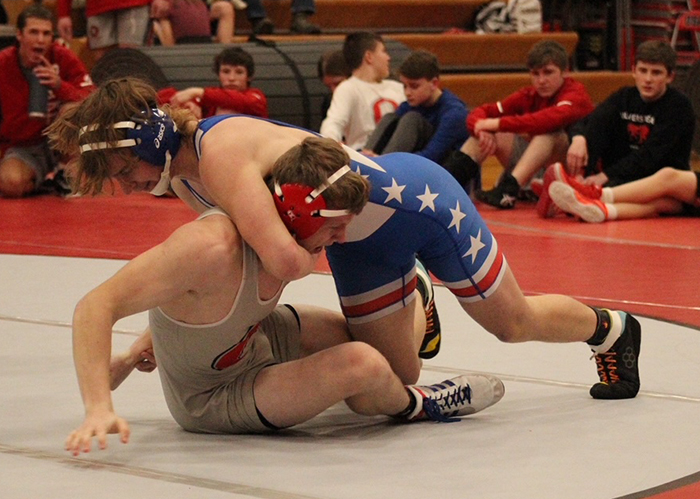 After hosting Bertha-Hewitt/Verndale/Parkers Prairie last Thursday night, the Eagles traveled to Osakis for a quadrangular against United North Central, Minnewaska Area and Osakis on Friday night.
This week the Eagles will host Mahnomen/Waubun and Otter Tail Central on Thursday night in a triangular, before hosting the annual Park Region Conference Tournament on Saturday.
The Eagles will wrap up their regular season next Tuesday when they host Border West in an important Section 6A contest.
NY Mills is currently in fourth place in the Section 6A standings and trail just Border West, West Central Area and BHVPP in the standings.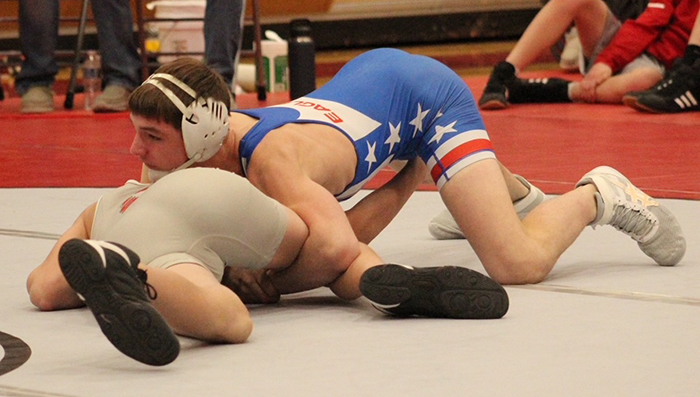 Simon Snyder is currently ranked ninth in the state at 152 lbs. and is the lone Eagle currently ranked individually.
Friday
NY Mills trailed 35-12 heading into Jon Rinerson's 170 lbs. match against Brennen Gustafson on Friday night, before the Eagles rolled off five straight first period pins to come away with a 42-35 win.
Rinerson, Blake Unger, Mason Unger, Bode Roberts and Grady Roberts all secured pins in the first period to help and erase an early lead by the Silverstreaks. The longest match during that stretch came from Bode Roberts, which was just 1:54 long.
Mason Unger needed just 37 seconds to pick up a pin over Conner Koep.
Also picking up wins for the Eagles was Creed Mursu by fall at 120 lbs. and Brant Malone by a fall at 145 lbs.
The Eagles also took on defending Section 8A champion United North Central on Friday night and came up just short on the scoreboard. Nonetheless, there were quite a few exciting matches throughout the contest.
In a match up between top 10 ranked wrestlers, Simon Snyder had his head covered due to a large laceration on the back of his head as he pinned 10th ranked Hank Tellers by a pin at the 5:16 of their match to give the Eagles 6 team points. Snyder trailed 3-0 heading into the third period and secured a reversal for two points. He was able to turn Tellers on his back to secure the pin. It was the first team win for the Eagles against a feisty United North Central team.
Jon Rinerson also won by a pin at 170 lbs. and Blake Unger won by a forfeit at 182 lbs.
Bode Roberts picked up the final win of the day for the eagles as he secured a major decision over Ryan Peterson.
In their other match of the quadrangular, the Eagles fell to Minnewaska Area by a score of 49-27.
New York Mills 42 Osakis 35
106: Ashton Pastian (OSAK) over Carlyle Tumberg (NYM) (MD 14-5)
113: Reggie George (OSAK) over (NYM) (For.)
120: Creed Mursu (NYM) over Simon Jacobson (OSAK) (Fall 4:44)
126: Zackery Bruder (OSAK) over (NYM) (For.)
132: Jacob Taplin (OSAK) over Austin Geiser (NYM) (MD 18-5)
138: Tucker Hagen (OSAK) over Elijah Geiser (NYM) (Dec 10-6)
145: Brant Malone (NYM) over Lukas Duchene (OSAK) (Fall 1:14)
152: Kale Drevlow (OSAK) over Jay Mindermann (NYM) (Fall 2:02)
160: Gaven Cimbura (OSAK) over Joe Mann (NYM) (Fall 1:47)
170: Jon Rinerson (NYM) over Brennen Gustafson (OSAK) (Fall 1:53)
182: Blake Unger (NYM) over Raphael Paquay (OSAK) (Fall 1:15)
195: Mason Unger (NYM) over Conner Koep (OSAK) (Fall 0:37)
220: Bode Roberts (NYM) over Preston Kunkel (OSAK) (Fall 1:54)
285: Grady Roberts (NYM) over Zachary Winkle (OSAK) (Fall 1:23)
United North Central 48 New York Mills 22
106 Olson, Levi (UNC) over Tumberg, Carlyle (NYM) Decision 5
113 Anderson, Rhett (UNC) over Wallgren, Finn (NYM) Maj Dec 15-3
120 Koll, Conrad (UNC) over Mursu, Creed (NYM) Decision 9-5
126 Lake, Aaron (UNC) over Forfeit (NYM)
132 Hendrickson, Zach (UNC) over Geiser, Austin (NYM) Maj Dec 9
138 Olson, Wyatt (UNC) over Geiser, Elijah (NYM) Fall 1:20
145 Davidson, Zach (UNC) over Mindermann, Jay (NYM) Fall 5:44
152 Snyder, Simon (NYM) over Tellers, Hank (UNC) Fall 5:16
160 Olmsted, Aiden (UNC) over Mann, Joe (NYM) Maj Dec 11-3
170 Rinerson, Jon (NYM) over Livingston, Riley (UNC) Fall 5:50
182 Unger, Blake (NYM) over Forfeit, (UNC)
195 Roiko, Eli (UNC) over Unger, Mason (NYM) Fall 0:49
220 Roberts, Bode (NYM) over Peterson, Ryan (UNC) Maj Dec
285 Peterson, Marcus (UNC) over Forfeit (NYM)