New car wash opens in NYM
News | Published on February 7, 2023 at 4:14pm GMT+0000 | Author: Tucker Henderson
0
Pet wash at LAC to open in the near future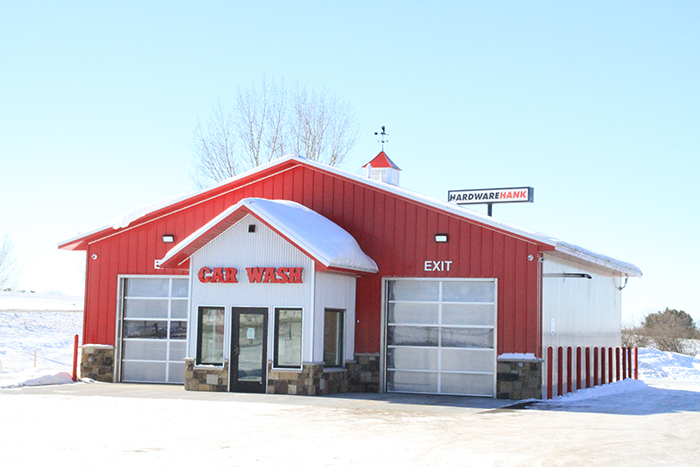 By Tucker Henderson
Reporter
A new addition to the New York Mills Cenex and Hardware Hank location opened in January and is ready for new customers.
The Country Car Wash on the north side of State Highway 10 has two separate stalls for cleaning vehicles. Credit cards, gift cards, prepaid cards and fleet cards will all be acceptable forms of payment for the new facility.
A soft-touch lane cleans dust and dirt off of vehicles with gentle foam and cloth cleaners in order to protect the paint and plastics of the vehicle.
The touch-free lane applies cleaning formulas that emulsify the gunk and grime off of the vehicle before being sprayed off with powerful jets of water to leave it sparkling clean.
"There are three options for each," said NY Mills Cooperative manager Steve Greenwood. "Basic, Deluxe, and Ultimate."
The car wash is much anticipated and has been under construction since April of 2022.
"It's been a long process," said Greenwood. "There are always hiccups."
For the frequent or occasional customer, options for gift cards, prepaid cards, and fleet cards are available for the NY Mills location. These cards work exclusively in NY Mills and will make a car wash experience a breeze.
The car wash is closed when it reaches 10 degrees Fahrenheit or below, but in the summer months, it will be open 24 hours a day, seven days a week.
Inside the building is also a pet wash, which will be up and running in the coming weeks.
"The pet wash will be open when we get our card reader," said Greenwood.
When the muddy days of spring come, the pet wash will be the perfect place to rinse off your family animals.
Despite the long-awaited construction and card machines, Greenwood is happy that it's ready to use and is optimistic about vehicle turnout when the weather warms up.
"It will wash my truck," he joked. "That's all that matters."