NYM falls to Menahga 73-42 in PRC action
Sports | Published on February 7, 2023 at 3:38pm GMT+0000 | Author: Tucker Henderson
0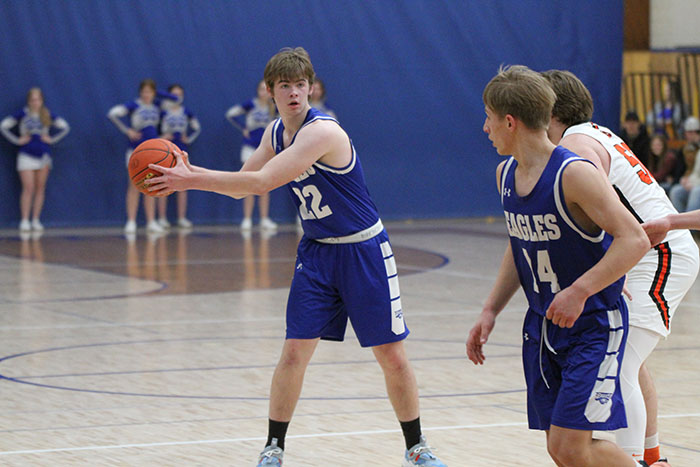 By Chad Koenen
Publisher
New York Mills fell to 1-17 on the season as they dropped another tough Park Region Conference game last week.
On Thursday night the Eagles fell to the Menahga Braves by a score of 60-47. The game was much improved over their first match up in December when the Eagles lost to the Braves by a score of 73-42.
Head coach Mike Baune said the Eagles struggled to cover a lot of ground defensively against Menahga's five out offense, which led to some open shots on rotation passes and long close outs. He said the Braves run that offense very well.
"Offensively we missed too many bunnies that we have been making recently that could have put us over the edge. Although on a very positive note, we only had 16 turnovers which is what kept us in the game throughout," said Baune.
While the Eagles trailed by as much as 22 points in the second half, NY Mills was able to get that deficit down to just 6 points at one point. Baune said he was encouraged to see that tenacity from the Eagles as they head down the stretch run before the playoffs.
"I was excited to see the boys battle despite being down big," he said.
The Eagles were led offensively by Brayden Ehnert who hit four 3-pointers to finish with 12 points, 4 rebounds and 4 assists. Braxton Ehnert and Will Oakes chipped in with 8 and 7 points respectively.
This week the Eagles will hit the road as they will travel to Pillager on Tuesday night and Henning on Friday night for a pair of Park Region Conference games.