Otter Coffee fulfills a lifelong dream
News | Published on February 7, 2023 at 4:06pm GMT+0000 | Author: Tucker Henderson
0
Former New York Mills School District secretary takes of Vergas coffee shop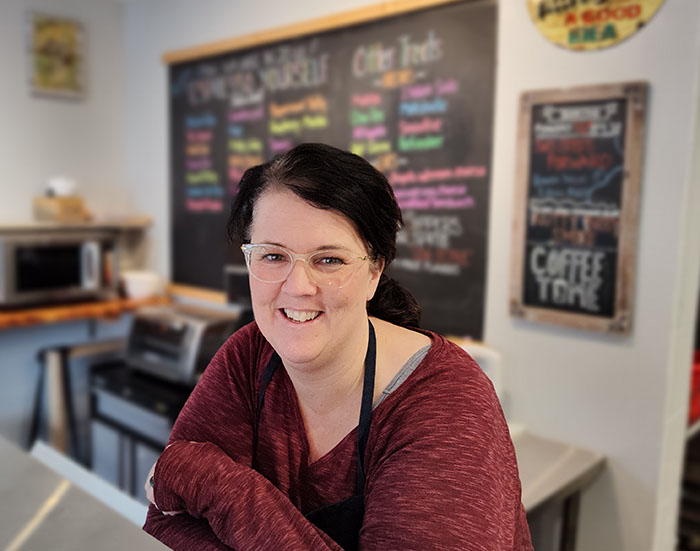 By Robert Willams
Editor, Frazee-Vergas Forum
Iowa native Stephanie Jorgenson had a dream to own a coffee shop but life hurdles kept getting in the way until she found her way to the Vergas area. Jorgenson is the new owner of Otter Coffee And Ice Cream downtown.  ¶  "I've been trying for a long time," Jorgenson said. "Life kept happening; every phase of my life I've tried to open my own coffee shop or get into coffee. It took this long, but it finally happened."   ¶  Stephanie got her start in the business working for Starbucks in Colorado when the company was just beginning to take off nationwide.  ¶  "That was over 20 years ago and the culture has changed a lot since then," she said. "When I worked for them they did a lot of coffee education so I actually feel like if I didn't work there during that time I wouldn't know that I wanted to do this."
The Starbucks program at that time included bean to cup training where employees learned about drying processes, origin countries, along with connecting to farmers that grew the coffee.
Since then, the corporate coffee business has become much more automated.
"We learned everything manually and it was awesome," Jorgenson said.
Jorgenson was pursuing a degree at Colorado State University in Fort Collins while working at Starbucks. The job created her love for coffee. Prior to that, she was not even a coffee drinker."
She was recruited to Starbucks by a customer who noticed her leadership abilities while Jorgenson was working at another job.
"I told her I've never had a cup of coffee ever," Jorgenson said. "I went to the interview and I really wanted it."
Jorgenson got the job, completed management training and got her own store where she worked for five years.
"I am definitely thankful for my time there," she said.
She eventually moved back to Iowa to assist her aunt and uncle at their home decor store with intentions to open a coffee shop in an adjacent building. Her relatives matched the money she was making at Starbucks and there seemed to be a coffee plan in the works.
It was a way to move home and live a more affordable lifestyle while getting into a refurbished schoolhouse to start her coffee shop.
"It just never happened and then her kids started having kids and they started scaling back their business and at the same time my parents bought a convenience store," Jorgenson said.
She worked at both family businesses until she met her husband-to-be Mark of Jorgenson Dairy Farm in Perham and began regular visits to the area.
"We started long distance dating, so the coffee shop for sure wasn't happening because I was driving back-and-forth every other weekend," she said. "It caught up with me. He's a dairy farmer so he couldn't go like I could."
Jorgenson set up her schedule to allow for the five-hour commute but was in a constant cycle of driving and working.
"He asked me to move here and it got a little bit better," said Jorgenson. "He would always give me a hard time because I always wanted to stop at a coffee shop. I thought it was funny because he's a dairy farmer. If anyone should love specialty coffee it should be him. He asked why. I would show him the cup I had – two ounces of this is coffee, the rest is milk. He had no idea, so now every time we pass a coffee shop he offers, 'Do you need to stop?'"
Upon moving to Perham, Jorgenson began pursuing a place to open a coffee shop in the area.
"When we seriously started trying to open here it was obstacle after obstacle, including COVID, but not limited to," she said.
She met Jill Shipman, former Otter Coffee owner, by taking one of Shipman's aquatic fitness classes at the Perham Area Community Center.
"I found out we both liked coffee and both wanted to open a coffee shop and she actually got to do it," Jorgenson said.
Shipman created and opened Otter Coffee and Ice Cream in Vergas.
"Right before COVID, she reached out and mentioned that she was going to sell and she knew I would be interested, but she didn't really want anyone to know," Jorgenson said.
After 18 months in business, financing to purchase the store was not in the cards on either the buyer or seller side.
Jorgenson looked at other locations in Perham, New York Mills and the best opportunity presented itself in Ottertail. She began paying rent in a space owned by Stephanie Ellingson Dykhoff.
"I really thought Ottertail was going to happen," said Jorgenson. "She wanted us there as much as we wanted to be there."
As construction costs began to rise steeply during the pandemic it put the store out of reach.
Shipman was looped into what was happening and offered advice. She still wanted to sell Otter Coffee but wanted to choose an appropriate buyer who would appreciate her store in the same way and connect with the community.
"She really paved the way here in Vergas for coffee," said Jorgenson.
Shipman contacted Jorgenson saying the store would be listed publicly if she was not interested. The Ottertail location was still in flux so Jorgenson did not jump at the chance and Shipman found another buyer.
"I just kept telling her don't sell it yet, I'm just not ready," said Jorgenson.
The sale fell through allowing Stephanie another shot.
After discussing the purchase with Mark the couple decided to pursue it given the lack of other opportunities, along with the prime location in downtown Vergas. Local business owners and customers immediately made Stephanie feel welcome.
"I love Main Street," said Jorgenson. "Everyone really works together. I could not believe, when I first opened, how many people came in just to say hi and introduce themselves. Right away, the businesses on this street were open and friendly."
Jorgenson went to her first Vergas Community Club meeting in early January to familiarize herself with all the events planned for the year.
"They're so supportive," she said.
Other businesses on Main have also stepped up to help.
"I'm from a small town, but I don't know anywhere else where the grocery store owner will push a cart of milk across the street and deliver it right to me," she said. "I couldn't have asked for a better new owner experience here. The bank is super helpful, everyone really has been."
Knowing how busy Vergas will get in a few months, Jorgenson has been thankful of a quieter start to her business in January to get prepared for spring and summer.
"I'm okay with it because it gives me a chance to get all my vendors lined up, look at hiring, take inventory while I'm here working," she said.
Part of that inventory was keeping regular customers happy by continuing to stock regional products that have become store favorites like Stumbeano's fresh ground coffee out of Fergus Falls and Fall's Baking Co. bread loaves and baked goods out of Little Falls. She is also open to working even more locally, having reached out to MW Pastry and other shops that provide tangential products.
"I just want to do as much locally as I can; we have so much great stuff in the area," she said.