Snyder, Roberts capture PRC championships
Sports | Published on February 7, 2023 at 3:48pm GMT+0000 | Author: Tucker Henderson
0
Eleven wrestlers place at annual Park Region Conference tournament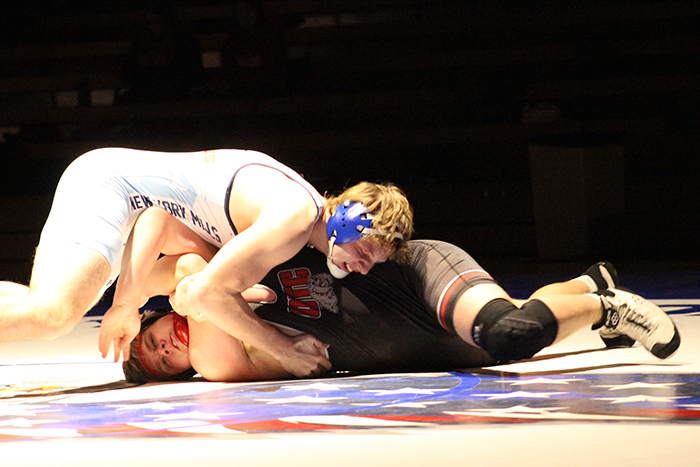 By Chad Koenen
Publisher
Simon Snyder and Bode Roberts sent the New York Mills faithful to their feet on Saturday as the wrestlers captured first place at the Park Region Conference tournament. The meet was held in NY Mills as 11 wrestlers placed in the top six in the conference.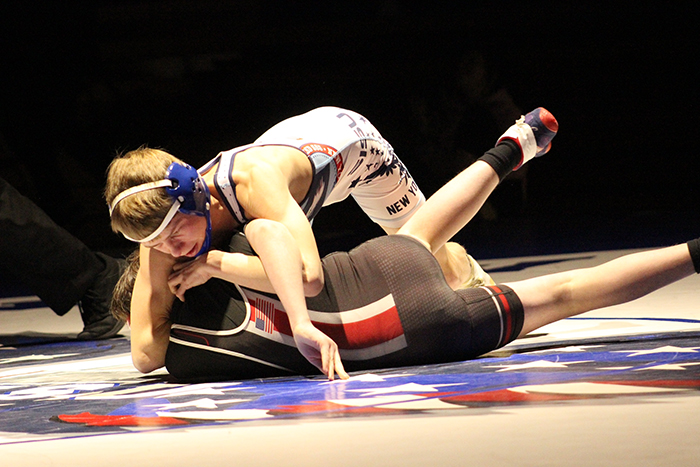 Snyder, who is ranked ninth in the state, took first place after defeating Eli Benning of Wadena-Deer Creek by a fall in the opening round of the 152 lbs. bracket. He went on to defeat Nathan Bitz of Long Prairie-Grey Eagle/Browerville by a 9-1 major decision to advance to the championship match.
In the championship, Snyder defeated Zach Davidson of United North Central by a tech fall in the third period to come away with the championship. Snyder is currently 30-4 overall this year.
Roberts won the 220 lbs. championship after pinning Ethan Meyer of LPGEB in the opening round and Ryan Peterson of United North Central in the second round. In his third match of the day, Roberts defeated Braden Shamp of Bertha-Hewitt/Verndale/Parkers Prairie by a 3-1 decision to come away with the championship.
Also placing for the Eagles were Aiden Meech, who finished in fifth place at 106 lbs.; Creed Mursu, who placed fifth at 120 lbs.; Austin Geiser, who placed fifth at 132 lbs.; Brant Malone, who placed fourth at 145 lbs.; Jon Rinerson, who placed fifth at 160 lbs.; Blake Unger, who placed fifth at 170 lbs.; Mason Unger, who placed third at 182 lbs.; Ashton Lehman, who placed fifth at 195 lbs.; and Grady Roberts, who placed sixth at 285 lbs.
As a team the Eagles finished in fifth place with 95.5 team points. United North Central won the tournament with 187.5 points, while Bertha-Hewitt/Verndale/Parkers Prairie took second place with 182 points.
In addition to the PRC tournament, the Eagles hosted a triangular with Otter Tail Central and Mahnomen/Waubun on Thursday night.
This week the Eagles will host Border West in a dual on Tuesday night in their final dual before the section team meet kicks off next week.
Park Region Conference
1 United North Central Warriors 187.5
2 Bertha-Hewitt- Verndale -Parkers Prairie 182.0
3 LPGE-Browerville Wolves 172.5
4 Osakis 132.0
5 New York Mills 95.5
6 Wadena-Deer Creek 58.0
7 Otter Tail Central 47.0
106: 5th place- Quarterfinal – Aiden Meech (New York Mills) 14-6 received a bye () (Bye), Semifinal – Hudson Truax (Bertha-Hewitt- Verndale -Parkers Prairie) 31-6 won by decision over Aiden Meech (New York Mills) 14-6 (Dec 5-0), Cons. Semi – Brodie Pachan (LPGE-Browerville Wolves) 23-8 won by fall over Aiden Meech (New York Mills) 14-6 (Fall 2:52), 5th Place Match – Aiden Meech (New York Mills) 14-6 received a bye () (Bye)
120: 5th place- Quarterfinal – Creed Mursu (New York Mills) 21-15 won by fall over Zackery Bruder (Osakis) 11-21 (Fall 5:03), Semifinal – Conrad Koll (United North Central Warriors) 11-2 won by fall over Creed Mursu (New York Mills) 21-15 (Fall 2:58), Cons. Semi – James Seelhammer (Wadena-Deer Creek) 10-15 won by decision over Creed Mursu (New York Mills) 21-15 (Dec 6-2), 5th Place Match – Creed Mursu (New York Mills) 21-15 won by fall over Zackery Bruder (Osakis) 11-21 (Fall 2:57)
132: 5th place- Quarterfinal – Christian Nathe (Osakis) 16-15 won by major decision over Austin Geiser (New York Mills) 13-19 (MD 13-4), Cons. Round 1 – Austin Geiser (New York Mills) 13-19 received a bye () (Bye), Cons. Semi – Connor Flan (LPGE-Browerville Wolves) 21-5 won by decision over Austin Geiser (New York Mills) 13-19 (Dec 8-2), 5th Place Match – Austin Geiser (New York Mills) 13-19 received a bye () (Bye)
145: 4th place- Quarterfinal – Brant Malone (New York Mills) 9-7 won by fall over Justin Houdek (LPGE-Browerville Wolves) 6-18 (Fall 0:20), Semifinal – Kale Drevlow (Osakis) 26-6 won by fall over Brant Malone (New York Mills) 9-7 (Fall 1:05), Cons. Semi – Brant Malone (New York Mills) 9-7 won by fall over Conner Nelson (Ottertail Central Bulldogs) 7-22 (Fall 2:09), 3rd Place Match – David Revering (Bertha-Hewitt- Verndale -Parkers Prairie) 31-6 won by fall over Brant Malone (New York Mills) 9-7 (Fall 1:46)
152: 1st place- Round 1 – Simon Snyder (New York Mills) 30-4 won by fall over Eli Benning (Wadena-Deer Creek) 7-20 (Fall 3:32), Round 2 – Simon Snyder (New York Mills) 30-4 won by major decision over Nathan Bitz (LPGE-Browerville Wolves) 6-24 (MD 9-1), Round 3 – Simon Snyder (New York Mills) 30-4 won by tech fall over Zach Davidson (United North Central Warriors) 12-15 (TF-1.5 5:08 (17-0))
160: 5th place- Quarterfinal – Jon Rinerson (New York Mills) 19-9 received a bye () (Bye), Semifinal – Tucker Zigan (LPGE-Browerville Wolves) 28-6 won by major decision over Jon Rinerson (New York Mills) 19-9 (MD 9-1), Cons. Semi – Riley Livingston (United North Central Warriors) 10-12 won by decision over Jon Rinerson (New York Mills) 19-9 (Dec 7-2), 5th Place Match – Jon Rinerson (New York Mills) 19-9 received a bye () (Bye)
170: 5th place- Quarterfinal – Blake Unger (New York Mills) 18-13 won by fall over Will Schwartz (Ottertail Central Bulldogs) 3-22 (Fall 1:50), Semifinal – Justin Koehn (Bertha-Hewitt- Verndale -Parkers Prairie) 20-15 won by decision over Blake Unger (New York Mills) 18-13 (Dec 6-5), Cons. Semi – Eli Roiko (United North Central Warriors) 8-17 won by fall over Blake Unger (New York Mills) 18-13 (Fall 4:36), 5th Place Match – Blake Unger (New York Mills) 18-13 won by fall over Brennen Gustafson (Osakis) 5-12 (Fall 3:18)
182: 3rd place- Round 1 – Brandon Wheeler (Wadena-Deer Creek) 15-15 won by fall over Mason Unger (New York Mills) 7-8 (Fall 2:56), Round 2 – Tate Twardowski (LPGE-Browerville Wolves) 30-2 won by fall over Mason Unger (New York Mills) 7-8 (Fall 1:03)
195: 5th place- Quarterfinal – Conner Koep (Osakis) 13-19 won by fall over Ashton Lehmann (New York Mills) 1-4 (Fall 0:56), Cons. Round 1 – Ashton Lehmann (New York Mills) 1-4 received a bye () (Bye), Cons. Semi – Andre Recknor (LPGE-Browerville Wolves) 23-9 won by fall over Ashton Lehmann (New York Mills) 1-4 (Fall 1:56), 5th Place Match – Ashton Lehmann (New York Mills) 1-4 received a bye () (Bye)
220: 1st place- Round 1 – Bode Roberts (New York Mills) 24-3 won by fall over Ethan Meyer (LPGE-Browerville Wolves) 9-16 (Fall 2:36), Round 2 – Bode Roberts (New York Mills) 24-3 won by fall over Ryan Peterson (United North Central Warriors) 7-12 (Fall 1:28), Round 3 – Bode Roberts (New York Mills) 24-3 won by decision over Braden Shamp (Bertha-Hewitt- Verndale -Parkers Prairie) 22-14 (Dec 3-1)
285: 6th place- Quarterfinal – Grady Tomford (LPGE-Browerville Wolves) 9-13 won by decision over Grady Roberts (New York Mills) 17-12 (Dec 9-7), Cons. Round 1 – Grady Roberts (New York Mills) 17-12 received a bye () (Bye), Cons. Semi – Zachary Winkle (Osakis) 13-18 won by medical forfeit over Grady Roberts (New York Mills) 17-12 (M. For.), 5th Place Match – Grady Tomford (LPGE-Browerville Wolves) 9-13 won by medical forfeit over Grady Roberts (New York Mills) 17-12 (M. For.)