An eye for unique shirts in NY Mills
News | Published on February 14, 2023 at 5:18pm GMT+0000 | Author: Tucker Henderson
0
Patron opens screen printing business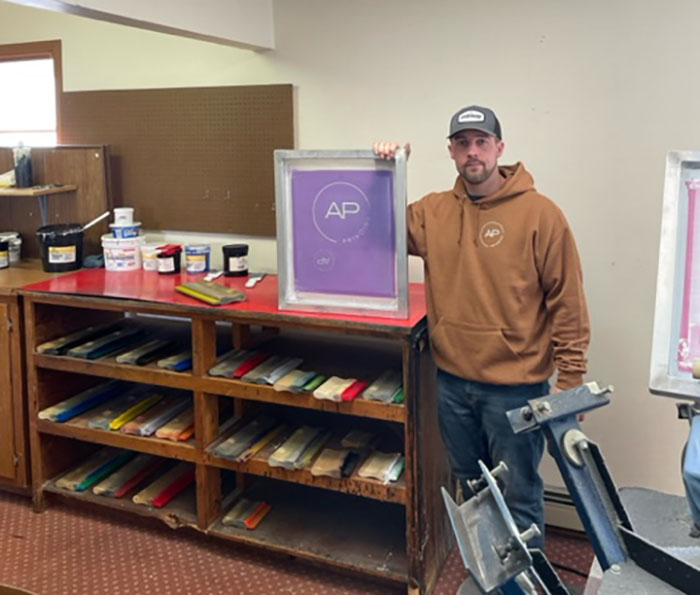 By Chad Koenen
Publisher
Adam Patron could have a closet full of collectible t-shirts from his days playing athletics for New York Mills High School and now the New York Mills Millers. After all, during his high school career the Eagles baseball team made a habit of finding themselves not only on top of the conference standings, but in the thick of the state tournament.
For a number of years those commemorative shirts were printed at Norton Printing in the heart of NY Mills. After helping out at Norton Printing for the past several years, Patron recently purchased the screen printing business from longtime owner Jake Norton.
"He just asked me one day and said I have a big order do you want to help me," said Patron of how he got started in the screen printing business.
Patron, who has worked at Essers Plumbing and Heating in Perham for the past two years, found a passion for creating the custom screen prints and continued to work for Norton Printing on nights and weekends when big orders came through the door. The business is still located in its original location at what is now Vandermay Mechanical.
When Norton said he was looking to get out of the screen printing business, Patron worked out a deal to purchase that part of Norton's business and renamed the company AP Printing.
"He was getting out of it and I thought I would like to see where it would take me," said Patron.
The NY Mills High School alum said he is looking forward to expanding the business in the future. He can print everything from custom shirts, including summer rec t-shirts and commemorative designs, as well as jerseys for elementary through high school sports.
Patron is planning to operate the screen printing business on nights and weekends and is currently taking orders for new shirts and jerseys.
Orders can be placed by contacting Patron at (218) 457-0529 or by email at apprinting21@outlook.com.
Contributed photo
Adam Patron recently took over the screen printing portion of Norton Printing in New York Mills. He has named the business AP Printing and it will remain in downtown NY Mills.