Eagles fall to Bucs in regular season finale
Sports | Published on February 14, 2023 at 4:25pm GMT+0000 | Author: Tucker Henderson
0
NYM to prepare for Section 6A team event on Friday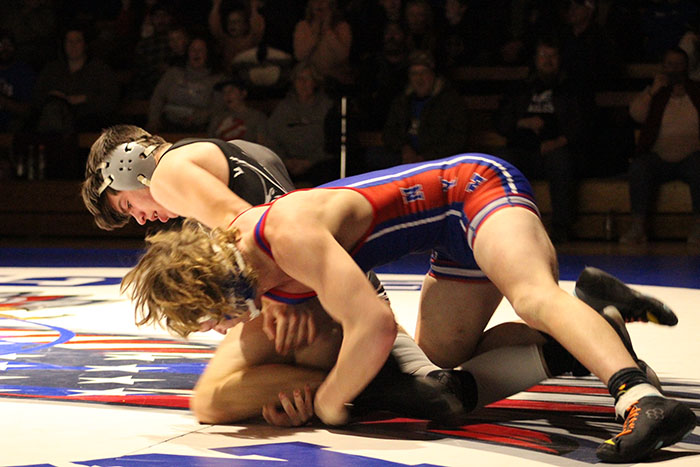 By Chad Koenen
Publisher
New York Mills wrapped up its regular season on Tuesday night with a tough 43-25 loss to Border West on senior night.
After falling behind by a 12-0 score after the third match of the night, Creed Mursu put the Eagles on the scoreboard as he defeated Gunner Hennessy by a 10-8 decision. The Buccaneers won the next two matches, before Gavin Grabow secured a pin over Owen Deal at 145 lbs. to make the score 21-9 in favor of Border West.
A Simon Snyder win by forfeit made the score 27-15 in favor of Border West, who secured a decision at 170 lbs. and a pin at 182 lbs. to give the Buccaneers a 37-15 lead heading into the 195 lbs. between Mason Unger and Jason Ramirez. Unger secured a quick pin for the Eagles at just the 41 second mark of the match, before Bode Roberts secured an 8-0 major decision over Noah Adelman to cut the score to 37-25 in favor of Border West.
The Eagles were open at heavyweight to make the score 43-25 in favor of Border West.
The Eagles finished the regular season with a record of 12-11 overall and will now turn their attention to the Section 6A team tournament, which will be held on Friday night at West Central Area. The first round will be held at 3 p.m. and 4:30 p.m., while the semi-finals will be held at 6 p.m. The finals will begin at approximately 7:30 p.m.
The Section 6A individual tournament will be held on Saturday, Feb. 25 at Wadena-Deer Creek High School and the state wrestling tournament will be held from March 2-4 at the Xcel Energy Center in St. Paul.
Border West 43 New York Mills 25
106 Martig, Brock (BW) over Meech, Aiden (NYM) Decision 10-6
113 Hennessy, Tucker (BW) over Wallgren, Finn (NYM) Decision 7-3
120 Sykora, Cole (BW) over Forfeit (NYM)
126 Mursu, Creed (NYM) over Hennessy, Gunner (BW) Decision 10-8
132 Larson, Eli (BW) over Forfeit (NYM)
138 Olson, Jude (BW) over Geiser, Austin (NYM) Maj Dec 10-0
145 Grabow, Gavin (NYM) over Deal, Owen (BW) Fall 5:27
152 Casper, Kevin (BW) over Malone, Brandt (NYM) Fall 3:08
160 Snyder, Simon (NYM) over Forfeit, (BW)
170 Forcier, Patrick (BW) over Rinerson, Jon (NYM) Decision 3-1
182 Nachbor, Brody (BW) over Unger, Blake (NYM) Fall 4:33
195 Unger, Mason (NYM) over Ramirez, Jason (BW) Fall 0:41
220 Roberts, Bode (NYM) over Adelman, Noah (BW) Maj Dec 8-0
285 Hennessy, Andrew (BW) over Forfeit (NYM)