Henning man arrested for shooting at Lunds
News | Published on February 14, 2023 at 5:20pm GMT+0000 | Author: Tucker Henderson
0
Employees credited for quick action during shooting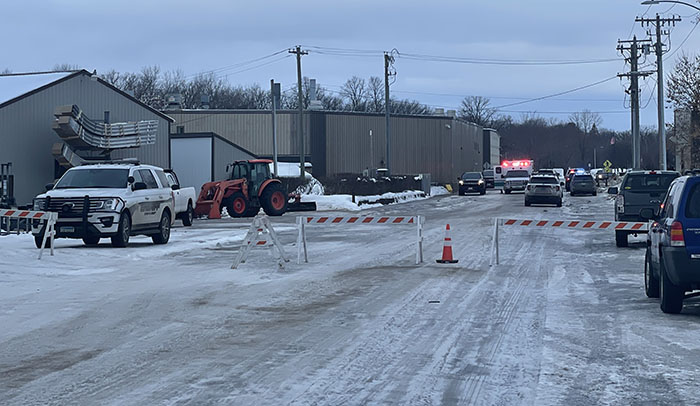 By Chad Koenen
Publisher
David Jeremiah Gadsden, age 21 of Henning, has been charged with second degree attempted murder after shooting a firearm at a coworker at Brunswick/Lunds in New York Mills on Thursday morning.
According to the criminal complaint, at approximately 7:21 a.m., the Otter Tail County Sheriff's Office received a report of an active shooter at the Brunswick/Lund's Boat Factory in New York Mills.
The complaint states the victim was working on a boat hull and had a question on how to complete his job and asked Gadsden about his assignment. The victim said Gadsden became angry and yelled at him. The victim said he then asked a nearby employee the question, which also seemed to infuriate Gadsden.
The victim then reportedly approached Gadsden to find out why he was so angry and Gadsden pulled out what the victim described as a 9mm handgun from his waistband and pointed it at the victim.
According to the victim, Gadsden moved the slide back on the gun, which caused the victim to exit the work area of the plant to get away from Gadsden. The victim ran through a narrow pathway with Gadsden following him while continually pointing the gun in the victim's direction. The victim then moved a cart into Gadsden's path as he moved to the north building's exit door. It was then that Gadsden fired a round at the victim, which became lodged in a partially assembled boat near the cart and exit door, according to court records.
The chase continued outside where the victim was able to get away, however the criminal complaint said a second shot was fired at the victim outside.
According to court records, the victim was not injured but believes that a bullet grazed his shirt. Officers observed a 6-inch hole in the ribs area of his shirt.
An employee held the door shut so the shooter was not able to get back into the building. Another Lund employee approached the suspect outside and he took off running, but was caught and restrained by employees before law enforcement arrived.
"Had it not been for the quick actions of Lund staff members, the outcome may have been much worse," said the Otter Tail County Sheriff's Office.
In addition to second degree murder, Gadsden has been charged with second degree assault with a dangerous weapon and dangerous weapons-intentional discharge of a firearm that endangers safety. All three charges are felonies. He has also been charged with carrying/possessing a pistol without a permit in a public place, which is a gross misdemeanor.
Otter Tail County Sheriff Barry Fitzgibbons praised plant employees for their resourcefulness in preventing a tragedy.
"They intervened and acted quickly," Fitzgibbons said.