Practice underway for Easter Cantata
News | Published on February 14, 2023 at 5:14pm GMT+0000 | Author: Tucker Henderson
0
Lenten Cantala prepares for upcoming performance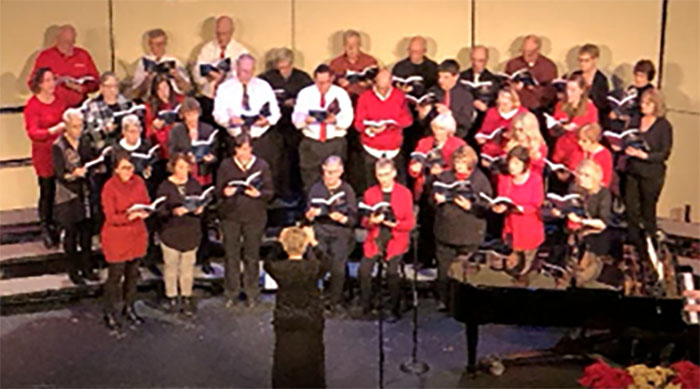 By Tucker Henderson
Reporter
As the Lenten season draws near, an opportunity to participate in a community cantata is open to all who are interested in sharing their singing abilities.
"Anybody who wants to sing," said Julie Adams of Trinity Lutheran Church in New York Mills. "There's no audition or anything. If you want to lend your voice to this, you can participate."
The community Lenten Cantata will have weeks of practices during February and March at locations in both NY Mills and Perham.
"There will be two performances," said Adams. "One will be here in NY Mills at Trinity and that same day, in the evening, there will be a performance over at St. Paul's in Perham."
Adams mentioned that the annual cantata is usually performed in both NY Mills and Perham so that both communities can share their talent, as well as enjoy the contributions from singers of both locales. The event began in Perham with pianist Russ Bunker. The event has since spread to encompass NY Mills as well.
"We try to do it in the two locations," said Adams. "It started out with Perham as the original organizer of it."
Adams has been involved with the cantata for a little over five years. She finds the community interaction to be very fulfilling.
"It's a very uplifting experience," she said. "I remember watching it a few years back, before I started to participate and it was a very uplifting experience just as an audience member. Participating in it, not only is it uplifting, but it's a way to get to know people from other communities who enjoy singing."
Pastor Sarah Carlstrom, of New Creations Lutheran Church in Perham, will be directing the Lenten Cantata this year. Carlstrom is joining the cantata in the second year back since it's hiatus in 2020 and 2021 due to Covid.
"My family and I recently moved back to this area, which makes the Christmas Cantata my first time singing with the group," said Carlstrom. "It's a wonderful group of people gather from around the area who share a faith in Jesus and a love of choral music. It is an honor to be asked to conduct this season's Lenten Cantata. I am looking forward to reuniting with friends, meeting new people, and telling the passion of Christ through song!"
Rehearsals are scheduled to take place at Calvary Lutheran Church in Perham on Sundays at 4 p.m. on the evenings of Feb. 19 and 26, March 5, 12, and 19. Dress rehearsals will take place during the end of March in both towns before a final performance on April 2 in both NY Mills and Perham.
"We're just inviting people to join us for practices," said Adams. "We're looking for singers right now. Anyone who wants to can come to the first practice to see what it's all about. There's no audition or anything like that. You do need to be able to read music and sing the parts as they're written."
Having fun and enjoying oneself is an important part of singing in the cantata which is necessary to share the enjoyment with the crowd on Apr. 2.
"It's an all around feel good thing," Adams said about her time in the cantata.