Bringing color, cheer during Valentine's Day
News | Published on February 21, 2023 at 4:17pm GMT+0000 | Author: Tucker Henderson
0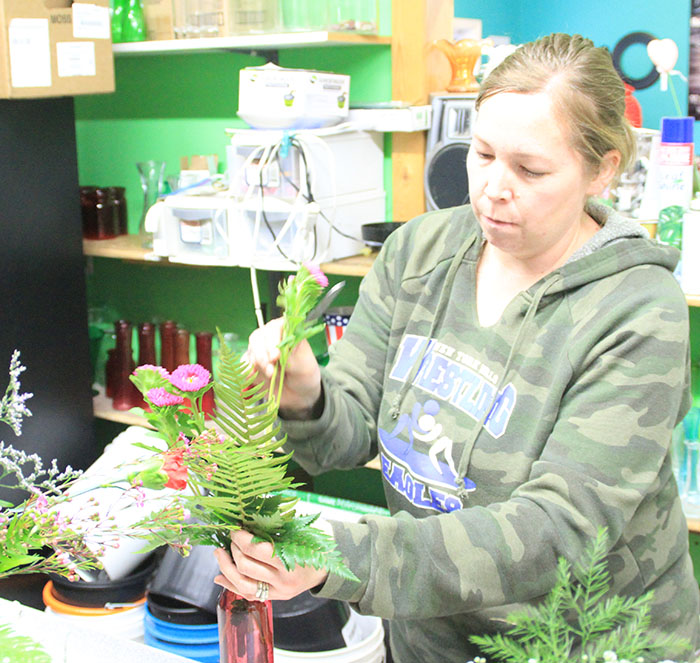 By Tucker Henderson
Reporter
Every year, in a mad dash to show their affection, couples make a special trip to pick up flowers, sweets, and a card for their special someone. This might only take a couple extra minutes at Mills Market, a doughnut stop at Farmer's Daughter Rustic Bakery, and a quick pick up at Designs By Tes, but it can be a critical part of the year depending upon one's tradition.
At Designs By Tes, the Valentine's flower arrangements take a little more than a couple minutes… in fact, Tessa Braukmann can be seen preparing for the annual event for weeks ahead of time. As the busiest single day of the year, vying for the top spot with Mother's Day, Braukmann spends the good part of the week prior to Valentine's Day ordering, prepping and arranging to make the deadline.
"I don't sleep," said Braukmann. "I prep as much as I can starting the few weeks before. I can make bows and fill water tubes and those kind of things a few weeks ahead. I worked Saturday afternoon after my son's basketball tournament and I worked all day Sunday. I don't go home until every order is filled and the cooler is full."
This is not an uncommon sight during February for Braukmann, having completed her 20th Valentine's Day orders this year. This year, she worked until 2 a.m. on Tuesday morning in order to get each order filled.
"One year I was working on arrangements after midnight and a Mills police officer stopped by to see if everything was okay," laughed Braukmann. "I told him it was almost Valentine's Day!"
"I don't know why I bother to go home and even try to sleep for those few hours, because I lay in bed thinking about everything that I have to do to complete it all," Braukmann said.
During an average week, Braukmann orders around 50 to 75 roses to keep in the cooler, but for Valentine's Day this year, she ordered 600 of them. She also said that there are some days when she can sit and never pick up the phone, but during the days surrounding the holiday, it rings nonstop. With petals strewn about the sidewalk in front of the shop, it's hard to forget to grab a dozen roses for your loved one.
"I'm guessing we probably did a couple hundred plus deliveries that day," said Braukmann. "There were many pick ups and walk-ins too. It's a hard, fast day."
Help is always needed to cover the Valentine's rush and this year Tessa's father, LeRoy Ament, helped out as well as her husband, Derek Braukmann, and her friend, Shelley Wessels, who has helped Braukmann with Valentine's orders for over 10 years.
"It makes people happy," said Wessels. "It makes me very happy—it's my favorite day of the year. I just love playing with flowers."
With perishable items such as flowers, Braukmann has to be careful what she orders and at what volumes.
"Each year is different, it's kind of a guessing game," Braukmann said. "I would rather order a little less and run out than be sitting on (extra flowers). Thankfully, the things that I do order last a little longer and I can use them during the rest of the week."
"I have been pretty good the last few years," she said. "Of course, the first year or so was a disaster because I didn't know what I was doing, I had a ton left."
With the anticipated rush on flowers, early orders and pick-ups are helpful for Braukmann.
"We have some older, more experienced men who don't like to come in the day of the rush, so I was actually pretty busy on Monday this year too," she said. "They wanted to beat the rush and get the best selection, so that is helpful too."
Part of the flowery festivities is joking with customers and Braukmann especially likes to tease the men that come in for their significant other's gift.
"Harassing the men," she laughed about her favorite part of Valentine's orders. "Razzing the customers, but the men especially."