Eagles fall to Knights in Section 6A semi-finals
Sports | Published on February 21, 2023 at 3:45pm GMT+0000 | Author: Tucker Henderson
0
Individual section meet set for Saturday at WDC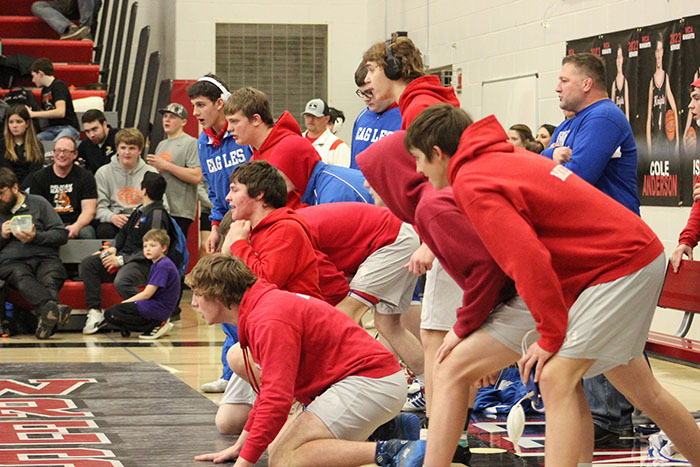 By Chad Koenen
Publisher
The New York Mills Eagles advanced to the semi-finals of the Section 6A tournament, before falling to eventual champion West Central Area on Friday night.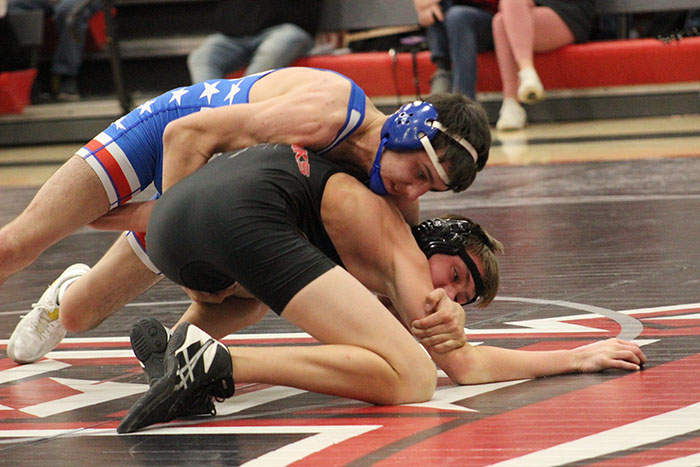 The Eagles defeated Osakis in the opening round of the tournament by a score of 43-26, before falling to West Central Area by a score of 54-15. West Central would go on to defeat Bertha-Hewitt/Verndale/Parkers Prairie by a score of 48-28 to advance to state.
In the opening round match against Osakis, the fourth seeded Eagles defeated the fifth seeded Silverstreaks by a score of 43-26.
Carlyle Tumberg got the match going in the right direction for the Eagles as he secured a 5-1 decision at 106 lbs.
After Osakis picked up back-to-back wins at 113 lbs and 120 lbs., Creed Mursu secured a big pin at 126 lbs. to make the score 10-9 in favor of Osakis.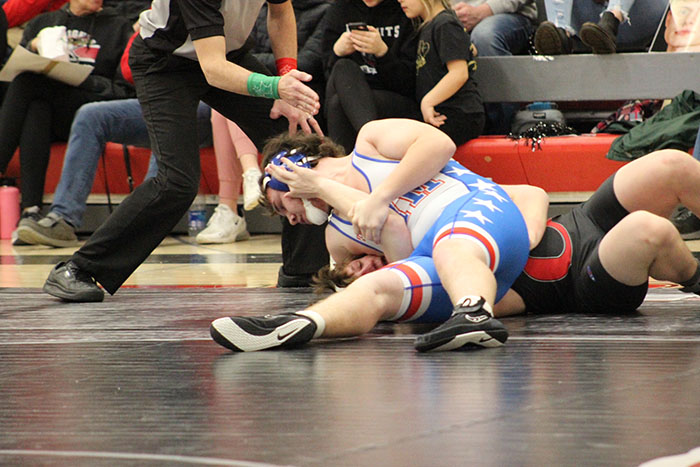 Osakis secured two more wins at 132 lbs. and 138 lbs. to make the score 20-9 in their favor, before Brant Malone secured a major decision over Tucker Hagen of Osakis at 145 lbs.
Kale Drevlow put the Silverstreaks up by a score of 26-13 when he secured a pin at 152 lbs.
However, the Eagle upper weights dominated Osakis as NY Mills won the final six matches of the night to blow past Osakis.
Following a Simon Snyder pin at 160 lbs., Jon Rinerson brought the Eagles to within one point by a score of 26-25 with a decision at 170 lbs.
Blake Unger put the Eagles in front for good with a first period pin over Mazin Al-Ameri at 182 lbs., before Mason Unger secured a pin shortly into the second period at 195 lbs. to give NY Mills a bit of breathing room.
Grady Roberts won a close 8-5 decision over Conner Koep by a score of 8-5 and Bode Roberts put an exclamation point on the match with a first period pin over Zachary Winke at heavyweight.
With the win the Eagles advanced to the semi-finals where they fell to West Central Area by a score of 54-15. This time around the Knights flipped the script on the Eagles as they won most of the upper weights to pull away in an otherwise close match.
Tumberg once again gave the Eagles an early lead as he secured a 2-0 decision over Evan Dingwall. Mursu picked up his second win of the section tournament, this time at 120 lbs., as he defeated Tucker McGee by a fall at 1:09.
The final two NY Mills wins came once again from Snyder and Rinerson at 160 lbs. and 170 lbs. respectively. The duo picked up a pair of decisions to give the Eagles 15 team points.
While the Eagles team season has come to a close with a record of 13-12, NY Mills will compete in the individual tournament on Saturday at Wadena-Deer Creek. The top two place finishers at each weight class will advance to state. The state wrestling tournament will be held from March 2-4 at the Xcel Energy Center in St. Paul.
New York Mills 43 Osakis 26
106 – Carlyle Tumberg (NYM) over Blake Fischer (Osakis) Dec 5-1
113 – Simon Jacobson (Osakis) over Finn Wallgren (NYM) Maj 12-0
120 – Reggie George (Osakis) over Isaac Geiser (NYM) Fall 0:50
126 – Creed Mursu (NYM) over Zachary Harlow (Osakis) Fall 1:45
132 – Jacob Taplin (Osakis) over Austin Geiser (NYM) Maj 12-4
138 – Christian Nathe (Osakis) over Elijah Geiser (NYM) Fall 2:45
145 – Brandt Malone (NYM) over Tucker Hagen (Osakis) Maj 14-6
152 – Kale Drevlow (Osakis) over Jay Mindermann (NYM) Fall 2:22
160 – Simon Snyder (NYM) over Brennen Gustafson (Osakis) Fall 1:32
170 – Jon Rinerson (NYM) over Gaven Cimbura (Osakis) Dec 9-4
182 – Blake Unger (NYM) over Mazin Al-Ameri (Osakis) Fall 0:59
195 – Mason Unger (NYM) over Andrew Ziesmer (Osakis) Fall 2:16
220 – Grady Roberts (NYM) over Conner Koep (Osakis) Dec 8-5
285 – Bode Roberts (NYM) over Zachary Winkle (Osakis) Fall 1:06
West Central Area/Ashby/Brandon-Evansville 54 New York Mills 15
106 – Carlyle Tumberg (NYM) over Evan Dingwall (WCA) Dec 2-0
113 – Owen Gruchow (WCA) over Finn Wallgren (NYM) Fall 0:32
120 – Creed Mursu (NYM) over Tucker McGee (WCA) Fall 1:09
126 – Carter Lohse (WCA) over Isaac Geiser (NYM) Fall 0:26
132 – Sam Olson (WCA) over Austin Geiser (NYM) Dec 7-4
138 – Adam Lohse (WCA) over Elijah Geiser (NYM) Fall 1:06
145 – Solomon Wales (WCA) over Brandt Malone (NYM) TF 17-1
152 – Hunter Gruchow (WCA) over Joe Mann (NYM) Fall 0:16
160 – Simon Snyder (NYM) over Ezekiel Sieckert (WCA) Dec 8-2
170 – Jon Rinerson (NYM) over Jeremy Blascyk (WCA) Dec 7-2
182 – Anthony Sykora (WCA) over Blake Unger (NYM) Fall 1:27
195 – Beau Robinson (WCA) over Mason Unger (NYM) Fall 0:58
220 – Will Rustan (WCA) over Grady Roberts (NYM) Maj 8-0
285 – Justin Blascyk (WCA) over Unknown (Unattached) Forf