Esser Plumbing and Heating is here to serve customers of all sizes
News | Published on February 21, 2023 at 3:26pm GMT+0000 | Author: Tucker Henderson
0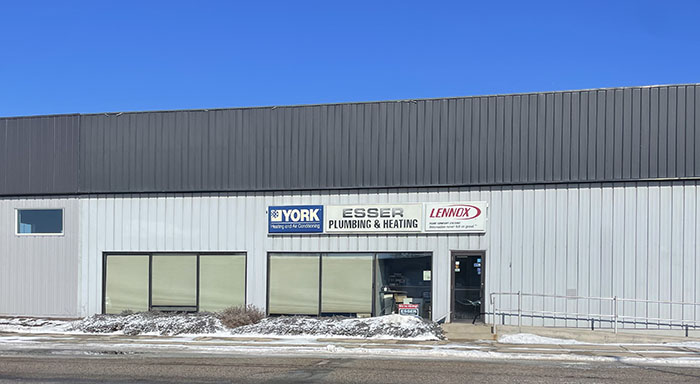 By Chad Koenen
Publisher
From big to small, Esser Plumbing and Heating can do it all. Whether you have a small furnace or large commercial air conditioner in need of repair, the service representatives from Esser are not only able to repair or install residential and commercial equipment, they are here to ensure quality customer service that the company has prided itself on for over 65 years.
"We got different departments so we can do everything from commercial installs all the way down to your typical commercial installs," said service manager Jesse Bauck.
Serving the lakes area since 1955, Esser Plumbing and Heating in Perham provides many services like all plumbing services including water softening/conditioning, water quality upgrades, pumps, water heater repair and replacement and plumbing remodeling. They also do all HVAC services including maintenance and repair, indoor air quality equipment, air conditioners, geothermal units and air exchanges.
The company routinely performs commercial and residential installations and services throughout the lakes area, as well as the Fargo-Moorhead area.
While the company can offer a wide range of furnaces and air conditioners to purchase, Bauck said Esser Plumbing and Heating also focuses on trying to maintain and repair a persons equipment for the long haul. He said some simple maintenance tips can go a long way to extend the life of a furnace.
For example, Bauck said it is important to routinely change the filters on a furnace and keep the snow shoveled away from the gas vents and gas meters.
"That keeps your furnace running properly," he said. "Those are the things we kind of tell people they can check on their own.
Some of the things to look for are regularly changing filters, listening for new or changing noises, making sure to schedule maintenance check-ups and making sure the equipment is operating as it has before.
Of course for any major repair Bauck said it is important to have a licensed professional to come on site to make sure the repairs are done properly.
One way to do that is to sign up for the Esser Plumbing and Heating Advantage Plan. For just $209 per year, a person can receive one free tune up per year on both their air conditioner and furnace, while also receiving member pricing on all repairs made at a residence. That includes repairs for things like plumbing, as well as heating and air conditioning.
Bauck said Esser Plumbing and Heating has close to 1,000 people registered for the plan, which helps to maintain the longevity of equipment and ensure necessary repairs are made before they become worse.
Esser Plumbing and Heating is a Lennox and Rheem dealer, which Esser said provide quality, solid and reliable equipment.
Of course, quality equipment is only part of the recipe for success at Esser Plumbing and Heating. The company continues to maintain quality care and service for customers throughout the lakes area and beyond.
For more information about Esser Plumbing and Heating, contact them by phone at (218) 346-3530, online at www.esserplumbingandheating.com or in Perham at 542 West Main Street.