Wegscheids celebrate 40 years in business
News | Published on February 21, 2023 at 4:10pm GMT+0000 | Author: Tucker Henderson
0
Convenience store, bulk oil company is a family affair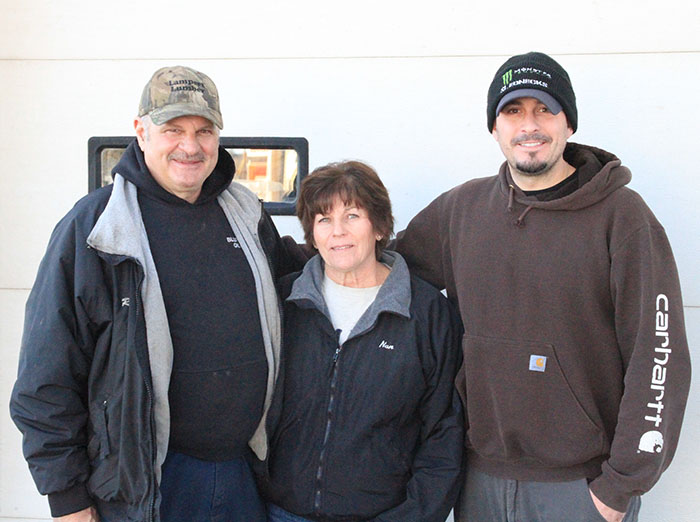 By Tucker Henderson
Reporter
A busy little service station sits at the crest of the small hill just north of Highway 10 between New York Mills and Wadena. The gas station, tire shop and bulk plant has been serving customers in that location since 1976. The country service stop is now nearing it's 41st year in operation by the Wegscheid family.
Ron and Nan Wegscheid purchased Bluffton Oil Company on April 1, 1983 from Sylvester Endres in their shared hometown of Bluffton. Ron was tired of working on the road, as well as being away from home and he was looking for a change in vocation.
"In road construction, you slept in a motel every night or drove an hour and a half to work each day," said Ron. "That was the reason I got out of it."
Ironically, after he was able to stay close to home during the week, Ron's occupation focused on keeping others on the road.
Bluffton Oil Company offers a large variety of services for a store of its size. The tire shop specializes in tire changes and repairs as well as oil changes. The convenience store and gas station makes for a perfect stop on a persons's way down Highway 10. The Wegscheids also offer farm and home deliveries for bulk orders of gasoline and diesel. Heating oil and kerosene are also big sellers.
"That's a big item this year," said Ron about kerosene. "Nobody has it anymore. It's been good for us."
In their many years in business, Ron and Nan have learned a lot about running a business in small town Minnesota.
"It takes a lot of hard work and a lot of hours," said Ron.
"The boss needs to be around…and he has been," said Nan.
The Wegscheids were both raised in Bluffton, so it was a prime location to start a family and stay close to the business.
"We generally know everybody," Ron said about living in Bluffton. "It was a good place to raise a family, it really was."
"We have a lot of family here in Bluffton," said Nan. "It's a good place to raise kids. You know everybody and feel safe."
With the short walk to work, Ron and Nan are very present in the daily operation of Bluffton Oil. Every day of the week from 7 a.m. to 6 p.m. and Saturdays from 9 a.m. to 12 p.m., there's a good chance to see them helping customers.
"The only bad thing is, no matter if it's a snow storm, we always have to come," joked Nan. "We can walk down here from home."
"We're always here," agreed Ron. "I don't think we ever took a snow day."
Significant changes can take place in four decades and the Wegscheids have had to be on top of things to keep their business thriving.
"It's forever changing," said Ron. "We used to be total service, now it's all self-serve and 24-hour credit card."
"That's one of the biggest things," said Nan. "There's a lot more to be compliant in now too. That has changed a lot."
Bluffton Oil Company's service area has changed throughout the years as well. At one time, Ron's longest delivery route was eight miles away, but now it's over 40 miles.
"I never used to go more than eight miles," said Ron. "We get as far as Detroit Lakes now, so our service area is so much bigger."
Costs of operating a business have grown exponentially as well.
"The money that you have to handle is so much more than it ever was before," said Nan.
"The cost of labor, maintenance, buying equipment," said Ron. "Things are constantly changing."
Nan mentioned that the increase in deliveries has helped them with keeping tires in stock.
"We used to get a delivery of passenger truck tires once a week," she said. "Now it comes every day—We can stock a lot more than before. If somebody calls for something, we usually have it. "
"We have people come 40 to 50 miles to get their tires because we have them," said Ron.
The Wegscheids said that Bluffton Oil Company wouldn't have been nearly as successful if it hadn't been for their devoted employees. Janice Tervo has worked for the company for 30 years and her son, Ryan joined the team a little over a year ago. Ron and Nan's son, Aaron has also worked for them for the past 13 years.
Despite all of the changes over the past 40 years, the main, most important things haven't changed much in all that time. In fact, it is the Wegscheid's favorite part of the business.
"The people that come in, the good customers we have, the friendships that we develop," said Ron. "We have a good customer base."