Leaving a lasting legacy in the dairy industry
News | Published on February 28, 2023 at 5:47pm GMT+0000 | Author: Tucker Henderson
0
Mursu family named 2022 producer of the year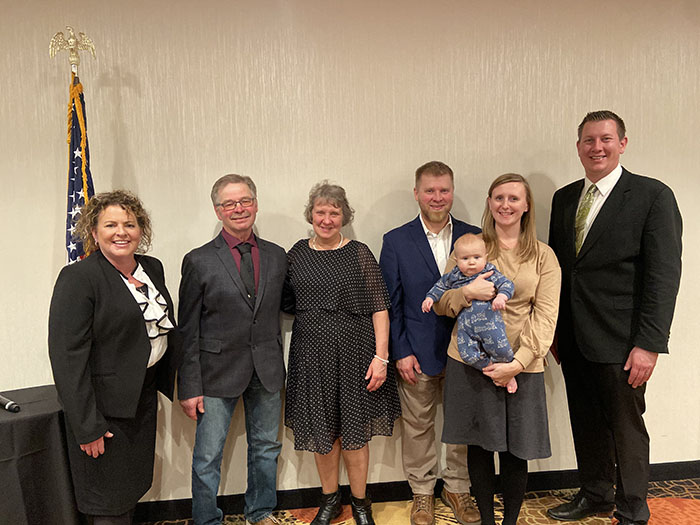 By Tucker Henderson
Reporter
About five miles southeast of New York Mills, on the south side of dusty 350th Street, sits Mursu Dairy.
The dairy farm has been in operation since Helen and Martin Mursu purchased the property in 1957 and continued when their son, Tom, and his wife, Tammy, took on the job of managing the farm. Today, Tom and Tammy continue to manage the farm with their son, Jeremy, and his wife, Vanessa.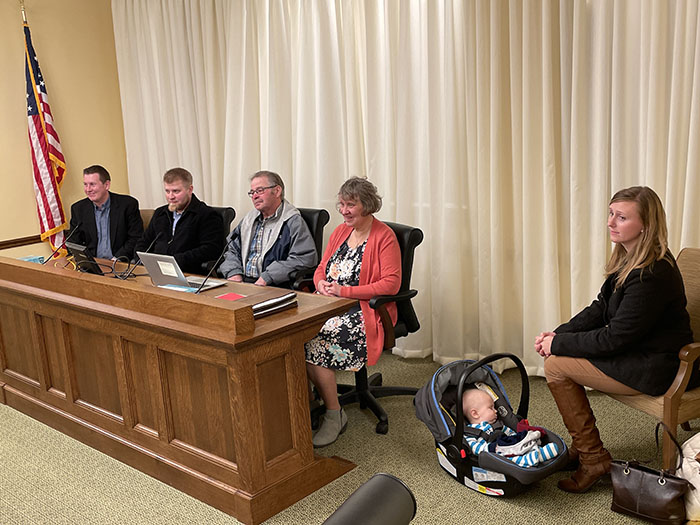 Mursu Dairy has been a family-run and community-minded farm ever since it began over 65 years ago, especially in the past 10 years after the dairy converted to robotic milking in 2013. The Minnesota Milk Producers Association decided that 2022 was a landmark year for the dairy operation and awarded Mursu Dairy the award of Producer of the Year.
"The Mursu family embodies what it takes to run a successful dairy in the modern age," said Minnesota Milk executive director Lucas Sjostrom. "With labor pools tightening, the family installed robotic milkers to create a stronger work-life balance. Their farm serves as a destination for local students to learn first-hand how we make dairy products."
"Receiving this award is truly humbling for our family," said Jeremy Mursu. "We have always believed in taking time to show the public our farm and the entire dairy industry—to show them where their food comes from."
Tom, Tammy, Jeremy and Vanessa Mursu accepted the award at the Minnesota Milk Producers Association annual meeting in St. Paul, Minn. on Feb. 14.
"Farming has always been my love," said Tom in a video showcasing Mursu Dairy. "I like farming, I like the cows. This is where I've been my entire life."
Jeremy's love of farming hasn't always been as evident as his father's.
"When I was in high school, the last thing I wanted to do was be a dairy farmer," said Jeremy. "But I'm glad that I'm here. I wouldn't want to be anywhere else."
The Mursu family milks about 150 Holstein cows with robotic milkers, which operate around the clock each day of the year.
"That's one of the best things about them," said Tom. "If you have something going on in the evening, whether if be family, school, or church related, you don't have to wait until the last cow is milked. I had a really hard time accepting that when we first started with the robots, leaving the barn and the cows were getting milked, I mean that is grand."
Each cow is equipped with a transponder on a collar, their own identifying number, and a computer chip on the side of their neck that keeps track of their habits.
"It does three things," said Jeremy. "It identifies which cow it is so the robot knows. It measures how many minutes a day the cow spends chewing her cud which would be her rumination. We can watch the health of a cow based on how much she chews her cud and we can use that technology to address that cow if we need to treat her.
"It also measures her footsteps every day," Jeremy continued. "When we measure both the rumination and the footsteps, we can use the information on the computer to identify when the cows are in heat. It tells us our best window to breed that cow for conception."
The new barn began to house and milk the cows in June of 2013. When the Mursus stepped into the milking parlor to begin their first robotic milking, Tom noticed the robot room was full of people eagerly watching.
"We haven't turned down anyone since," said Tom. "We have had thousands of guests."
"We feel it is important to take that time to be able to show people that are interested in knowing more about our operation and the dairy industry in general," said Jeremy. "And that's one way we are able to give back to the public and to be able to connect the consumers to where their food comes from."
Kindergarten classes from New York Mills have been attending tours of the farm since 2014, when Tom and Tammy's oldest granddaughter was that age.
"Last year was really neat because Audrey was in FFA so it went from her starting with the kindergarten tour to being able to help with the tour," said Tammy.
The educational side of the farm is an important aspect as many children don't grow up on farms anymore. That was exactly the case when Vanessa first stepped onto the farm.
"It's really neat because I didn't grow up on a farm," said Vanessa. "So for my kids to be able to have a farm to run around and play and be involved with the animals, be around them and grow up in this, it's really neat."
While the Mursu family has been farming in this area for over a century, there are always lessons to be learned from the elder generations.
"I'm thankful for my forefathers and their families that immigrated from Finland to this area of the country," said Jeremy. "Each generation has put a lot of hard work and sacrifices into continuing farming and having to do a lot more physical labor and struggle than I have to go through. Being able to successful and provide for their family at the same time is really special and without what they've done, I probably wouldn't be farming today. Any success our farm has, it goes back to generations before us."