Roder advances to Regional Hoop Shoot
News | Published on March 7, 2023 at 3:50pm GMT+0000 | Author: Tucker Henderson
0
NYM resident wins state hoop shoot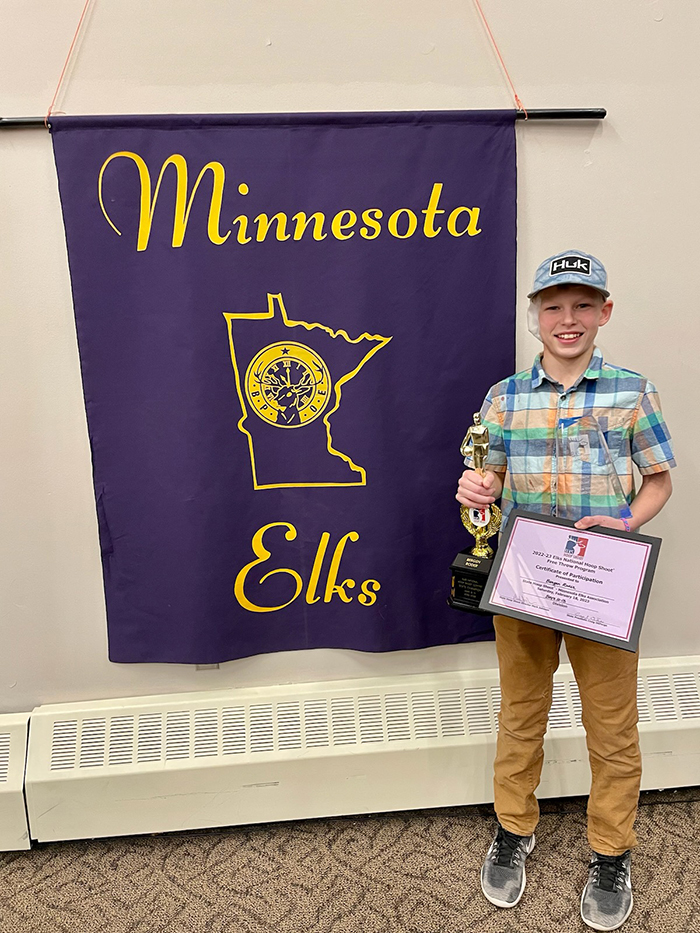 By Tucker Henderson
Reporter
It's not everyday that a local basketball player places at the Minnesota State Elks Hoop Shoot, but Bergen Roder, New York Mills, did just that on Feb. 18 in Hutchinson, Minn.
Roder made 24 out of 25 possible shots and snagged first place in his division, as well as best shooter for the day.
"It felt really good," said Bergen. "This is my last year for the hoop shoot, so I felt really happy."
Bergen's family was cheering him on from the stands and was there to see him place.
"It was really a joy," said Bergen's mother, Betsy Roder. "I had a smile plastered on my face. I feel like I was more nervous than he was. He seemed calm and cool as could be and I felt like I could hardly breath. I stayed frozen in my seat and was amazed that he did as well as he did. A proud parent moment for sure."
Bergen won himself a chance to compete at the North Central Region 3 Hoop Shoot semi-final in Iowa City, Iowa on March 18, competing with basketball players from Iowa, Illilois, Minnesota and Wisconsin.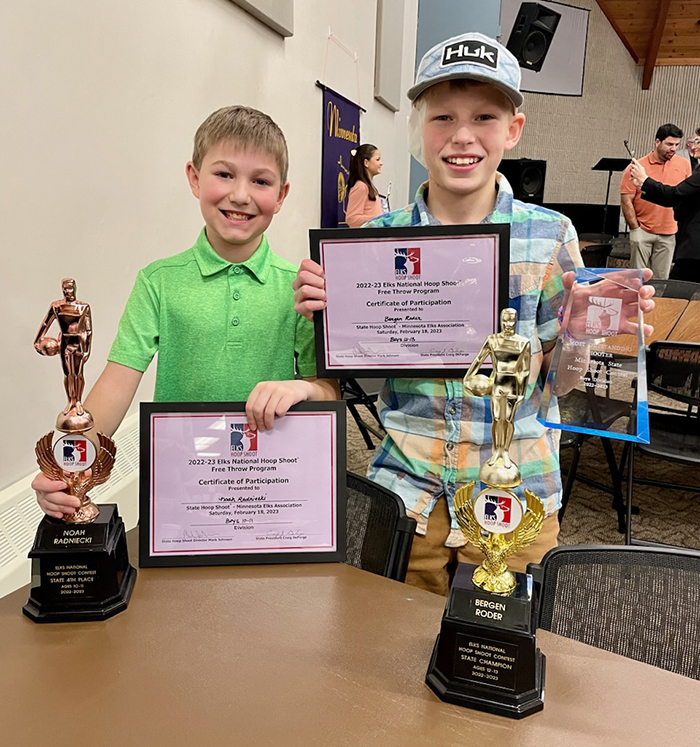 "I want to win, but just going there is really fun and an accomplishment," said Bergen.
Bergen will be making the trip with his parents, Betsy and Nick Roder, as well as his brother Trygg and sister Kaia, who also enjoy the sport.
"I'm looking forward to being able to take a chance to celebrate Bergen," Betsy said. "We're in the busy season of a young family, so I'm looking forward to being able to focus on him."
Betsy said that basketball has been a family affair for her children and their cousins.
"Those boys love playing basketball together, all my kids do," she said. "It's fun that all their hard work pays off."
Bergen competed with his cousin, Noah Radniecki, while in Hutchinson. Radniecki ended up placing fourth in his division at the state hoop shoot.
"Going together was really cool," said Bergen. "We've gone together to every one that we've won."
"It felt like a gift that they could go through it together," said Betsy. "It's just a really cool thing and it made it that much more special for them and for us watching too."
Betsy saidthat her son Trygg had also competed at the local Hoop Shoot prior to this event and he and Noah, who is the same age, had competed against each other. They both tied for first place, so a shoot off was held between the two. They tied again, so another shoot off was held only to result in another tie. Finally, during the third shoot off, Noah pulled ahead with one point and won. Basketball has played a uniting role between the cousins.
Bergen has been playing basketball for as long as he can remember, often playing with his two brothers and a sister.
"It's my favorite sport," he said. "I've played my whole life."
The Elks organization provide hotel faire for two night, they pay for mileage, and they provide a warm-up outfit for Bergen to compete in.
"They have been really good about making the kids feel special," said Betsy. "I have been told they really roll out the red carpet for the kids."
The Roder family is waiting in anticipation for the trip down to Iowa.
"Getting to see him compete again," said Betsy of what she's looking forward to. "It will be fun for us as a family to spend that time together."