Heavy metal highlights Cultural Center exhibit
News | Published on March 14, 2023 at 3:35pm GMT+0000 | Author: Tucker Henderson
0
Opening reception planned for Friday in New York Mills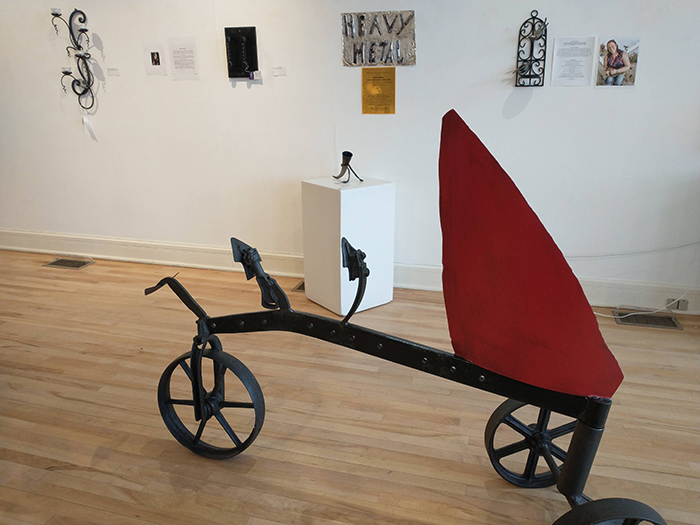 The New York Mills Regional Cultural Center has announced its new gallery exhibit "Heavy Metals."  This show features the metal art of eight regional artists. This exciting and dynamic artwork will be on display March 8 to April 8. A reception will be held on Friday, March 17, from 4-6 p.m.
Works of art in the show vary greatly in style, materials, and techniques, from knives to functional pieces to large-scale sculpture. Included in the show are metal sculptures by Tim Cassidy and by Paul Albright, knives by Timothy Pierce and by Jerry Hobbs, small sculpture by Jessica Woods, blacksmithing by Barry Tumberg, custom spears by Wayne Becker, and decorative, functional ironwork by Jamie Virnala. These artists and fine craftsmen are all regional residents, having displayed and sold their work for many years. 
The use of metals for art and functional items has been in practice for millennia, from the earliest crude metal worked pieces 7,000 years ago to modern times, any work made of mined ores is considered metal art. While much of early metal work was functional such as cups, platters, or shields, most were also decorated using a variety of techniques that expressed the creativity of the maker. The tools and techniques of the modern metal worker are very similar to their ancient counterparts. In the "Heavy Metals" gallery show, viewers will be treated to unique works that combine artistic vision with expert craftsmanship.
At the reception on Friday, March 17, several artists will be on hand to discuss their work, techniques, and styles. The reception held from 4-6 p.m. is free to attend and open to all. Artist talks will begin at 5 p.m. Refreshments will be available.
The New York Mills Regional Cultural Center Gallery is free to visit and open to the public. Gallery hours are Wednesdays and Thursdays 10 a.m. to 7 p.m, Fridays 10 a.m. to 5 p.m. and Saturdays 10 a.m. to 3 p.m. Private viewings can be arranged anytime by calling Cheryl Bannes at 385-3339 or emailing cheryl@kulcher.org.
These activities are made possible in part by the voters of Minnesota through an operating support grant from the Minnesota State Arts Board, thanks to a legislative appropriation from the arts and cultural heritage fund.
Visit www.kulcher.org or call the Cultural Center at 385-3339 with any questions.